Philadelphia Radio Archives
History of Philadelphia radio station 94.1 WIP-FM
As WIBG-FM
94.1 began as WIBG-FM, the sister station of WIBG-AM, and basically simulcast the AM top-40 station until separate programming was decreed by the FCC in 1966. At this point, half of the day's programming was provided by a Gates automation system. At first it was a mix of pop standards, country and classical, but by the spring of 1968, some progressive rock was being played, although it was without announcers. The station had fairly weak coverage due to the fact that its antenna was hastily hung at the relatively low height of 250 ft. on one of the WIBG-AM towers.
In the late 1960s, WIBG owner Storer Communications attempted to get permission for an increase in transmission power. 94.1 was a restricted class B station at the time, limited in range to avoid interfering with another station on 94.1 FM in Sunbury, PA. Around 1969, the WIBG calls were changed to WPNA, but only on paper, since the FM station had been shut down. Having been unsuccessful in getting the Sunbury station to agree to a FCC waiver, Storer sold WPNA to SJR Communications. (SJR stood for "San Juan Racing", referring to the company's lone US holding: a racing track in San Juan)
SJR changed the call letters to WYSP ("Your Station in Philadelphia"), and quickly made a deal with the Sunbury station that allowed WYSP to increase it's power. The sation became a full class B, with a non-directional, 550 ft. antenna resulting in 39,000 watts ERP. On August 23, 1971, the transmitter was turned on, and WYSP went on the air. The format consisted of live announcers playing big-band and easy listening music from half hour long reel-to-reel tapes that were produced in-house. The WYSP studios were located in the Suburban Station Building at 16th and JFK Parkway in Philadelphia. A new RCA transmitter and circular polarized five-bay gates antenna was installed at the transmitter site.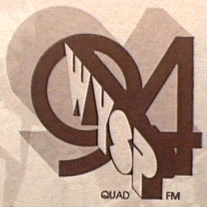 At 6am on Monday, August 6, 1973, WYSP abruptly stopped playing big-band music and started playing album-oriented rock (AOR). The entire announcing staff was fired (regardless of attempts to unionize) and five new announcers were hired, including Tom Straw, Dean Clark, and Doug Cristian with Frank X. Feller as program director. The music included popular cuts from albums by artists such as Jimi Hendrix, Chicago, and Crosby Stills and Nash. Radio consultant Kent Burkhart was called in and along with Lee Abrams helped to develop and refine the format.
In 1974, WYSP became Philadelphia's "quad" station, piping its audio through a Sony Quad encoder, which provided "ambience" effects to the rear channels of the handfull of quad radios in the market. Due to a compatibility problem with regular mono radios, and a lack of interest from the listening public, the quad encoder was quietly dismantled in 1976. At the same time, WYSP moved its studios to their present location at One Bala Plaza (then called One Decker Square) in Bala Cynwyd, a suburb of Philadelphia. In 1977, the transmitter site was also moved to its present location in Roxborough.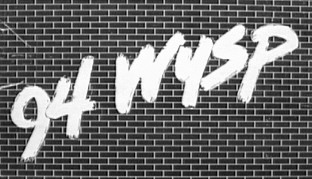 Around 1980, WYSP began using the term "classic rock" to describe it's music mix. In 1981, the station was sold to Infinity Broadcasting, along with two other SJR stations, WKTU and WJIT New York. The price tag of $30 million for all three stations made many in the industry stand up and take notice. In 1984, there was a brief attempt at a heavy metal focus in the playlist, but it lasted less than a year. A major station event occurred on September 10, 1986, when Howard Stern debuted in the 6am - 10am slot, simulcast from WXRK in New York City. Many industry obsevers felt that a morning show produced out of town would not be successful in Philadelphia. However, Stern slowly, steadily and methodically rose past rival WMMR morning host John DeBella to eventually become the city's top morning personality. In 1992, Stern accomplished the unthinkable: he beat out all-news stalwart KYW-AM for first place overall in morning drive.
Also in 1992, the Philadelphia Eagles Football play-by-play moved to WYSP from all-sports WIP-AM. In the fall of 1995, WYSP, concerned about the "antique" image of classic-rock (and its aging listeners), switched to a modern rock format, aimed mainly towards a young male audience.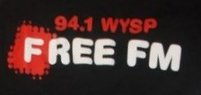 The 1996 purchase of Infinity by CBS placed CBS over the limit of stations it was allowed to own in Philidelphia. As a result, WMMR-FM was sold to Greater Media. This left empty space at the KYW studios on Independence Mall, so on Saturday, April 5th, 1997, WMMR and WYSP switched studios. WYSP moved downtown, and WMMR moved out to Bala Cynwyd. For the rest of the 1990s and early 2000s, the station tried out a number of various talk shows or talk formats. On October 25, 2005, WYSP switched to the talk-intensive Free FM format, which included some music. When Howard Stern moved to satellite radio in 2006, Opie and Anthony took the morning slot.
On the weekend of March 17-18, 2007, the station moved its studios from the KYW building at 5th and Market to new studios at 4th and Market. (KYW-AM is located in the same building on a different floor. The old building has since been demolished.) By November, 2006, all music programming was removed during weekdays. In June 2007, the term "Free FM" was completely dropped and WYSP was known as "Philadelphia's FM Talk Station"
In September, 2007, the station returned to an "Active Rock" format and then on August 25, 2008 returned to the Classic Rock format using the slogan "The rock you grew up with from the 70s, 80s, and 90s."
WIP-FM Sports talk format
On August 18, 2011, CBS Radio announced that sister station WIP would simulcast its sports talk format over 94.1 FM begining on September 6. The change actually took place on September 2, four days earlier than announced. In the days leading up to the change, numerous WYSP alumni showed up for on-air interviews as well as to guest host. On its final day, Howard Stern called into the station to discuss his time on WYSP with host Spike Eskin. At 3:00 PM on that date, WYSP ended its music format with "Fade to Black" by Metallica.
According to Marc Rayfield, a vice president for CBS, the rationale for "sunsetting" WYSP was "to introduce sports radio to a whole new generation of listeners," presumably referring to the younger generation of listeners that ignore AM radio. The call letters soon changed to WIP-FM ending the 40 year run of WYSP. The WIP-FM calls had previously belonged to 93.3 FM until 1966, when 93.3 became WMMR.
On February 2, 2017, CBS Radio announced it would merge with Entercom. The merger was approved on November 9, 2017, and was consummated on November 17. In 2021, Entercom rebranded as Audacy.
---
Sources
Interview with Richard Bagge, 1992
Discuss WIP-FM
Comments? Corrections? Worked there? Please let us know!
1. Posted on Thursday, January 21, 2010 by don hollander:
wmmr currently thrashes wysp in all arbitron books almost 2 to 1 .
2. Posted on Tuesday, April 5, 2011 by MATT RISI:
Can you ask Danny Bonaduce to check out my picture of him that I have.. It is a picture of him and my brother and sister at his auntand uncles house(the stecks) on belfield ave in havertown pa. thanks Matthew Risi ps- the picture is on my facebook profile
3. Posted on Tuesday, May 8, 2012 by Jeff:
What year did WIBG-FM sign on? It was obviously pre-1966 but I can't find a specific year.
4. Posted on Tuesday, July 3, 2012 by Art Robinson:
WIBG FM was on as early as '62, and lasted until simulcast was outlawed. That's the only way we could hear Hyski at night, and we were glad of it!! Again, none of these writers are giving Paul Harron Sr any props here: he also developed AC Race Track, along with the Levy's there's your connection to horse racing.
5. Posted on Friday, May 30, 2014 by Beth Williams:
I knew a lot of the WIP and WIBG jocks because my dad, Nat Wright, had the Dawn Patrol after Joe McCauley took over the AM drive time shift on WIP. They were all a great bunch of guys, except for the guy, who shall remain nameless, who tried to run my dad over when he was walking a picket line about 1964 or 5. He was the best DJ out there, and COULD'VE continued with the all sports format, but the folks who bought the studio in 1984 were brutal, summarily firing everybody at the station, except Ken Garland. He had a separate contract with the station. When the 26-year-old hatchet man would come into Men's studio to make nice with him, Ken would tell him to sod off.
6. Posted on Monday, February 23, 2015 by Len Capone :
Bring back 94.1 WYSP TO FM RADIO SPORTS TALK SUCKS
7. Posted on Tuesday, April 14, 2015 by Kathy Carden:
My sister, Sandra Evans worked at WYSP in the 1970's in sales. I am her sister. We were from Alabama. She would always have T-Shirts to bring home for us. Being in my early 20's, I thought it was so cool she worked at a radio station. She has some great stories about meeting singers coming into the station for interviews. Great memories. She now lives back in Alabama. I used to love spending the summers with her in the city of "Brotherly Love".
8. Posted on Saturday, March 5, 2016 by Ted:
I remember my parents playing the easy listening pre-1973, before it switched to rock. For some reason I always remembered the jingle. Voices sang: "Music and more On stereo 94 WYSP Philadelphia"
9. Posted on Saturday, March 26, 2016 by Ed K:
I read somewhere that WIBG AM was originally a religious radio station. How come wibg was not listed on the AM list? The call letters stood for "I believe in God" . Can anyone verify that and or know the history? I liked Wibbage MUCH better than WIFL back in the day. Will never forget the John Records Landecker DJ!
10. Posted on Sunday, April 10, 2016 by jd andrea:
looking for pics,videos from Couzin Ed's Babefest, May 6 at the Electric Factory also mini kiss ,don devito,beatle juice.ed noton, kid rock.. it was one of the funner babefests.any place i can see videos.thanks,jd
11. Posted on Monday, June 13, 2016 by Lorraine B :
I loved all Philly radion in 1970's We were so blessed and the rest of the nation needs to know about Philly radio from that era was THE BEST ps-- I thought i was so cool wearing my "WYSP Quad" tee shirt
12. Posted on Saturday, September 24, 2016 by David:
WIP-AM and -FM simulcasted until 2013, when the former jettisoned local programming in favor of broadcasting CBS Sports Radio full time, with the latter retaining local programming. The following year, WIP-AM changed call letters to WTEL (as result of a trade of two Philadelphia radio stations and several stations in other markets with-and the sale of WIP-AM itself-to its now-current owner).
13. Posted on Monday, February 6, 2017 by David:
(This website's entry on WNTP says this, but WIBG (today's WNTP) was launched back in '24 by St. Paul's Episcopal Church (although the entry doesn't say the following, the church was/is located) in Elkins Park, PA (hence the WIBG callsign standing for "I believe in God"). From its sign-on until the mid-1930s, WIBG broadcasted only said church's Sunday services until it was forced by the Federal Radio Commission (now the Federal Communications Commission) to broadcast a regular radio schedule. St. Paul's Episcopal Church sold WIBG as a result.
14. Posted on Wednesday, June 14, 2017 by Wills:
Many years ago my wife and I lived in southeast PA. One morning, while driving to work, I was listening to a classic rock station based in Philadelphia. I think the band who wrote and recorded the above song was coming to town, and the station was advertising the upcoming concert. The commercial started with the section of the song that leads into the above lyrics. As the music quieted to hushed tones, I expected to hear the familiar voice reciting that passage. What I heard instead was someone doing a spot-on imitation of Bullwinkle. I was laughing so hard I almost drove off the road. It was one of the funniest radio moments in my days as a listener. I would love to find it and post it here. Anybody remember this?
15. Posted on Tuesday, October 17, 2017 by Jamie:
WYSP 94.1 will rock on forever. This is the station that introduced Metallica to Philly. And then of course the Mandatory Metallica bit; 3 in a row! I now host an internet radio show of my own, in which I have a Mandatory Metallica segment each Monday evening, and give homage and praise to it's originator, WYSP. Oh yeah, and by the way? FM sports talk truly does bite the big one. Philly needs a new metal station to rock out to!
16. Posted on Thursday, February 15, 2018 by Frank Dell'Orefice:
In 1980,when the Eagle's played the Raiders in SB 15,The band the Kinks,The 94.1 staff did a remix of the song Super Man,can you find the song for us,Thanks Frank.D & Rudy.R
17. Posted on Tuesday, October 29, 2019 by mitch zatto:
In August 1976 Bob Leonard of WMGK joined Sonny Fox at WYSP for an entirely new two-man morning show concept. Fox had joined WYSP earlier after WRNO in New Orleans. There is some question of an overlap between WYSP PD Richard Findley's time as PD and the date that Sonny Fox arrived and later became PD. Findley was hired ad PD of WYSP by Frank Feller in May 1974. Also, who took over morning drive when AM driver Tom Straw exited in Jan. 1974?
18. Posted on Sunday, November 10, 2019 by Gary :
I began my commercial broadcast career at Famous 56, WFIL the day I graduated from Temple's communications school and spent a year there in the promotions department while the station was #1 in the ratings. My next stop was Harrisburg and then back to Philly at WYSP while it was still across from City Hall downtown. The station had just changed to AOR and as a new sales rep it was our job to sell Sizzle since we had no ratings yet. I remember working with Sunny Fox, our PD and Bob Leonard who together did the Fox & Leonard morning show and Frank X Feller, who was the late night DJ back in the 60's at WIBG in it's Glory days, was the GM. I was involved in the move to 1 Bala Plaza and stayed at 94YSP until 1980 when I bought an off the air station in my wife's hometown of Johnstown and built a brand new AOR FM and took it to #1 in that market it 6 months by duplicating the YSP format. I retired from Broadcasting after 28 years but still miss it very much.
19. Posted on Friday, January 24, 2020 by Dave W:
I found WYSP alive and well on 94.1 HD3 with my new HD receiver. It appears to be all music and no talk or commercials.
20. Posted on Tuesday, April 7, 2020 by No Neck:
As much as I LOVED WIBG in the 60's I don't think anything could beat WYSP in the 70 and even the 80's Use to love all of a sudden someone just going into an hour of The Beatles without mention. Loved getting ready for school and work with Fox And Leonard. The overnight king of the 80's however was the Ricky Mess with Rick Allen. I Miss him bad. He played the best of all that is rock. Something I now "attempt" to do on my own radio show on 89.3 WRDV. YSP ROCKED Philly.
21. Posted on Saturday, May 9, 2020 by Matt Clenott:
To Mitch (comment 17): Chip Hobart was WYSP's morning personality after Tom Straw. I hosted mornings from spring 1974 to spring 1976, then afternoon until January 1978 - when I moved to SJR's New York station. I don't recall any overlap between Richard and Sonny's stints as program director. Sonny and Bob, of course, were wildly successful in morning drive - and the whole station sounded great.
22. Posted on Sunday, January 3, 2021 by donald mcbride:
I remember listening to a lot of am radio as a teen back in the 60's great time and great dj's like Georgie woods, hy lit, king George michaels and of course butterball. Like I said, a great time to love radio in Philly. miss those days
23. Posted on Monday, April 5, 2021 by Reg:
Wait, I remember WIP ca. 1970 by the jingle: "What a wonderful way to start each day! Listen to -- Double U -- I,P!" Clarification, anyone?
24. Posted on Thursday, May 27, 2021 by McGee:
My teenage years worth fueled by WYSP Classic rock station in Philadelphia. I still have a their bumper sticker on my toolbox ... Cells are gone I mean who wants to listen to Sports talk radio Give me a break
25. Posted on Tuesday, December 21, 2021 by Tara Smith:
Is the WYSP Rocks ad done by Marvin the Martian, or another voice actor?
26. Posted on Monday, April 25, 2022 by Bob:
I lived in Norristown for 4 months in '76. WYSP was on all the time - it was great listening, stoned, with headphones on and hearing the wind chimes move back and forth whenever the DJs started talking. Oh yeah, the music was great, too, mannnnnnnnn!
27. Posted on Sunday, September 4, 2022 by Dano:
I lived in Philly from 1977 until around 2001, from the late 70s-late 80s it was a great time to be listening to WYSP and WMMR, and the competition which did bleed into public on more than one occasion. Anyone remember "Ask Anita" on WYSP? Unionville HS in Chester Co, used to keep that station on in the student "break room" all day long good times in 1982-84. Course we had the battle between John DeBella, and Howard Stern in mid-late 1980s!
28. Posted on Friday, January 20, 2023 by Jremy:
I turned on 94.1 just to check if the junk sports was gone tgis morning and to my surprise they were playing some good rock and even said the wysp rocks! Are they back or was this just a retro thing? Nothing on internet everything written stops at the 2011 wip change. I hope they are back sucks having only wmmr who plays mostly classic rock.
Add your comment
Please note: commenting has been temporarily disabled. Please check back again soon for our new commenting system.