Philadelphia Radio Archives
History of Philadelphia radio station 102.1 WIOQ
WFIL-FM History, WFIL-FX
On November 10, 1941, the WFIL Broadcasting company began operating a new 3 kW FM station on 45.3 Mhz. This was the city's (and possibly the country's) first commercial FM station, and was located in the Widener Building at Broad and Chestnut streets. The station, known initially as W53PH, changed its call letters to WFIL-FM in 1943. During portions of World War Two, the station was silent. Regular programming resumed in January, 1946.
On March 1, 1946, WFIL AM and FM were acquired by Walter Annenberg's Triangle Publications for $1,900,000. Triangle published the "Philadelphia Inquirer." In early 1947, the station's frequency was changed to 99.9 MHz, and then by mid year it was changed again to the familiar 102.1 MHz. In late July of 1947, a new TV-FM tower was erected on top of the Widener Building, and TV broadcasts commenced on channel 6 on September 13, 1947. During 1948, some experimental facimile broadcasts known as WFIL-FX were undertaken using a subcarrier of WFIL-FM. A facimilie edition of the co-owned Philadelphia Inquirer consisting of an 8 page advertiser-supported weekly review was broadcast. The service did not prove popular with the public and the fax equipment was donated to Temple University two years later. In the summer of 1949, WFIL-FM and WFIL-TV relocated their transmitter to the Roxborough section of Philadelphia.
Early programming was varied and included concerts, studio bands, news and sports. WFIL-FM was one of the few FM stations that maintained separate programming throughout its schedule and did not rely on simulcasting of the co-owned AM station. On October 13, 1952, WFIL moved all of its operations into a new radio-TV building at 46th and Market streets. In the late 1950s, WFIL provided Philadelphia's first regularly scheduled binaural broadcasts every sunday with "Dimensions in Sound." This was an early form of stereo by broadcasting one channel on WFIL-AM and the other on WFIL-FM.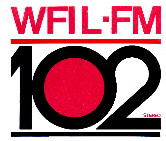 In February of 1964, WFIL-FM moved to new 4th floor studios in the "WFIL Broadcast Center," located at 4100 City Line Avenue. At this time, the station operated from 7AM to 1AM daily with a "mood orchestra/Broadway show tunes" format with four hours of classical music per day and the weekly program "Wonderful Weekend of Music." Stereo broadcasting was inaugurated on September 1, 1965. In 1968, the station ran an automated easy listening format programmed by Dave Klahr called "Popular 102". This format consisted of two instrumentals, six oldies and two LP cuts per hour, with the rest of the time filled by current easy listening songs. Announcers on the automated system included WFIL-AM announcers Jay Cook, J.J. Jeffries and Tom Tyler.
WIOQ

In 1971, WFIL-FM was sold to Richer Communications for $1 million. The station changed its call letters to WIOQ on May 28, 1971 and moved its studios to #2 Decker Square in Bala Cynwyd. (Now known as Two Bala Plaza) The format was automated "middle of the road" music and softer pop hits, known as "W-102", and later branded as "Stereo Island." Some of the jocks during this period were Jeff Dean, Lee Meredith, Art Andrews, Alan Drew (Later known as Alan Frio on WCAU-TV news), Jere Sullivan, and Jay Mathieu. Within a year, the "Popular 102" name was reinstated with a slightly more uptempo mix of soft adult contemporary tunes. This eventually evolved into a Top 40 format but with a more adult presentation than sister station WFIL. In 1974, the automation was turned off, and the format was changed to progressive rock. One of the first DJs at the new station was John Harvey, known for his popular "Harvey in the Morning" show, which debuted in 1977.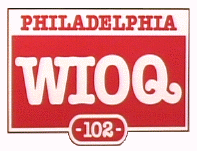 The Richer Broadcasting company was sold at auction on September 8, 1977 for an undisclosed purchase price. The corporate name was changed to the Que Broadcasting Company, and the station was then known as "Q102." The Outlet Company, a Providence-based group owner, acquired WIOQ from the Que Broadcasting company on August 21, 1979.
By 1980, the station had moved away from a broad, progressive playlist and added a softer edge to the music. For example, instead of hearing the Sex Pistols alongside Styx, or Miles Davis segue into Mike Oldfield, you were now likely to hear Streisand or Diana Ross in the mix. In any case, the music remained somewhat eclectic, and would now be considered something akin to "adult rock." Some other personalities on Q102 during this period included Helen Leicht, David Dye, and Ed Sciaky.
Oldies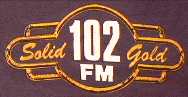 The station limped along with low to moderate ratings until November 19, 1987, when the station switched to an oldies format called "Solid Gold 102". On the same day, CHR WCAU-FM also switched to an oldies format as WOGL. WIOQ's version of the oldies format included fewer pre-1964 songs and a smaller playlist than WOGL. Harvey Holiday, formerly of WDAS-FM, hosted the station's morning show. Over the next two years, the stations battled it out to attract the city's oldies listeners, with WOGL having somewhat more success. In August 1988, WOGL lured popular oldies disc jockey Bob Pantano from WIOQ, signaling a shift in the FM oldies battle.
Top 40 Format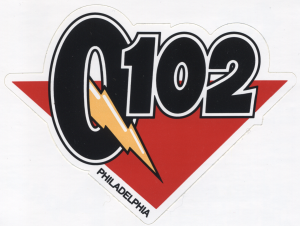 On January 18, 1989, twenty-one employees of WIOQ-FM - including the entire on-air staff - were fired, as the radio station changed ownership and formats. Virginia-based EZ communications purchased the station from Outlet Communications for $19,200,000, and immediately swiched from oldies to a white-oriented urban-contemporary format "loaded with current, up-tempo music." Over the next few years, that format evolved into a lively rhythm-and-blues/rap mix that appealed strongly to a young, predominantly black audience. This placed the station in stiff competition with similarly formatted WUSL-FM. When WIOQ owner EZ Communications acquired WUSL as a duoploy arrangement in 1994, WIOQ gradually moved back to a more dance-oriented contemporary-hits/urban mix aimed for a white audience.
In 1997, WIOQ's license was transferred from EZ Communications to American Radio Systems through a $655 million exchange in stock. ARS was required to spin off WIOQ and WUSL to new owners in the spring of 1997. Evergreen Media Corporation became their new licensee in an exchange of other stations. In September, 1997, Evergreen Media merged with Chancellor Broadcasting and became co-owned with five other Philadelphia stations. As the result of yet another merger in 2001, WIOQ became property of Clear Channel Communications. Clear Channel eventually changed its name to iHeartMedia. WIOQ remains a successful mainstream Top 40 station.
---
Sources
Billboard, various issues, 1948, 1958, 1965, 1968
Detweiler, Margit. "Glory Days." Philadelphia Citypaper 26 Nov. 1998.
Interview with George Nice
"PANTANO TO 'OGL.", Philadelphia Inquirer 8/1/1988
Discuss WIOQ
Comments? Corrections? Worked there? Please let us know!
1. Posted on Saturday, August 13, 2011 by Howard Kaplan:
I discovered WIOQ right after it was sold to Richer in 1971 and absolutely loved it. I was a fan of MOR/AC music and this was like WIP and WPEN without all the talk. They played lots of great pop including very good album cuts. Years later I tracked down Dave Klahr and he told me that he would just sit down and listen to 45s and lps and when he found stuff he liked he would just play it. Too bad it all ended.
2. Posted on Saturday, August 13, 2011 by Howard Kaplan:
Forgot to mention that Bill Fantini was also an announcer on Popular 102.
3. Posted on Wednesday, January 25, 2012 by Vince Griffin:
Hopefully someone out there can help me find air tapes of Ed Schiaky or Helen Leight from the mid to late 70's especially wioq-Q102
4. Posted on Saturday, March 3, 2012 by jacques:
From 74/79..... those Years.... When... the Progressive Rock blocks in those years... And the DEPTH was UNHEARD of Example...NAZARETH/Freewheeler , Taxxi/Leaving , Manfred Manns Earth Band/Father of Day Father of Night.David Bowie/Five Years ,Yes/Close to the Edge. Aerosmith/Lord of the Thigh's.... Robin Trower/Somebody Calling. Great Blends of There ... Today you can here those same bands.... 3wk.com woxy.com
5. Posted on Friday, May 11, 2012 by Jeff Mathieu:
I was "Jay" Mathieu on WIOQ. Jeff Dean, the morning man, was there before me so Dave Klahr had me use the name "Jay" because he didn't want two jocks with the same first name. Dave was a super talented programmer who later programmed WEEI-FM in Boston and Magic in Philadelphia. I believe Dave and Jere Sullivan have both passed away. Great guys. Bill Fantini was a originally a newsman and at the end he and I were the only two announcers left. We voice-tracked alternating 6 hour shifts until the end.
6. Posted on Wednesday, July 11, 2012 by Harry Neyhart:
I worked at WIOQ at the tale end of the pop era and the start of the progressive era. Jocks at the end of my tenure there were Jim Harlan, Bill Fantini, Alex DeMers, John Harvey and Bill Paul. When I started, it was programmed by Roy Laurence with voice tracking by him and Bill Fantini. I didn't meet Dave Klahr until I moved over to WMGK in 1976.
7. Posted on Thursday, November 15, 2012 by Charles McGrother:
WIOQ The best of Progressive rock. When Harvey in the morning ended as did Ed Sciaky God rest His Soul, Helen Leight, David Dye, & Michael Tozzi left IOQ the music changed and Philly Music will never be the same. By the way I would love to get my hands on any of those air tapes also. Free form music, those personalities, and Philly Music well it is gone.
8. Posted on Monday, December 3, 2012 by David:
Q102 switched from a dance-based Top 40 format to its current mainstream-Top 40 format sometime in the late 90s to early 2000s if not well into the mid-90s.
9. Posted on Tuesday, April 30, 2013 by Charles Dowdney :
In roughly 78-79 Q102 would play the Best of Progressive Rock Weekends.Half hour blocks of music by a mix of all great artist of the day, Jethro Tull , Led Zeppelin, Bad Company, Jackson Browne, Foghat, Eagles to name a few. Bands such as Beatles , The Stones and The Who would get an hour block. You could get the wallet sized schedule that listed the artist and time for the entire weekend at 7-11 and some other places. it was the soundtrack of many a weekend while I was in HS.
10. Posted on Saturday, December 21, 2013 by Joe Mitchell:
Alternative rock before there was alternative rock:BarclayJames Harvest,Renaissance, Horslips,Al Stewart,King Crimson,The Strawbs,Chilliwack,Frank Zappa,The Alex Harvey Band,etc...Also first station to play sex pistols, Blondie and Howard Stern(Remember The News Blimp?)
11. Posted on Sunday, January 26, 2014 by Roy Laurence:
I was PD at WIOQ and later WCAU-FM in the 70s. Where is the accurate history???
12. Posted on Saturday, May 31, 2014 by Tim Lewis:
I think it was 1978, Helen Leicht played Joni "Song to a Seagull". I've been hooked ever since!
13. Posted on Monday, November 24, 2014 by susan hitchcock:
Hi, I'm writing to see if I can obtain any information on a former DJ, Chris Guetta? Chris and I worked together in the late 70s at WSNI and she became elemental in helping me at my new job and learning the radio media ropes (I was secy to the GM (Joe Samuelson), and alse wrote air copy for their sales, a few spots of which Chris ended up in. I had heard from a mutual friend that Chris had died in mid-2014--so sad, as we'd connected on Facebook and were going to meet in Philly for lunch! Chris stayed in my memory as a vibrant and funny and talented voice in the business and I wanted to reconnect. Any info. you my know about her or folks who I could connect with on facebook, that can fill me in on Chris those past years (1980-on), I be very grateful! Thank you, Sue Hitchcock
14. Posted on Wednesday, January 14, 2015 by Doug Heller:
I remember back in the late 70's, the station had live concerts from area niteclubs andbars. One bar was Starr's 2nd and Bainbridge. Does anyone know who would have the tapes of those concerts???
15. Posted on Sunday, February 22, 2015 by Korinne Jackman:
I started listening to WIOQ in 1974. I still have some of the schedules of the Best of Progressive Rock weekends. Those weekends introducer me to music I never would have heard. I have bootlegs tapes I made of some of the Christmas concerts at the Valley Forge Music Fair. I think Ed Sciaky was one of the best radio personalities to hit the airwaves. His genuine love of music and his willingness to share his knowledge and tastes with us made him a standout. I still miss hearing him on his Sunday night radio show. Every time I hear Jefferson Airplane's Embryonic Journey I am reminded of him. Two other greats, Helen Leicht and David Dye. Like listening to Helen on WXPN...it's like we're all growing old together.
16. Posted on Friday, May 15, 2015 by Jea Davis:
I was a die-hard WIOQ fan during the 70's while in high school. My two favorites were "Debut on Q" and "Concert on Q" which featured local, relatively unknown artists. There was a song called "Forsythia" by Elizabeth May Fern (sp.?) that is seared into my memory - I was sure she would soar to fame and fortune. If anyone knows whatever became of her, or if there are any of her recordings available anywhere, I would appreciate the information. Thanks! Jere Sullivan was the best!
17. Posted on Wednesday, December 28, 2016 by Kevin Hilley:
Loved listening to Harvey on the way to high school in the mornings.
18. Posted on Tuesday, February 27, 2018 by Doug Smith:
I 'switched' from WYSP to WIOQ around 1974. They blew away my musical universe when they started to play a newly released LP every night at midnight. They would play the entire side one...break and then play side 2. I recorded these and they opened me up to SO MANY bands I would never have know.....thanks guys !!!
19. Posted on Wednesday, September 5, 2018 by Ron Hughes:
I was a staff announcer on WIOQ in the 70's when they kicked off their automated era using computer punch cards in a card reader. Dave K. was a great influence on IOQ. I later worked with him over at 95PEN/WMGK. Ron Hughes aka Bobby Mitchell
20. Posted on Saturday, October 6, 2018 by Donna Statkus:
Q102 played the most progressive, obscure, but the best music by bands that played such great music. I was an avid listener between 1974-79 when I was living in New Castle Delaware. Best music.
21. Posted on Friday, February 22, 2019 by Nick Sullivan:
I did weekends at WIOQ from summer 1982 until early 1984, after hiring by Alex DeMers. Fri-Sat overnights mostly, then again from fall 1987 through a few months of the oldies era. Escaped to WYSP in 1988 as I hated the oldies format, stayed until 2008, then retired. I love the Q; still have my 'Harvey' mug with the red logo! I wish I'd saved some airchecks. IDs top of the hour over that 'Interstellar Overdrive' clip ... filled in 2 weeks for Sciaky in spring 1983, 6-10 pm. Never forget it all!
22. Posted on Tuesday, March 26, 2019 by BRIAN:
DOES ANYONE REMEMBER THE CHIMES AND THE WHOLE SOUND OF THIS STATION. HOW ABOUT WHEN THEY DID THE FANTASY PARK CONCERT...AWESOME!
23. Posted on Tuesday, December 10, 2019 by Karen Stimac:
Jeff Mathieu...where are you now...your over night broadcasts kept me company whenever I worked 11p-7a at CHOP..
24. Posted on Tuesday, August 3, 2021 by Michael Cangelosi:
I really loved Q-102 when it switched to a sort of "beats to the street" vibe when it went to a dance format. Nice mix shows at the clubs on the weekends and mid-afternoon hour "back in the day" or mix hour was great. I think something like this would work with EDM as popular as it has ever been or at least a dance format. How many top 40 radio stations do we need?
25. Posted on Tuesday, May 3, 2022 by John:
Can't forget the station ID which sampled the instrumental "Intergalactic Trot" by Stardrive With Robert Mason.
26. Posted on Monday, June 20, 2022 by Jim Russo:
I followed the station from its "Popular 102" days playing in my dentist's waiting room through its Rock'n Philadelphia period (with the Rocking Chair logo)in the mid-late 70's while studying for my engineering degree. The 1978 lineup had Harvey, Alex Demers, Helen Leicht, Jim Harlan, Ed Sciaky, Phil Brady & Michael Tozzi who introduced me to so many artists and types of music. I still have a cassette of a Led Zeppelin 'Q-Classics' hour, but sadly only snippets of the station on other tapes.
27. Posted on Tuesday, October 25, 2022 by Susan:
I listened to WIOQ in the wee hours of the morning as I worked nights and remember listening to David Anderson on the grave shift from midnight to 6AM. He was great. He moved on to KROK in Cleveland Ohio late 80's and was totally against formatted music delivery. I agreed with him.
28. Posted on Monday, November 14, 2022 by Spencer Godshall:
WIOQ played 'On And On And On' by ABBA one time in 1981. They never played ABBA before so I sat in the car stunned! I've never forgotten that day and just posted it on Reddit!
Add your comment
Please note: commenting has been temporarily disabled. Please check back again soon for our new commenting system.