Philadelphia Radio Archives
History of Philadelphia radio station 104.5 WRFF
As WRCP-FM
104.5 signed on in 1965 as WRCP-FM, the sister station to WRCP-AM, owned by Rust Craft, a greeting card company. 104.5 simulcasted the MOR format of the AM station and continued to simulcast when the station switched to a country format in 1967. In 1971, the station commenced stereo operation and simulcasted WRCP AM during the day and separately programmed country music at night.
As WSNI (the first time)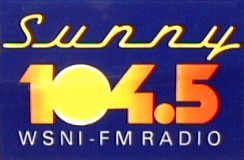 In 1977, WRCP became WSNI and began completely original programming with a unique "beautiful country" format, while the AM continued with traditional country. Beautiful country was a mix of original soft country hits and specially customized instrumental covers. By 1979, the country music was phased out for traditional beautiful music via the syndicated FM 100 Plan. In 1980, the station switched to an adult contemporary format, interspersed with occasional pop standards, using the "Sunny 104" name for the first time. By 1982, WSNI evolved into a more gold-based AC featuring Hy Lit and using the new slogan "Sunny 104 and a half - it's the half that makes the difference." In 1983, Hy Lit moved to the AM operation and was replaced by Don Cannon in the morning. Cannon and sidekick Dennis Malloy hosted the long- running "Cannon and Malloy" morning show. Other WSNI announcers in the early 1980s included Chris Guetta, Tony Mann, Viv Roundtree, Andre Gardner, Joe Simone and Vernon McKay. By the late 1980s, the station changed its name to "Sunny 104.5," retaining the adult contemporary format, but increasing the amount of current songs while severely limiting the oldies. By 1990, Cannon, Lit and Malloy had left. In April, the station dropped the softer '60s and '70s music from its playlist to concentrate on '80s artists. The "Sunny" name was also dropped.
As WYXR
On December 10, 1990 the call letters were changed to WYXR in an attempt to distance the station further from the "Sunny" image and softer music. The station was now known as Hot AC "Star 104.5" In 1996, the station leaned CHR (contemporary hit radio) still retaining the Star name but was back to Hot AC by 1997. From 1998 to 1999, television host, writer, and producer Nancy Glass hosted the female-focused Nancy Glass Show on weekday mornings.
As WLCE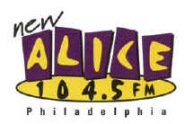 On November 18, 1999, the station became known as "Alice 104.5" with new call letters WLCE. The new format was described as "Rockin' Hits" of the '70s, '80s and '90s in an attempt to challenge classic rock WMGK. By 2001, more current hits were added to the mix, and the station leaned more towards a rock/hot AC sound. Also in 2001, after a series of earlier mergers, the station came under the ownership of Clear Channel Communications. Initially the Alice format was designed to "appeal to women 25 - 49 years of age." (Born 1950 - 1974)
As WSNI - again
On July 31, 2002, after stunting with a 24 hour loop of The Beatles' "Here Comes the Sun," 104.5 flipped back to soft AC, reinstating the "Sunny 104.5" name (and eventually the WSNI calls) abandoned 12 years earlier. According to The Philadelphia Inquirer, the new Sunny name was leaked a day early when Mix 95.7, located in the same building, recieved a misdirected box of promotional "Sunny 104.5" pens. This incarnation of Sunny was an AC oldies format focusing on the '60s, '70s, and '80s. Barry Manilow voiced a liner for the station stating that "now Philadelphians can finally hear my music on the radio again." The new Sunny lasted just over four years. On August 10, 2006, Sunny's sister station WJJZ 106.1 flipped from smooth jazz to a rhythmic AC format. The Sunny format was dumped and 104.5 began a simulcast of this new station. (Since 104.5 was delayed by several seconds from 106.1, this simulcast has been referred to as a "shadowcast.")
As WUBA, WRFF
After 13 days of shadowcasting 106.1, 104.5 flipped to a Spanish language station known as "Rhuma 104.5" with call letters WUBA. This was the first Spanish language station on FM in Philadelphia. Due to low ratings, the format and calls were moved to 1480 AM on May 16, 2007. At that point, 104.5 became known as "Radio 104.5" with a rock format centered on modern rock from the 1990s, along with some '70s, '80s, and current product. New calls WRFF ("Radio one o Four Five") were assigned on May 23, 2007.
---
Sources
Kevin L. Carter, Philadelphia Inquirer, 11/5/1999, E18
Michael Klein, "INQlings", Philadelphia Inquirer, 8/1/2002, E5
Discuss WRFF
Comments? Corrections? Worked there? Please let us know!
1. Posted on Monday, December 20, 2010 by Ron Bond:
Looking for information on George Lyle, Sports Director for WJMJ in the 50's or 60's. He also annnoounced Eagles Games in the late 60's
2. Posted on Wednesday, July 27, 2011 by Tom Kaufman:
Wonder if there any airchecks of WRCP from late 1967/early 1968 floating around? I remember how that ole station sounded much like a "top-40" station; they could have been a "countryfied WFIL, only they played country music!
3. Posted on Sunday, August 7, 2011 by CDH:
I too am looking for more info about George Lyle.
4. Posted on Friday, March 30, 2012 by Tom Kaufman:
Still looking to find some airchecks of when WRCP first went country in 1967/early 1968.
5. Posted on Thursday, June 19, 2014 by cyber:
To everyone who worked at WSNI in the 70's and 80's I have this sad news to pass along. Chris Guetta passed away this week.
6. Posted on Monday, November 24, 2014 by sue hitchcock:
Hi, I worked at WSNI/WRCP with Chris Guetta in the l153 '70's, but we lost touch. Recently I heard from another former colleague that Chris had passed. (sometime arund May 2014). I reunited with Chris as late at 2014 and we were trying to meet up. Can you please give me any info. on Chris Guetta in these later years--I even checked obits and wasn't able to get anywhere! She was a vibrant, talented young woman when we worked together and helped me in my future endeavors. This info will be greatly appreciated! S.Hitchcock
7. Posted on Tuesday, December 2, 2014 by cyber:
Sue: Chris passed away in June about a month before her birthday. She was living in an apartment in Jenkintown. Her sister held a memorial gathering at the Moshulu at Penn's Landing. If i could get in touch with you via e-mail I could fill you in with greater detail. I don't know how to do that on a public forum because it wouldn't be a good idea to publish our e-mail addresses. I don't have a Facebook page or any other social media. Any ideas let me know.
8. Posted on Saturday, April 11, 2015 by Lindsey:
I'm not sure what WRFF originally played, but it's definitely not focused on 90s with some 70s and 80s. I'd say it's focused on current charting alternative songs with a heavy 90s/2000s influence.
9. Posted on Monday, October 19, 2015 by Sydney '4363':
The call letters come from (the capitals are the call letters) "We're Radio one o Four Five" not "Radio one o Four Five". Unlike other stations, it makes use of the W for the east. Smart.
10. Posted on Wednesday, September 14, 2016 by Bob Lewe Jr.:
Grew up in Philly. Enjoyed WSNI. Where is Joe Simone?
11. Posted on Wednesday, January 24, 2018 by David:
Seventies, '80's and '90's rock on Radio 104.5? I don't remember hearing even '90's alternative rock on that station, then or now. As far as I can tell, it's been a practically current-based modern rock station since day one.
12. Posted on Wednesday, January 24, 2018 by David:
Re comment # 9: That's why the entry said that WRFF's call letters stand for "Radio One O Four Five," Sydney '4363': Because the W is understood to signify that the station-as you said in so many words-located east of the Mississippi River.
13. Posted on Friday, March 4, 2022 by John Holcomb II:
70's-90's Rock (as the Rock AC format) was in 99 as "Alice 104-5" WLCE. I remember this format.
14. Posted on Monday, September 5, 2022 by BH:
104.5, in it's second go as WSNI was the first Philadelphia radio station to play Christmas music 24/7, starting in fall 2002 or 2003.
Add your comment
Please note: commenting has been temporarily disabled. Please check back again soon for our new commenting system.