Philadelphia Radio Archives
History of Philadelphia radio station 1210 WPHT
Origins
Two months after WIP became the first commercial radio station in Philadelphia, WCAU went on the air in May, 1922. WCAU's founder was an electrician named Wilson Durham, who started the 250-watt station in the back of his shop at 1936 Market Street.
In 1925, the station was sold to law partners Ike Levy and Daniel Murphy for $25,000. When Murphy became disinterested in the venture, Levy persuaded his brother Leon, a dentist, to take his place. Although many regarded radio as a fad, the brothers had a keen sense of the medium's potential.
In 1928, the men convinced their brother-in-law William Paley, who was working in his father's cigar business, to buy a financially troubled 16 station network called United Independent Broadcasters. In 1928, Paley, 27, used $500,000 of his family's money to purchase the network which he renamed Columbia Broadcasting System (CBS). WCAU was the network's flagship station.
After a short stay at 39th and Chestnut Streets, the studios were moved to 1321 Arch Street, and then in 1933 to a state-of-the-art-facility at 1622 Chestnut Street. The new facility was the first ever constructed especially for radio broadcasting, and included eight studios (including one large enough to hold the entire Philadelphia Orchestra), and a special technical research laboratory. After a progression of power boosts, the station finally attained its 50,000 watt clear channel status, and could often be received in most of eastern North America at night.
The 1930s and 1940s were generally regarded as the "Golden Age of Radio", and WCAU was a huge participant. There were two in-house bands as well as an extensive news department. Through affiliation with the CBS network, listeners were treated to the talents of Jack Benny, Eddie Cantor, Edgar Bergen, Bing Crosby, Frank Sinatra, Kate Smith, Red Skelton, Guy Lombardo, the Dorsey Brothers, Will Rogers, Arthur Godfrey, Burns and Allen, Fred Allen, and Edward R. Murrow, to name a few.
WCAU also featured a number of local personalities, including Bill Dyer, Taylor Grant, Norman Brokenshire, Alan Scott, Bob Menefree, and columnist Jack McKinney. The station's longest running show was The Horn & Hardart's Children's Hour, hosted by program director Stan Lee Broza.
In 1946, The Levys agreed to sell WCAU to David Stern, publisher of the Philadelphia Record. However, when the Record folded shortly thereafter, the rights to purchase WCAU passed to the Philadelphia Bulletin, which also owned WPEN AM and FM. The Levys continued to run the stations for the Bulletin as the newspaper sold WPEN-AM and WCAU-FM, and renamed WPEN-FM to WCAU-FM and WPEN-TV to WCAU-TV. In 1952, the station moved to a new facility on City Avenue, which was built to house WCAU TV as well. In 1957, The WCAU stations were sold to CBS.

In the 1960s, the station gradually moved away from music programming to focus on news and talk. One ambitious news program was Evening Edition, hosted by Taylor Grant and airing at drive time. This newspaper-style show contained numerous features delivered by a variety of reporters, critics, and experts. Local personality Frank Ford was a popular talk show host at this time and one of the first to put actual callers on the air during talk programs. (Hence the slogan "2 way radio")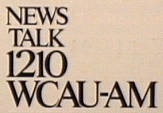 After corporate orders from CBS to go all news in the mid-1970s, the station did poorly against an entrenched KYW. By the end of the 1970s, the station began losing money. In the early 80s, WCAU lost its focus flipping between all-news and news-talk, but still unable to beat KYW at news or WWDB at talk. By the late 80s, the station settled into a mostly talk format. Well-known hosts during this period included former Mayor Frank Rizzo, whom callers would regularly urge to run again for public office. There was also Steve Fredericks with sports, Harry Gross' financial show as well as Tony Bruno, Dominic Quinn, Clark DeLeon, Ira Mellman, Anita Gevinson, Dr. Marty Weisberg, Maxine Schnall, and Ron Eisenberg.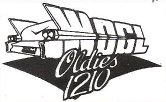 On August 15, 1990 at 1:05 p.m., the 68 year history of WCAU came to an end. CBS, citing massive losses, fired over 30 of the station's employees, including most of the talk-show hosts and the entire news department. The format was changed to oldies, with half of the broadcast day simulcasting sister station WOGL-FM. The sudden switch stunned radio analysts across the country, many of whom felt that the station could have been salvaged. Known as WOGL, the station retained much of its evening sports programming. Generally, the station carried 60 hours of music and 108 hours of sports programming per week. The oldies jocks consisted of Tommy McCarthy, Bob Pantano and Harvey Holiday from sister station WOGL.

On March 18, 1994, WOGL became all sports WGMP. Much of the station's programming was provided by a syndicated network service. Remaining in the lineup were the Phillies and Villanova and Temple basketball. Instead of going head-to-head with all-sports stalwart WIP, WGMP aimed for a more in-depth approach, featuring longer listener calls and more interviews.
With the exception of sports play-by-play coverage, WGMP's ratings were often quite low, especially against entrenched sports talk leader WIP. By the summer of 1996, CBS, now with the resources of new parent Westinghouse Broadcasting, began rebuilding the station into a mainstream talk format. A new program director was hired, and local hosts began replacing the syndicated sports programming. In August, the call letters were changed to WPTS, which stood for "We're Philadelphia's Talk Station." A few weeks later, the calls were changed again to WPHT, reportedly to avoid confusion with Trenton's WPST-FM.
For the next two years, WPHT experimented with a number of local hosts and programs. Some of these hosts included Dr. Judith Sills, "Scoot", Jay and Hilarie, Amy and Morima, Nancy Glass, Don Lancer, and combinations thereof. Since former rival KYW 1060 was now a sister station, some hosts were shared among the stations. In August, 1998, with continued low ratings, the station decided to eliminate most local hosts in favor of syndicated talk programming, such as the G. Gordon Liddy Show, and Dr. Toni Grant. Rush Limbaugh joined the lineup in 2000 after FM talker WWDB flipped formats.
Steve Friedman, known as "Mr. Movie" had been heard at various times on 1210 AM since 1982. Nationally known for his movie knowledge, Freidman died of kidney disease just hours after completing his Saturday night show on WPHT in September 2009.
By 2010, the station added more local talent such as Michael Smerconish and Dom Giordano, but still relied heavily on conservative syndicated programming such as Glenn Beck, Rush Limbaugh, Sean Hannity and Bill O'Reilly's "The Radio Factor." The station caused a bit of a stir in late 2010 with the announcement that they would be dropping Sean Hannity and Glenn Beck. In June 2012, the Rush Limbaugh show also left the station. Beck, Hannity, and Limbaugh subsequently resurfaced on startup talker WWIQ 106.9 FM.
After the departure of Beck, Hannity and Limbaugh, the WPHT lineup underwent a number of changes. Chris Stigall was hired for the morning show, author/journalist Buzz Bissinger hosted an afternoon show but resigned after six months, Michael Smerconish announced he was leaving for Sirius XM radio, and former Fox contributor Dick Morris was named as his replacement.
When WWIQ was sold and ended their talk format in 2013, Rush Limbaugh and Sean Hannity returned to WPHT. In 2019, WPHT did not renew Chris Stigall's contract - he returned to the airwaves later that year on the rebranded conservative talker 990 AM as their morning show host.
---
Sources
1210 AM promotional material, 1966 - present
Mike Capuzzo, "In One Sudden Move, WCAU-AM Is No More", Philadelphia Inquirer, August 16, 1990
Discuss WPHT
Comments? Corrections? Worked there? Please let us know!
1. Posted on Wednesday, September 2, 2009 by Tasha Sanchez:
do you Have any pictures of herb clark? if you do i like one signed
2. Posted on Saturday, December 19, 2009 by Howard Levin:
Wasn't John Facenda also on WCAU?
3. Posted on Thursday, January 21, 2010 by don hollander :
atlast ouy of the rating cellar
4. Posted on Monday, March 15, 2010 by tasha sanchez:
herb clarke was fun and i liked cbs news
5. Posted on Tuesday, May 11, 2010 by Samuel Mann:
My dad had a show on WCAU, the Mann-Irwin show, a piano duet. Any info on this?
6. Posted on Tuesday, May 18, 2010 by mike finley:
I have a recorded commercial endorsement for Wendell Wilkie by Joe Lewis the boxer from WCAU and I am looking for any info about this record,,any help will be greatly appreciated...Thanks, MIKE
7. Posted on Thursday, June 3, 2010 by diane bartholomew:
Is there any source of tapes/recordings of Children's Hour programs in the 1950's?
8. Posted on Tuesday, August 31, 2010 by joe :
I used to listen to Bill Corsair and the Pirates......evenings ...... what even happened to him ????
9. Posted on Tuesday, December 7, 2010 by Bob Kimmel:
I date back to the John Facenda days at WCAU radio, having worked within what was one of the better news operations of that period. It was a great experience, approximaely 50 years ago. Excellent radio news staff and solid talk/music; top notch, balanced programming that is not easy to find in today's radio world. "Evening Edition," a two-hour drive time block of programming brought together CBS network, and local news, weather, sports and commentary,that included Facenda, Taylor Grant, George Lord and others.
10. Posted on Tuesday, March 15, 2011 by Valerie King:
I have a advertising for the Horn & Hardart Chirldren's Hour from 1933 with my Dad's picture on it. Yes, when he was 9 years old, he was on of the Radio Stars of Tomorrow! Was wondering if there are any collectors out there that might give me an idea of the worth of this item. Thanks
11. Posted on Tuesday, March 15, 2011 by Valerie King:
I have a advertising for the Horn & Hardart Chirldren's Hour from 1933 with my Dad's picture on it. Yes, when he was 9 years old, he was on of the Radio Stars of Tomorrow! Was wondering if there are any collectors out there that might give me an idea of the worth of this item. Thanks
12. Posted on Friday, April 1, 2011 by Donn Devine:
...and driving back from the midewest, you could pick it up in Indiana.
13. Posted on Tuesday, June 21, 2011 by Christina:
My grand mother was part of the Russo sisters on the Children's Hour 1937 - 1952. Any records survive all these years? She's gone now & would love to hear her sing again
14. Posted on Tuesday, June 21, 2011 by Jo Woerner:
My mom and sister the Russo Sisters were on childrens hour and i have post cards from this radio station.
15. Posted on Sunday, November 20, 2011 by jennifer:
i have a copy of "The Great God Radio." In a 1932 "how to draw book.... Copied from W.C.A.U in the city of Phil., Pa..... Do you know what year it was aired??? So I can have an idea of how old it is!
16. Posted on Monday, June 25, 2012 by bernard cutler:
what kind of laim brain was that to take rush off your station don't worry, i'm listening to 106.9
17. Posted on Friday, June 29, 2012 by Helen Westenberger:
What happened to Rush I have to listen on 1250 del. I know a lot of people will leave this station for him Whats up Dont be all liberial We want him back He makes your station that use to be great Sean & Beck the best Get the picture Helen and Rudy
18. Posted on Tuesday, February 26, 2013 by Ms.Thornton:
Any information on a radio show in Philadelphia called the 8'oclock express from 8:30 am till 10:00 am featuring Charlie Rose, Slim Paite,Sandy Guyer,Curly Clements, Charlie Cain, Whitey Voll, Joe Mascino, Charlie Borelli & Johnny Bates.This would be in the late 20's or early 30's?
19. Posted on Saturday, April 13, 2013 by Gene Pierce:
Wasn't WCAU a part of the FCC's experiment in higher wattage radio Clear Channels like WLW in Cinncinati; "The Only Station Heard Nightly in Gaum" at 250,000 watts?
20. Posted on Wednesday, August 21, 2013 by mitchell rowe : aka ; 'melody mitch':
i was a regular on the 'children's hour' for 6 years , beginning in 1958 . to note : stan lee broza's wife ,the producer and director was Samuel Paley's daughter . Their sons , Elliott Lawrence , the orchestra leader , and Stan Lee Jr. , the Bache investment banker .
21. Posted on Sunday, November 17, 2013 by Bill Corsair:
In answer to Joe's question: "What happened to Bill Corsair?" I'm fine and have been living in Manhattan for the past 31 years. After 'CAU I went to WFIL-AM, for a short stay, then to WTIC-AM, in Hartford & then my wife Janis and I co-hosted a live, audience,5 day a week morning Talk/Entertainment TV show for PostNewsweek. Worked with Mark Lamos at Hartford Stage which led to a film, stage, TV and voice over career in NYC, for both Janis and me. Most recent credit, of note, was the awarding of a SAG award for my performance of the 1930's News Announcer in the feature "Chicago". Janis was featured in the classic film "GoodFellas"; check out the brunette in the "Get your shine box" scene. This year, 2013 I was inducted into the Rhode Island Radio Hall of Fame (my home state) and my High School inducted me into the "E.P. High School Hall Of Fame". Sample audio is available at https://soundcloud.com/perdiefilms/bill-corsairs-demo-reel. Thanks for asking Joe. Nice to know someone in Philly remembers, BTW the "Rascals", not "Pirates"; with a name like Corsair, the mistake is understandable.
22. Posted on Tuesday, November 26, 2013 by Dale OBrien:
Bill Bircher got me through college. I am sure his tuition check must be in the mail. He was the only reason I got up early for classes. It certainly wasn't for the education. Does anyone know if Bill is still around annoying people?
23. Posted on Thursday, December 26, 2013 by Laura O.:
Is there any source of tapes/recordings of Children's Hour programs in the 1950's? I have a friend who was on the program for 13 years, The Cooney Trio. Is there any way I could get a copy of one of their shows? Many thanks!
24. Posted on Monday, April 14, 2014 by Kenneth L. Woodson:
This station is mostly an extension of the extreme right wing of the Republican Party. How it is allowed to constantly slant facts by using omissions and exaggerations, I will never understand. I know about the first amendment, but I expected CBS to adhere to a higher standard!
25. Posted on Monday, May 5, 2014 by Ed F:
After the station went to an all sports format in the 90's I became a pretty regular listener to Scott Graham's, Neil Hartman's and "Big Daddy" Graham's radio show, which I think was the stations first local sports show at the time. Also listened to a lot of Mr. Movie, who I think aired Sunday nights at the time. Does anyone happen to remember a show that air overnights, around early to mid 90's? It was basically two guys screwing around and talking local pop culture and entertainment. I don't think it lasted long, maybe a year or so. And the only thing I can remember is the two hosts were brothers.
26. Posted on Thursday, June 5, 2014 by Harry R:
I listened to WCAU all the time back in the 1970s; they had a good lineup. I remember Joel A. Spivak and Bernard Meltzer. If Bill Corsair tunes in, I often wonder what happened to Murphys Mom? I have a couple hours audio on tape, some with Murphs Mom.
27. Posted on Sunday, July 13, 2014 by Justin:
My father ron eisenberg was on this station when I was a child. I dont know if any recordings still exist but id like to remember a time when my father and I had a relationship. Even if its just a snippet.
28. Posted on Thursday, January 8, 2015 by mfritzler:
A Harvard-trained pianist & musician I'm researching was living in Philly between 1928 and 1938--working in radio. Nadia Boulanger may have been a muse/influence. His name was Elmer Linnaeus Olsson. Who would have employment records for philly radio stations in the 1930s? Other leads to track this musician to 1938, when he returned to Boston?
29. Posted on Saturday, March 26, 2016 by Emily Cary:
Does anyone know which Philadelphia radio station broadcast the Mae Desmond Children's Theatre shows on Saturdays during the 1940s?
30. Posted on Monday, April 4, 2016 by RUBBERSOUL:
LIKE TO KNOW ALL THE STATION'S TALK SHOW HOSTS FROM 1960 TILL PRESENT. thanks.
31. Posted on Wednesday, April 20, 2016 by Lisa Tharaud:
WCAU changed formats in 1990 in order to break up an attempted effort to organize a union for the talk show producers. Yes it's also true that the station was losing money but that was the real reason CBS went to the all oldies format.
32. Posted on Friday, July 15, 2016 by Ed Casey:
One of my favorite late 60s hosts was Al Julius, he was the mornjng man. For some reason he garnered a lot of hate. He even nicknamed the first hour of his show from 5am-6Am the happy hour. Also loved Ron Owens and Bill Corsair
33. Posted on Saturday, November 26, 2016 by Judy Wallace:
Anyone remember "Colonel Bill" and his jeep for Joe?
34. Posted on Monday, July 31, 2017 by David Tractenberg:
JUSTIN - It's David Tractenberg I've been trying to locate you for quite sometime ...
35. Posted on Friday, November 10, 2017 by Bill Gensel:
My grandfather worked for WCAU back in the 1950's. His name was Carl Gensel but he went by the on-air name Carl Owen. I believe he did news and weather broadcasts and maybe some other things. He retired around 1960 and passed away in 1975. Just wondering if there is anyone still around who remembers him or worked with him.
36. Posted on Thursday, March 29, 2018 by Bill Huenke:
Who were the early morning host on WCAU from 1975 to 1995. Thank you, Bill
37. Posted on Thursday, June 14, 2018 by Sarah Wenner Krout:
Anyone remember "Cinderella Weekend" around 1950 ?? I won a big final contest for writing a letter telling my reasons to win. Alan Scott was the host, and remember it was Bill ??? that had chose my letter.
38. Posted on Monday, July 2, 2018 by kim williams:
my mother and her brothers use to appear on stan bronzo radio in the 50s i believe and their name was the orange children. does anyone know how i would come by a picture of that? i know a tape is too much to wish for but would love to have a pic of my mom and her brothers since they have all passed.
39. Posted on Sunday, November 11, 2018 by Carla Halloway:
I'm looking for a copy of The Corsair and Co show which showed students from a Canton School in 1977-78
40. Posted on Tuesday, March 12, 2019 by Christine Grimaldi :
My father Al Martone & his mother Josephine Martone sang on a philedelphia radio station in the 1940's. Any information you have would be appreciated. Thank you, Christine Grimaldi
41. Posted on Monday, April 1, 2019 by mitchell rowe:
member of the horn $ hardart children's hour from 1958 to 1962 , aka: melody mitch at the piano live from Philadelphia on wcau tv
42. Posted on Tuesday, September 10, 2019 by Tom Rhea:
Can anybody tell me any more detailed information about the electronic musical instruments that Ivan Eremeeff developed at WCAU in the 'thirties? Interest is for my book coming soon. Thanks, Tom Rhea.
43. Posted on Thursday, November 14, 2019 by Doreen Stratton:
Is there an archive department where you maintain recordings of broadcasts from the first half of the 20th Century? My father, Sid Stratton and his 'Four Horseman Band' was often featured on one of your broadcast programs. I live in Doylestown, PA. I have "fan mail" dated in 1930 from January through to August from listeners expressing their delight in hearing his band and often, requesting his band play specific numbers as my father sings. I'd appreciate hearing from someone.Thank you so much for this request.
44. Posted on Monday, March 2, 2020 by Kevin McKinney:
I'd like to access any archived recordings of my father, Jack McKinney's popular "Night Talk" from the late 1960's, which was #1 in the market for a time. If available please get in touch. Thanks
45. Posted on Tuesday, February 16, 2021 by B. Ledger:
WCAU, with 50,000 watts and a clear channel, I enjoyed listening to Phillies games when living in South Dakota in the 60's.
Add your comment
Please note: commenting has been temporarily disabled. Please check back again soon for our new commenting system.