Philadelphia Radio Archives
History of Philadelphia radio station 102.9 WMGK
WCAU/WPEN
WMGK can trace its origins back to 1940, when the FCC issued call letters W67PH to a new FM station owned by the WCAU Broadcasting Company. On November 1, 1941, W67PH changed call letters to W69PH when its frequency was changed to 46.9 MHz. WCAU-AM programming was duplicated on the FM station when it went on the air November 20, 1942 with studios in the WCAU building at 1622 Chestnut Street, and transmitting tower atop 1616 Chestnut Street.
W69PH changed call letters to WCAU-FM on November 1, 1943 and was subsequently acquired by The Philadelphia Record newspaper along with WCAU-AM in 1946. When the new higher band FM stations were assigned by the FCC in 1945, WCAU was placed at 102.7 and then moved to 102.9. After a lengthy strike at the Record in 1947, the paper went out of business and sold its assets to the Philadelphia Bulletin, which also inherited the rights to buy WCAU AM and FM. Since the Bulletin already owned WPEN AM and FM, it sold off the less powerful 950 AM and 102.9 FM frequencies and kept the more powerful 1210 Am and 98.1 FM stations as WCAU.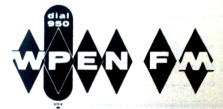 The new owner of 102.9 FM (and WPEN AM) was the William Penn Broadcasting Company, which was in turn purchased by the Sun Ray Drug Company owned by the three Sylk Brothers. The station, now known as WPEN-FM moved into the three story Philco building located at 2212 Walnut Street, while continuing to broadcast from 1616 Walnut Street. In the 1950s, WPEN-FM offered a "Simplex" background music service for local businesses: While the general public was able to hear the music and commercials being broadcast, subscribing busniesses were provided with a special box that muted the commercials. The system was known as "Musitone" due to the high frequency inaudible tone that was used to trigger the receiver. The FCC was not enthusiastic about the use of Simplex services and pushed for the use of subcarrier systems which were alternate services embedded in the main FM signal. WPEN became one of the first stations approved for subcarrier broadcasting in 1955. For the next 20 years, it was mainly the rental of subcarrier boxes by businesses for commercial-free music that paid for much of the WPEN-FM operations.1 (FM listening was scant and commercials rare during this period.)
By 1958, WPEN-FM was transmitting from a tower atop the Rittenhouse Claridge. During the 1960s, WPEN-FM duplicated a varied portion of the AM programming, playing "standards" the rest of the time. In 1969, a group of local businessmen led by Martin Field purchased the WPEN stations. Through the early 1970s, WPEN-FM continued to simulcast the AM programming around 30% of the time, still broadcasting in mono.
Greater Media ownership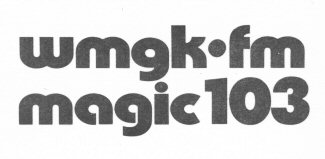 WPEN AN and FM were sold to Greater Media Inc. in 1975 for $4.3 million. By spring of that year, a new oldies format debuted on WPEN-AM, with a full simulcast on WPEN-FM. Finally, on Labor Day 1975, with new call letters WMGK and in full stereo, 102.9 began a separately programmed soft rock format known as "Magic 103." While a number of Philadelphia FM stations had a hard rock sound aimed at a younger audience, and others supplied easy listening aimed at an older audience, WMGK targeted 25 to 34-year olds with a mellow rock sound. Initially, there were many album cuts in the mix from artists such as Joan Baez, Joni Mitchell and Harry Nilsson. In 1980 general manager Larry Wexler and program director Bob Craig removed many album cuts for a broader appeal. The station was known for a reliable, predictable rotation of three to four mellow pop songs back-to-back, with subdued DJs that tended to blend into the background, making it easy to listen to at work or while otherwise distracted. Magic 103 was a top 10 station through much of the 1980s and copied by other stations around the country, not just ones owned by Greater Media.
In 1978, the studios had moved from Philadelphia to #1 Bala Cynwyd Plaza (now known as 1 Bala Plaza) in Bala Cynwyd, and the transmitter moved from the Rittenhouse Claridge to the Roxborough antenna farm on Domino Ave. The old tower still remains atop the Rittenhouse Claridge, visible from the square below.
Moving away from adult contemporary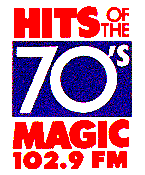 In 1992, WMGK changed their long-standing name "Magic 103" to the more modern digital-sounding "Magic 102.9" but still programmed a mainstream soft rock/adult contemporary format. In late 1993, former station veteran Mike Bowe was brought back to host a Saturday Night '70s show. By June of 1994, the show proved so popular that the station decided to go all '70s for entire weekends. With stiff competition from WBEB "B101" and WYXR "Star 104.5," WMGK decided to go all '70s all the time. The change was announced by program director Julian Breen on Mike Bowe's shift on July 10, 1994. The "Magic 102.9" name and most of the jock staff remained. Any song that received reasonable air play on WFIL or WIBG in the 1970s was fair game, from disco to easy listening, leading to some "trainwreck segues." For instance, playing Led Zeppelin into Donna Summer, or Todd Rundgren into Minnie Ripperton. Although ratings were good and the music mix was eclectic, corporate staff only "understood Oldies and Classic Rock, not this hodgepodge of Top 40 staples and tried to steer Julian towards the latter."2
The following year, 1960s and 1980s songs were added to the playlist, and the station used the slogan "classic hits of the '70s." Eventually, the '70s references were dropped and in the fall of 1995 the Magic name was dropped in favor of "102-9 MGK." WMGK positioned itself as a "classic hits" station, staying away from most of the harder classic rock songs. In 1997, Greater Media acquired WMMR and continued leaning softer than most classic rock stations to lessen the overlap with WMMR, changing their slogan to "The Classic Rock Station" in the fall of 2001. Today, WMGK is the only classic rock station in the Philadelphia region.
---
Sources
(1) Peter Hunn, "Starting and Operation Your Own FM Radio Station", TAB Books 1988, P. 122
(2) Jack Kratoville, WMGK 1994 - 1996
Billboard, various issues, 1955, 1975
WMGK-FM aircheck, July 10, 1994
Phyllis Stark, "'70s Hits Do The Trick At Magic 102.9", Billboard, 1994
Discuss WMGK
Comments? Corrections? Worked there? Please let us know!
1. Posted on Saturday, May 22, 2010 by robin:
I remember when WMGK came on the air the called it magic102. They played a lot of "soft" music.
2. Posted on Wednesday, March 23, 2011 by stevewest:
Not called Magic 102 since they were 102.9 they were know as Magic FM 103. Maybe you are mixed up with WIOQ 102.1?
3. Posted on Thursday, June 16, 2011 by Jose Flavio:
I used to live in North Wales PA, during 2 years in the 80s. I do really remember how good was listening Magic 102. What a good time. I live in Brazil. Regards to all
4. Posted on Thursday, June 16, 2011 by Jose Flavio:
I do want to correct, was Magic 103 Philladelphia FM. Good any way.
5. Posted on Wednesday, July 25, 2012 by Mike McDevitt :
Irememberlistening to Mike St. John and his Sat. night Oldies Show on Magic 103 WMGK
6. Posted on Monday, October 17, 2016 by Kelly:
I remember every night I would turn on the late shows to go to sleep to soft rock played on Magic 103.9 fm. Great memories. I lived in Germantown.
7. Posted on Monday, March 18, 2019 by Olga:
My husband swears that the first song that wmgk played when it was revamped in the seventies(1975?)was "Do you believe in magic" by The Loving Spoonful. I talked to Mike Bowe and he disagreed. Does anyone remember?
8. Posted on Wednesday, October 2, 2019 by Jay Pea:
Actually, WMGK did not call themselves "Magic" until well after they were into the soft-rock format. They were always known as "WMGK FM103, where the magic is the music." So, while they used "Magic" as part of a slogan, it wouldn't be for a couple of years till they started using the name "Magic 103." By the way, the first song that aired right after the Pete Booker-voiced legal ID, was Barry Manilow, "Could It Be The Magic At Last." They thought about using the Lovin' Spoonful record, but since they were trying to differentiate themselves from their oldies AM station (which they had simulcast for 6 months or so previous), they went with the Manilow.
9. Posted on Monday, September 5, 2022 by mas:
I lived in Philadelphia during the school year of 1978-79 and worked at the University of Pennsylvania in the Economics department. I used to listen to WMGK103 all the time and I still remember their jingle to this day! Magic is the music WMGK FM 103...??
10. Posted on Monday, December 12, 2022 by Bruce Scott:
WMGK also experimented briefly with an all-1970s format.
Add your comment
Please note: commenting has been temporarily disabled. Please check back again soon for our new commenting system.