Philadelphia Radio Archives
History of Philadelphia radio station 96.5 WTDY
As WHAT-FM
In 1944, Dolly Banks, and her brother William Banks, purchased WHAT-AM from the Public Ledger. The deal included an extremely low profile FM station at 96.5 FM, which simulcasted the AM until the mid 1950s.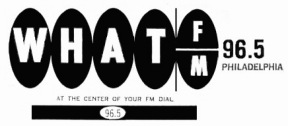 In 1956, a young man named Sid Mark began hosting an all night jazz music show, the first original programming on the FM station. Each morning at the conclusion of the show, two patch cords would be plugged back in to simulcast the AM for the rest of the day. To the surprise of station management, Mark's show quickly gained popularity. In 1958, the decision was made for WHAT to became the country's first 24 hour, live FM jazz station.
First Sale
In the late 1960s, the call letters were changed to WWDB, representing the owner's initials (William and Dolly Banks) The name change coincided with a gradual diversification of the jazz format to include standards with the likes of Frank Sinatra, Ella Fitzgerald, Mel Torme, and Henry Mancini. At some point in the early 1970s, the station experimented with an adult contemporary format but soon gravitated back to jazz. On March 17, 1975, WWDB became the country's first all-talk station on FM.
The initial lineup of talk show hosts included Wynn Moore, Sid Mark (who also hosted Sinatra shows "Friday with Frank" and "Sunday with Sinatra") Irv Homer, Ken James, Jay Turner, Merrill Reese, Helen Hagan, and Frank Ford. All shows were locally produced with no syndicated programming. Most of the time, WWDB turned off its stereo pilot, presumably to increase the station's coverage area. While playing music, the stereo pilot was usually turned on.
When William Banks died in 1979, his sister Dolly Banks assumed full ownership of the station, also taking on the role of general manager. She resigned that role on May 16, 1984 in order to concentrate on fighting multiple allegations of racial and age discrimination against the station, but continued as chairman of the board until May 1985. She died that September at the age of 71.
Ultimately, after all the claims were settled and with FCC approval, the Banks family received $5,985,000 for WWDB. The new owner was lawyer Ragan Henry and his company NEWSSystems Group. The Philadelphia Inquirer reported that this purchase was "seen as an important event in Philadelphia broadcasting because Henry is black." Two months later, Henry sold the station to Charles Shwartz, a NEWSSystems employee, under a newly formed company named Panache Broadcasting Corp.

During its heyday in the 1980s, WWDB was often one of the top 10 rated stations in the market, and featured local personalities such as Mary Mason, Frank Ford, Irv Homer, Susan Bray ("The saucy Aussie"), psychologist Dr. Murray Needleman and fitness guru Jim Corea.
On June 1, 1989, WWDB moved its studios from their original location at 3930 Conshohocken Avenue to a newly constructed building at the corner of Belmont Avenue and Levering Mill Road in Bala Cynwyd where they occupied 60% of the space. The call letters were prominently displayed on the facade. (It later displayed "Comcast Spotlight" until 2016) Former sister station WHAT-AM remained behind in the old studios.
In January, 1996, WWDB was purchased by Mercury Broadcasting for $48 million. Mercury began to "contemporize" the station by changing the long-standing lineup of hosts and initiating the station's first television ad campaign. The first non-local hosts were added in this period, including syndicated personalities Rush Limbaugh and Dr. Laura. In early 1997, Mercury sold the station to Beasley Broadcasting for $65 million.
Beasley continued to make modifications to the schedule that many long time listeners considered an upheaval. In 1998, management adopted a news-talk format from 5 to 9 a.m., in an ill-fated attempt to challenge all-news leader KYW 1060. The station also increased the use of nationally-syndicated hosts and brokered programming (thinly veiled program-length commercials.) At one point, some of the older hosts were temporarily "exiled" to low power sister station WWDB-AM (860) to make room for more contemporary talkers on the FM, but that too proved ineffective. By 2000, rumors were flying that the station would be changing formats to appeal to a much younger audience (in addition to eliminating the high salaries of the veteran hosts.)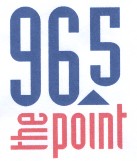 TOn November 6, 2000, over 40 staff members were fired including general manager Dennis Begley, news director Kirk Dorn, sales manager Dan Sullivan, and the station's news and on-air staff. The final lineup of hosts included Irv Homer, Gil Gross, Earl Bailey, Pat Farnack, Susan Bray, Dr. Jim Corea, Kent Voss and Steve Martorano. Meanwhile, an electronic voice counted down to a new format: all 80's music called "The Point" with new call letters WPTP. After 45 years, Sid Mark was no longer employed at the station, although his Sinatra show was subsequently picked up by WPHT-AM.
Over the next few years, the music gradually shifted to Hot AC, but new listeners were hard to come by. On November 17, 2003, owner Bruce Beasley pulled the plug on the adult-pop format in favor of a "rhythmic contemporary-hit" sound heavy on the R&B and hip-hop and aimed at 18- to 34-year-olds. Tagged "Wild 96.5," the calls were changed to WLDW. Eventually, the name was changed to "Wired 96.5" with calls WRDW. Over the years, the music on Wired included Top 40 pop, rhythmic, and even some dance thrown in.
In 2014, Beasley Broadcast Group traded five stations (including WRDW) to CBS Radio for 14 of their stations. The station's ratings after the swap did not improve against direct competitor WIOQ, so on April 10, 2015 the station rebranded as AMP Radio 96.5 with new call letters WZMP ten days later. On January 5, 2017, WZMP flipped to an adult contemporary format as "Today's 96.5" and eventual new call letters of WTDY-FM. Later that year, CBS merged its radio division with Entercom.
With the new calls of WTDY, 96.5 tied the record of Philadelphia broadcasting call letter changes with 106.1 at seven. However, 106.1 regained its lead in March 2022 when it changed its call letters for the eighth time to WUMR.
In March, 2018, the station rebranded as hot adult contemporary "96.5 TDY" with more emphasis on current music. WTDY filled a void left by former rival WISX who shifted to rhythmic adult contemporary the previous year. On November 12, 2018, WTDY-FM launched a new morning show, Coop & Casey in the Morning, hosted by Sean "Coop" Tabler and Casey Reed. The station also shifted back to a Top 40/CHR format, a move that followed Entercom's acquisition of former AC competitor WBEB.
---
Discuss WTDY
Comments? Corrections? Worked there? Please let us know!
1. Posted on Thursday, July 19, 2012 by LJ Garvin:
I listened to WHAT-FM in the mid-1960s, and on Sunday mornings during the spring of 1967 they usually opened one of the hours (probably 8AM, 9AM, or 10AM) with an uptempo instrumental jazz (with sax) version of the Righteous Bros. hit "You've Lost That Lovin' Feeling." Can anyone tell me the performer of that track? I have been looking in vain for this track for many years. It isn't King Curtis, Kai Winding, Sonny Criss, or any other jazz version I have tracked down so far.
2. Posted on Monday, August 27, 2012 by Tom Arny:
I was an avid listener to WHAT between 1959 and '61 while I was at school in the Philadelphia area. There was a morning jazz show that used a jazz band piece as its theme that I think was by Shorty Rogers. I'd love to learn what the title of the piece was and if in fact it was by Rogers. I have an mp3 clip I can post if you think you might be able to tell me.
3. Posted on Tuesday, September 11, 2012 by Tom Arny:
Mystery solved. The "Morning Theme" was "Viva Puente" by Shorty Rogers. Thanks to all who may have thought about it.
4. Posted on Saturday, December 21, 2013 by tom:
what about Dom Quinn and burnie Herman
5. Posted on Sunday, June 8, 2014 by gloria novick:
I miss WWDB. I moved to S.Fl in the lat e 80's and I have't found a talk radio station that could come any where near to WWDB standards. I remember Susan Bray, Dominic Quinn, Irv Homer and Bernie McCaine. I sure miss them all
6. Posted on Saturday, August 23, 2014 by Bob:
listened to jazz and trying to find a tune they often played, a slow piece I think either Stan Kenton or Maynard Ferguson.
7. Posted on Tuesday, September 2, 2014 by Phil Hendry:
BLEEP BLEEP SORRY.
8. Posted on Saturday, January 24, 2015 by Gary:
I miss Irv Homer...RSP
9. Posted on Sunday, March 22, 2015 by Alan Tolz:
In 1979, Jerry Williams was hired by Dolly Banks to be afternoon talk host and Program Director. He brought Bob Grant from NY to preceed him on the air, and Stan Major from FL to do nights. Along with Domenic Quinn, Frank Ford, and Irv Homer (with Larry King overnight from the Mutual Broadcasting studios in Crystal City, VA)WWDB FM arguably had the best talk hosts in the country from 1979 into the '80's.
10. Posted on Friday, July 31, 2015 by TZ:
My mother listened to WWDB during the 70s and 80s. I remember the morning host singing the numbers for snow cancelations. I also recall a host in the 70s whose following were called Rascals and all had some kind of silly name; my father called himself little dumpling. I have an autograph picture of him from some event from back then. Then, of course, the memories of listening to Frank Sinatra each week while my mom worked in the kitchen. These were her friends.
11. Posted on Friday, March 11, 2016 by ED:
Bob, the slow blues song Sid ended his show with was Maynard Ferguson's "Frame for the Blues". https://youtu.be/nn8x3MT-K-U He started his show at 5 o'clock with Stan Kenton Ochestra doing "Maynard Ferguson" featuring him. I remember rushing home from Jr. & Sr. high school to hear this song daily! https://youtu.be/-QRn1g13u1s Enjoy
12. Posted on Monday, April 25, 2016 by Don Benn:
WWDB and every single host named in the article and in the comments (and all of those not mentioned....the rotating specialty weekend hosts) gave Philadelphia listeners quality home town programming. Every week we learned where to eat, how to invest money, how to buy or fix a house, movie trivia, health and fitness advice, dating advice and local (neighborhood ) news and info not found anywhere else. It was warm, it was friendly, it was inviting...and never soiled itself or the listeners with the partisan political "stuff" that fills too many hours of too many talk radio stations. It is missed by many....not the least of whom is....me.
13. Posted on Saturday, September 24, 2016 by David:
In the fall of 2014, as result of Beasley Broadcasting's trade with another Philadelphia radio station as well as with multiple radio stations in several other markets with (and simultaneous purchase of WIP-AM from) CBS, WRDW modified to more of a mainstream Top 40 (read: pop-oriented Top 40) (yet still heavy on hip-hop, current R&B, and dance music). In the spring of 2015, WRDW changed its call letters to WZMP and nickname to "97.5 AMP Radio." (AMP Radio being CBS Radio's (at the time) new brand for its Top 40 stations.)
14. Posted on Thursday, November 16, 2017 by Edward S. Akacki:
Hi folks... I have many of Sid Mark's shows on WWDB from the mid to late 80s that I recently transferred to digital with commercials, news etc if anyone is interested in trading or hearing them again :)
15. Posted on Monday, January 1, 2018 by Stephanie Minniti:
If we could only resurrect the old WWDB , FM......what a wonderful range of hosts and programs. WHAT is my go to now, but I am listening less frequently because of all the political stuff, TOO MUCH.Even the nonpolitical programs are often biased as they are selling their services. With great senior advisors like Sid, Dom, Rush, and the energy of the youngsters, Rich, Dawn, Stigall, Ken, we can keep these gems and do some polishing of their settings, formats. I have ideas!! For starter, could we add to Sid and Sinatra,on the weekends the standards of the 40s, 50s, 60s that were once on 950Am.....just sayin...
16. Posted on Friday, October 12, 2018 by Frances Bates:
My mom loved listening to Irv Homer, Susan Bray and Dominic Quinn. She also LIVED for Sid Mark and his Fridays With Frank and Sundays with Sinatra. She was a teenager when Frank first got popular, and she loved him . Also didn't W H A T AM used to broadcast gospel music on Sunday mornings? I vaguely remember listening to it.
17. Posted on Saturday, December 22, 2018 by Tom Lineman:
What was the name of the overnight host in the 1980's who started his show the same way each night, saying very colorfully, a route around the Delaware Valley?
18. Posted on Thursday, January 2, 2020 by El nor:
What was the name of the host who was a emergency room doctor at Cooper Hospital
19. Posted on Tuesday, February 18, 2020 by David:
WHAT-FM was originally at 105.3 until 1959, when WDAS-FM (then a block-programmed station targeted to a general-market audience (and an African-American audience in the case of simulcasts of WDAS-AM (1480) hit the airwaves.
20. Posted on Sunday, May 31, 2020 by George B.:
I believe the overnight host referenced above was Richard Hayes. He moved to WCAU then returned to 'DB in the early '90s for occasional fill-in work.
21. Posted on Monday, July 13, 2020 by Chris DeBlois:
What was the name of the afternoon host who started the Save Our Bulletin (SOB) movement in the 1980's? He enjoyed starting controversies on air.
22. Posted on Monday, March 8, 2021 by joseph toronto:
is there any archive material available as a podcast of WWDB broadcast.
23. Posted on Wednesday, March 17, 2021 by csarris:
Irv Homer
24. Posted on Monday, March 29, 2021 by Ken C:
No mention of Stan Major?
25. Posted on Tuesday, May 11, 2021 by David N. Hingston:
I'm delighted to have tracked down this history site--It confirms a lot of what lurks in my twisted memory. I loved Sid Mark and cut my jazz teeth on his show in the sixties. We had one FM radio in the house, in the kitchen, and Tuesday (Ella) and Friday (Frank) were my dishwashing nights so I could listen. A bit later I built a Heathkit so I could listen in my room. I remember Sid's Ferguson and Kenton openings and closings vividly....
26. Posted on Thursday, October 7, 2021 by michael Towers:
I used to listen to wwdb in the mid 80s when I lived in the philly area. It was a great staion with very entertaining hosts.
27. Posted on Friday, December 3, 2021 by John Holcomb II:
At some point in 2018, WTDY went to Mainstream CHR and has been this ever since.
28. Posted on Tuesday, November 29, 2022 by Tony Shires:
I'm looking to find a list of on-air talent that was with 96.5 when they were WPTP The Point from November 2000 to November 2003. Would anyone know where to find a list? I've tried searching all I can think of here online and I can't seem to locate a list. Appreciate the help.
29. Posted on Thursday, December 15, 2022 by Bruce:
I had the pleasure of meeting Irv Homer in person on a few occasions and I was a regular caller into his show when he was on WBCB. What a great, fun guy.
30. Posted on Friday, December 23, 2022 by JKoz:
In the recession of 90-91 our business closed. I was out of work for 11 months. Radio saved my mental health. It was Howard Stern in the morning then Susan Bray and Irv Homer in the afternoon. Several years later got to spend time with Susan and Irv at a colleague's house. Both were the perfect dinner party guests: engaging, articulate, interesting. Sent both 'thank you' cards after they were let go by the station in the reformatting. Susan sent me a lovely little note in reply saying how much she loved her Philly audience. Good people.
31. Posted on Wednesday, January 11, 2023 by David Lopresti:
I enjoyed listening to WWDB for years back in the 80's and early 90's. Was sad and disappointing to witness them slowly loss all their local appeal as they turned more and more to nationally syndicated hosts. Oh well, I guess it's true that nothing lasts forever.
Add your comment
Please note: commenting has been temporarily disabled. Please check back again soon for our new commenting system.