Philadelphia Radio Archives
History of Philadelphia radio station 98.9 WUSL
As WPBS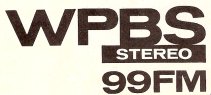 In early 1960, a new FM broadcast license was granted to The Bulletin Company, publisher of the Philadelphia Evening Bulletin newspaper. Previously, the Bulletin had owned WPEN AM/FM and WCAU AM/FM/TV. At 6AM on December 10, 1961, WPBS (PBS stood for Philadelphia Bulliten Station) went on the air from studios and transmitter located at 440 Domino Lane. It was the first and only 24 hour stereo station in Philadelphia. The first show broadcast was "Sunrise" which was a four hour wake up show consisting of news, weather, sports, pops show tunes and choral music. From 12AM to 6AM the station played classical music. WPBS cross-promoted the newspaper and was known as "The radio voice of the Philadelphia Bulletin." Some of the personalities on the station at this time included Jack Pyle, (who hosted "Miller to Midnight" on Saturdays) John Trent, Hal Moore, Dave Wolford, Steve Craig, Bern Penrose, Jane Cohen, Blake Ritter, and Joe Newman.
LIN Broadcasting Corporation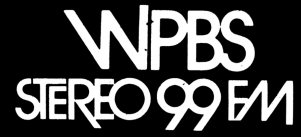 On July 14, 1976, WPBS was sold by the Bulletin to WFIL, Inc., A LIN Broadcasting Corporation subsidiary. LIN Broadcasting was a minor conglomerate, assembled on an opportunistic basis and encompassing radio and television broadcasting, direct marketing, 'information and learning', music publishing and record labels. The name derived from Louisville, Indianapolis and Nashville, the three locations of its initial radio stations1 Donald A. Pels was Chairman and President of the firm which also owned WFIL AM and continued to be located at 440 Domino Lane. (The AM sister station would not share this location until 1980.) By this point their easy listening format went by the name "Velvet Music."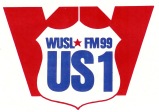 In 1976, the station programmed the syndicated Easy Listening "FM 100 Plan" and call letters were changed to WUSL. The "USL" was supposed to represent U.S. Route 1, a major north-south route that runs through Philadelphia. In 1978 a soft adult contemporary format that included some crossover standards was adopted with Jim Nettleton as program director. The lineup of disc jockeys in 1980 included Kris Chandler, Jim Gearhart, Juan Varleta, Pete Booker, Pat Winters and Randy Roberts.
On July 3, 1981, WUSL switched to a country format billed "Continuous Country", reportedly due to the popularity of the 1980 movie "Urban Cowboy." However, the station struggled with a then small listener base for country music in a northern city such as Philadelphia.
Urban Contemporary
On October 9, 1982, WUSL signed off the air around 1AM after playing their last Country song, "Get into Reggae, Cowboy." Over the next five hours the station was retooled to accomodate a new Urban Contemporary format. At 6 AM, the station signed back on with the song "Celebration" by Kool and the Gang. The new name was "Kiss 99" with plans to change call letters to WPKS. New Philadelphia station WKSZ FM, which was planning to begin broadcasting the following month under the name "Kiss 100" took WUSL to court over the use of the "Kiss" name. Ultimately, the stations settled and WKSZ kept the Kiss name while WUSL eventually took the name "Power 99."
By the spring of 1983, the format change to Urban Contemporary catapulted Power 99 from the number seven spot to the number two position in the quarterly Arbitron ratings. Soon stations in other parts of the country were using the "Power" name. In 1987, LIN Broadcasting sold WUSL for $32 million to TAK Communications, owned by Sharad Tak. In 1991, Tak filed for Chapter 11 bankruptcy protection. In 1994, EZ Communications, then owner of WIOQ, purchased WUSL for $50 million after approval from a bankruptcy court.2 After a series of mergers and acquisitions, WUSL eventually came under the ownership of Clear Channel Communications, which is now known as iHeartMedia. In 1996, WUSL becaome co-owned with former rival WDAS-FM, at which point WUSL focused on a younger demographic while WDAS-FM served an older demographic.
Past personalities
A popular program on WUSL in the 1980s and 1990s was "The Carter and Sanborn Morning Show" with Brian Carter and Dave Sanborn. The show was briefly revived in 2005 on WDAS-FM after that station dropped Tom Joyner from its schedule. From 1998 to 2001, Wendy Williams hosted a popular morning show.
---
Sources
(1) "LIN TV", Ketupa.net - a media industry resource, 2009
(2) "EZ Seeks Stations", NY Times, 6/29/1994, D14
Bill Collins, "WKSZ WINS A RIGHT TO KISS 100, BUT THE FIGHT'S NOT OVER YET", Philadelphia Inquirer, 11/5/1982, D08
Hank Klibanoff and Steven X. Rea, "REVOLUTION ON THE FM RADIO BAND ", Philadelphia Inquirer, 5/8/1983, H01
Discuss WUSL
Comments? Corrections? Worked there? Please let us know!
1. Posted on Monday, June 15, 2009 by Alan Campbell:
You can add my name as I was the evening host. Began as weekend over night classical host. (Yes classical). When Mid 1960's I went full time in the evening shift the format was heavy on middle of the road and strings. Think Frank Sinatra meets Henry Mancini. I relieved John McCall who was working the afternoon shift. Pat Landon was the morning drive DJ-host.
2. Posted on Monday, June 15, 2009 by Alan Campbell:
Ed Hunt was a PD there around 1970's. He worked at WJBR for many years. Blake Ritter, long timer at WCAU was the newsman at WPBS and only he was located at the Bulletin offices. Every thing else originated at Domino Lane studios.
3. Posted on Thursday, April 7, 2011 by Frank Hogan:
One minor correction.The new name was "Kiss 98" should read Kiss 99.
4. Posted on Sunday, July 10, 2016 by David:
(Comment #3: "One minor correction. The new name was 'Kiss 98' should read (')Kiss 99(')." Exactly--as WUSL's frequency is 98.9 (hence, the rounding off of its frequency to the above nickname and to its longtime current nickname "Power 99."
5. Posted on Sunday, October 30, 2016 by Montere Lee:
Whatever became of Donya & Dee Lee?
6. Posted on Wednesday, November 23, 2016 by Paul Troy:
I worked overnights in 1979-79 when the station was US1. The talented Chris Chandler was the Program Director and morning man. I am voiceover artist today and member of The Philadelphia Broadcast Pioneers.
7. Posted on Thursday, December 1, 2016 by Lou kolb:
I was born and raised in Philly but have spent my life in radio in Williamsport, Pa. US1 could be heard in Williamsport on the local cable system. I thought it was a terrific station, very tastefully programmed. Wish there was something similar today.
8. Posted on Saturday, December 30, 2017 by Tony DiMattia:
Worked there in 1970-71 under Dick "creamy cheese cake" Graham and then Ed Hunt PDs when it was WPBS. Announcers did news live breaks and mounted lp cuts than were bascally quarter hour elevator music. God help you if you missed and played the wrong cut. The boss Ed Mehan would come to the glass and stare at you in great disappointment and distain. Fun times! I was fired after a failed union coup and worked at WEEZ People Power talk radio, WILM soft rock and final weekends at WWSH fm a Transamerica station. After that opted for security and never looked back. Fun while it lasted. Signing off (with a finger in my ear)!
9. Posted on Sunday, November 4, 2018 by Harry Donahue:
Was hired in'69 by Tom Crane for a weekend shift. In summer of '70 was hired by Dick Graham as Production Director and 2-6 PM on air. Within a year replaced the legend, Jack O'Reilly, as the morning man. Survived the transition to Gates automation and a crazy marketing promotion by a Dallas company who decided the Delaware Valley would be known as the Metroplex. It was a disaster! Worked in Dallas, not in Philly. GM was Ed Meehan who hosted "Miller to Midnite" on Saturday nights for his " gentle listeners". By then Ed Hunt was the PD. Left in '74 but will never forget Stereo 99, WPBS!
10. Posted on Wednesday, March 20, 2019 by charles benner:
wusl fm was owned by tak communications at one point. can someone tell me the dates of ownership
11. Posted on Sunday, July 14, 2019 by Dick Tyler:
What has become of Juan Varletta? He worked at WPBS when I was there.I spun the Glenn Miller scratches Saturday night "Out of Philadelphia" for Ed Meehan,Ed Meehan,Ed Meehan.
12. Posted on Tuesday, July 16, 2019 by Dick Tyler:
GM Ed Meehan had voice overs for the Saturday night Glenn Miller 2 hour program and I spun the records.Ed fancied himself an engineer and had the golden screwdriver. This did not sit well with chief engineer Jim Quinn.As an aside WPBS ran the Muzak tapes..
13. Posted on Friday, January 1, 2021 by Jim jimirro:
I was program director of WPBS from 1963-1965. Bill Mobray was sales manager. I remember John McCall in the morning and Lee Neal who hosted a Sunday afternoon show sponsored by Delta Airlines. We once did a promotion with the Bulletin, asking readers to name the greatest song ever written. Thousands of responses. I hired Dave Wolford who I knew from Penn State and have been trying to find him
14. Posted on Tuesday, December 28, 2021 by Juan Varleta:
I too was hired by Dick Graham to do the WPBS Beautiful Music format in 1970 while I was still in school, so it meant lots of weekend and overnight work. We actually spun LPs on turntables and did live news and weather. We had two mics, one on each side of your face, which created a weird stereo effect if you turned your head while announcing. I'm just remembering that all the deejays had to wear these special lint-free white gloves when handling the records. Yeah, sure. We were trying to compete with WDVR but it was really no competition. Still it was a great intro to the local radio business. I worked alongside of many of the above posters including Tony Di, Harry D, the two Eds, both Dicks, John Mc and Frank H. I continued working at 440 Domino Lane thru the sale transition to WUSL (where I met my future wife, Pat Winters.). I was there 'til 1981 when I moved to WIOQ to do morning news.
Add your comment
Please note: commenting has been temporarily disabled. Please check back again soon for our new commenting system.