Philadelphia Radio Archives
History of Philadelphia radio station 90.9 WHYY
WHYY began broadcasting on October 20, 1954. The station was founded by a group of dedicated citizens led by Dr. W. Laurence LePage, then president of The Franklin Institute. LePage and his support group of citizens, corporations and foundations persuaded Westinghouse Radio, Inc. to donate a fully operational FM radio station at 17th and Sansom Streets. WHYY, which stood for "Wider Horizons for You and Yours", dedicated its evening broadcasts to providing educational and cultural programming for the citizens in the metropolitan Philadelphia area.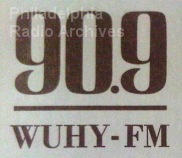 In 1957, WHYY launched a television station on channel 35, WUHY. In order to coincide with the TV call letters, the FM station was renamed WUHY. In 1964, a year after WUHY-TV was switched to the channel 12 frequency and renamed WHYY, the TV and FM studios were moved to 46th and Market Streets. The new studios were donated by Ambassador Walter Annenberg, who had just moved his WFIL (channel 6) operations to City Avenue.
The FM station, still named WUHY, continued to operate its transmitter from 17th and Sansom until 1972, when it joined most of the region's transmitters in the Roxborough section of the city. The WUHY broadcast day, which was 5pm to 11pm weekdays, and 9am to 11pm on weekends, programmed mainly classical music, and some material obtained from the "Eastern Educational Radio Network".
The station's programming choices were dramatically increased 1n 1977, when National Public Radio set up a sattelite-delivered programming network for its member stations. A 10 Meter C-Band recieving dish, the first of its kind in Philadelphia, was placed atop the Market Street studios in 1978. This technological advancement provided enough material to allow the station, renamed WHYY, to commence full-time operations.
The next year, through a special arrangement with the City of Philadelphia, WHYY moved its headquarters and Channel 12 administration offices to the former Living History Center Museum on Independence Mall. In August 1980, 91FM moved its new headquarters to the Mall. By April 1983, all broadcasting, production and corporate activites were housed together on Independence Mall. One item, however, that remained back at 46th and Market was the station's C-band satellite dish, which could not be moved to center city due to interference problems. Until a recent switch to a smaller Ku band system, the signals from the large dish were sent via microwave downtown to WHYY. The former Market Street facility is now owned by a West Philadelphia empowerment program.
During the 1980s, 91FM became one of the nation's premiere NPR affiliates, contributing programming such as "Fresh Air" and "Voices in The Family" to other NPR stations across the country. In 1987, the station decided to drop its mainly classical format in favor of news and information. WHYY and NPR are also noted for being on the cutting edge of broadcasting technology through early utilization of fiber-optic distribution and digital audio recording techniques.
---
Discuss WHYY
Comments? Corrections? Worked there? Please let us know!
1. Posted on Thursday, March 25, 2010 by Jason:
Westinghouse's loss was WHYY's gain. If they had kept the station, it probably would of simucasted their all news format, but today the simulcast is on WYSP's HD2 channel.
2. Posted on Monday, April 11, 2011 by HELEN:
HELLO. IS IT POSSIBLE THAT YOU WOULD STILL HAVE A VIDEO,FROM 1967,OF FLORENCE QUIVAR AND HELEN ESPOSITO,PERFORMING AT THE FESTIVAL OF THE CLASSICS.FLORENCE AND I ARE SENIORS NOW,AND WE WOULD LOVE TO BE ABLE TO SEE THIS CONCERT. THANK YOU HELEN ESPOSITO/YAP
3. Posted on Thursday, June 23, 2011 by Larry W.:
Show on Friday eve- late '70's - Gil Spencer, Editor of Phila Daily News - "The week that was(?)" Trying to verify a panelist Rika Duffus(?) Gil Jr. does not beleive me.
4. Posted on Sunday, July 17, 2011 by Nadim Ali:
Rika use to be on kyw 1060 in the early 80's. She was my neighbor in Mt. Airy.
5. Posted on Tuesday, June 5, 2012 by FRED GARRISON:
Hello, Would like to have information on a WUHY radio program from the early 1970's hosted by ROGER KNUTH. It was a program of classical music by lesser known composers. Roger's theme music was called UNDERSEA IMAGES and I was wondering who the composer was. As you can see, this has been bugging me for about 40 years now. I've contacted Ed Cunningham, who was there at WUHY at the time and he had no idea. If Mr. Knuth is still alive, could you have him contact me with the answer? My e-mail address is duckman_iac@yahoo.com. Or if anyone else knows the answer, I would be greatful for a response. Much thanks! FRED
6. Posted on Thursday, April 23, 2015 by FRED GARRISON:
Here it is almost 3 years later and I still haven't got the answer to my question listed above. I still would like to know who composed a classical composition entitled UNDERSEA IMAGES that was used as the theme music to a radio program of lesser known classical composers hosted by ROGER G. KNUTH on WUHY-FM back in the 1970s. YES, it's still bugging me! I found out that Mr. Knuth died back in 1983 (a sad loss), but his wife JANICE & his son RAYMOND are still with us. If anyone knows Roger's surviving relatives, it would be appreciated if you would let them know I would very much know the name of the composer's music mentioned above. I only hope they were involved in Roger's work. MUCH THANKS, FRED duckman_iac@yahoo.com
7. Posted on Saturday, December 19, 2015 by FRED GARRISON:
Correction: Roger Knuth died in 2012. Should have proofread my comment above before I posted it. Still waiting for the answer to my question. WHO COMPOSED ROGER KNUTH'S theme music called "UNDERSEA IMAGES"?
8. Posted on Wednesday, February 3, 2016 by John Mc Partland:
Anyone remember the Miles kelly show of cutting-edge music in the late seventies, early eighties?
9. Posted on Wednesday, December 23, 2020 by Arthur:
I am trying to track down WUHY-FM archives and, specifically, a show broadcast in 1974-75 called NOIZE. It was written, hosted and produced by a Philadelphia musician and writer artist named Annson Kenney (1944-1981). The show featured avant-garde and electronic, experimental music and was supported by a Pennsylvania Art Council grant. I am presently writing about Mr. Kenney and his work. Besides recordings of the show any other information would be appreciated. Thank you
10. Posted on Tuesday, May 3, 2022 by R. Alan Campbell :
The station cohosted a news magazine for ERN with Al Hulsen at WGBH Boston and James Keeler in Philadelphia. Kaleidoscope was similar to All Things Considered which came a decade later on NPR. Jim became program director at WFLN PHILADELPHIA and Al hulsen managed several public radio stations in later years. I was proud to work with both.
Add your comment
Please note: commenting has been temporarily disabled. Please check back again soon for our new commenting system.