Philadelphia Radio Archives
History of Philadelphia radio station 100.3 WRNB
Early years
The first station to occupy the 100.3 frequency was KYW-FM which was assigned to 100.3 in 1945. It was later changed to 92.5 before leaving the air in 1953. It was mostly a simulcast of KYW-AM during a time when FM listening was almost nonexistent.
WXUR

100.3 FM, licensed to Media, PA was put on the air again in the 1960s by Brandywine-Main Line Broadcasting Co. with a music format. Known as WXUR, it was mostly a simulcast of its then sister station, 690 AM. WXUR AM/FM was purchased by Rev. Carl McIntire and changed to a religious format. McIntire, a fiery anticommunist preacher based in South Jersey, amassed a small media empire encompassing radio stations and a publishing division. In 1973, the FCC revoked the license of the minister's radio stations, contending that he failed to uphold the Fairness Doctrine by programming overwhelmingly conservative shows. (McIntire continued to broadcast for a short time from a ship stationed in international waters off Cape May called "Radio Free America") In the ensuing years, competing applications were submitted for the 100.3 license which was eventually awarded to radio veteran Daniel Lerner. (For an in-depth interview with Dan, click here.)
Kiss 100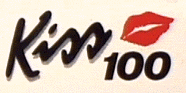 On November 8, 1982 WKSZ, "KISS 100" went on the air from its two story facility west of Media, PA. at 1001 Baltimore Pike. The format was "light favorites", a mix of adult-contemporary vocals by artists such as Barbra Streisand, Neil Diamond, Lionel Ritchie, Billy Joel, and Kenny Rogers. The station promoted "40 minutes of continuous music" every hour.
In 1987, KISS 100 was ranked first by Arbitron overall in reaching women 25 to 54 years old, a desirable audience for advertisers. However, as the adult contemporary race heated up in the early 90s, KISS 100 found its ratings success begin to decline.
By 1992, it had fallen to 17th place, behind the city's three other AC stations. KISS attempted to carve out a new niche with a blend of oldies and contemporary AC called the "50/50 Mix", but the results were dissapointing. In 1993, the station once again turned to "love songs", albeit a "contemporary" 90's version with artists such as Luther Vandross, Whitney Houston, and Michael Bolton. A love/sex/talk show debuted weekdays from 9pm to midnight, Love Talk with Dick Summer, in response to the growing popularity of this type of program. (Such as the more risque Lovephones then on Eagle 106)
Y-100
At 6am on Monday, March 15, 1993, the struggling AC station switched to Top 40, filling a void left by Eagle 106 which had switched to smooth jazz three days earlier. The new station was called Z-100, and had a playlist almost identical to the former Eagle.
The new Z-100 happened to be on the same frequency as New York's WHTZ-FM, which had been calling itself Z-100 since 1983. Malrite Communications Group, owner of WHTZ, demanded that WKSZ drop the new Z-100 name to avoid listener confusion because the stations were in such close proximity. After a month of legal wrangling, WKSZ became Y-100, and quickly replaced it's Z-100 logo and billboards. The station also changed call letters to WPLY.
By early 1995, WPLY evolved into a modern rock format, quickly stealing audience share from New York simulcasted WDRE. WDRE fought back by hiring a local staff and marketing a hipper image than WPLY. By the time WDRE started catching up, the station was sold, modern rock was scrapped, and WPLY hired their program director, Jim McGuinn, as well as many other ex-WDRE employees. The station was known for holding "Sonic Sessions" in which major artists would play (often acoustically) to small crowds. Recordings of these sessions became quite popular on CD.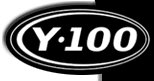 In 2001, Radio One, which mainly owns urban formatted stations, purchased WPLY but continued running the modern rock format since it had respectable ratings. Studios were moved from Media, PA to Conshohocken, PA where the station shared offices with sister station (and former rival) 103.9 The Beat. The following year, the station moved its transmitting facility from Media, PA to Roxbrough, resulting in an improved signal that's more competitive with the other large Philadelphia FM stations.
100.3 becomes WPHI
On February 24, 2005, Radio One moved its R&B/hip hop format "The Beat" from 103.9 to 100.3, effectively ending modern rock in the Philadelphia market. The last song on Y100 was Alive by Pearl Jam. The Preston & Steve morning team moved to WMMR, but the rest of the Y100 staff was let go. This event was reminiscent of the situation nearly a decade earlier when Radio One acquired the 103.9 frequency and vacated modern rock from that station. Philadelphia became the largest city in the country with no alternative rock format radio station.
Almost immediately, an online version of Y100 was created, Y100Rocks, with streaming audio and contact information for the displaced staff. One of the main purposes of Y100Rocks, however, was to compile names for a petition in an attempt to bring the format back to Philadelphia. Although initially no station flipped to fill the alternative format void, some stations did add more modern rock to their playlists in an attempt to capture displaced listeners. WIOQ (Q102), WMMR, and WYSP all adjusted their formats in this manner to some degree.
In 2006, Y100Rocks became a part of the WXPN family. The 24/7 stream was rebranded as "Y-Rock On XPN" with program director Jim McGuinn. In 2007, 104.5 became the first commercial station in the city to pick up modern rock full time, albeit a "lighter" take on the format. Y-Rock On XPN can now be heard on WXPN's HD2 channel. As an interesting note, the old Y100Rocks website now appears to be pornographic in nature.
100.3 "The Beat" attained some of its highest ratings ever in the latter part of the decade. Some of the personalities on the station at this time included Miss Jones, Monie Love and Pooch, Colby Colb, Micheal Shawn, Dj Touchtone, Dj Jay Ski, Megatron, Dj Bent Rock, Moshay, Toshamakia, DJ JDS, Laiya and Hansoul.
100.3 becomes WRNB
On August 27, 2011, WPHI dropped its "Beat" moniker in preparation for WRNB to move to the 100.3 frequency. On September 1, Radio One moved the urban contemporary WPHI format to the weaker 107.9 frequency and the urban adult contemporary format of WRNB began broadcasting on 100.3.
Format changes
on April 1, 2013 after playing "Keep Your Head to the Sky" by Earth, Wind, & Fire, WRNB flipped to urban oldies as "Old School 100.3." The format included Motown, disco, funk, new jack swing, freestyle, and early hip hop from the 1960s to the early 2000s. When sister station WPHI moved to a classic Hip Hop format in November, 2013, WRNB added back a limited amount of current music.
On October 6, 2016, WRNB returned to an urban adult contemporary format, again calling itself "100.3 WRNB," and dropping the "Old School" branding.
When Radio One sold sister station WPHI to Entercom in 2020, WRNB adopted their urban contemporary format begining on November 16. (WRNB's urban adult contemporary format moved to their HD2 subchannel.) A week later, WPHI began simulcasting KYW.
---
Discuss WRNB
Comments? Corrections? Worked there? Please let us know!
1. Posted on Saturday, April 3, 2010 by Lucky:
Viiewed from an ipad
2. Posted on Monday, May 31, 2010 by Dondi:
Who were the on-air personalities in 2005?
3. Posted on Wednesday, July 14, 2021 by frank:
I remember when I was a Kid this radio station use to be called Kiss 100 and then it Flipped over to y100 to a rock format.
4. Posted on Tuesday, July 20, 2021 by Satscout:
Now I feel old. I remember Kiss-100 fondly. I moved to South Carolina in 1991 so didn't see its decline and replacement. The AC/soft rock/love songs bracket is probably my favorite niche and what I gravitate towards when searching on the radio.
5. Posted on Monday, August 23, 2021 by Frank Hormann:
I was a part time engineer for WXUR AM/FM from 1963 thru September 1973. It is mainly a technicality at this point but the FCC cancelled the station license because the station programming did not comply with the format promised on the original license application. It was not cancelled for violation of the fairness doctrine. At the time this all happened, there was a highly charged political atmosphere and the FCC decision resulted in cancellation of the station license where normal FCC procedure would have been to force the owner to sell it. (Note: The station license is the primary item of value. Cancellation of the license rather than requiring it to be sold is the ultimate kill imposed on the station.)
6. Posted on Thursday, January 27, 2022 by MJ:
I was listening to Y100 the night of February 23, 2005. I remember the final 3 songs being somewhat symbolic to 100.3's situation, though I only realized it later. "New Year's Day" by U2, "I'll Stick Around" by the Foo Fighters, and "Alive" by Pearl Jam. Three songs that suggest that Y-100 was about to change, but not yet ready to die. After wat seemed like 10 minutes of silence, at midnight on February 24th, a new, unfamiliar stinger came blasting into my ears, calling 100.3 "The Beat". "Candy Shop" by 50 Cent immediately played thereafter, much to my confusion. To answer your question, Dondi, the only other on-air personalities that I remember, besides the Preston & Steve crew, were Josh T. Landau and Bret Hamilton. Many of the former on-air staffers joined the Y100 online stream known as Y-Not radio, as of 2011. I am unsure if this is the same website as Y100 rocks, I haven't logged in for almost a decade.
Add your comment
Please note: commenting has been temporarily disabled. Please check back again soon for our new commenting system.