Philadelphia Radio Archives
History of Philadelphia radio station 950 WKDN
WALK and WPSW
WPEN was formed on April 19, 1929 as the consolidation of two stations: WALK and WPSW. WALK was licensed at Bethayres, PA in 1927 to Albert A. Walker. WPSW was licensed in 1926 to the Pennsylvania School of Wireless Telegraphy. The William Penn Broadcasting Company purchased WALK and WPSW which shared the 1500 kHz frequency, and combined the stations under the new calls WPEN.
Early Years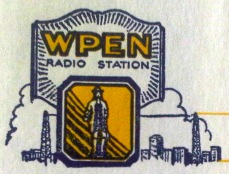 In the 1930s, the station's programming included musical clock programs, children's shows, organ music, and live orchestras. On October 27, 1933, the station changed its frequency from 1500 to 920 kHz, and then to the familiar 950 in 1941. Without access to a major network's news and entertainment programming, WPEN devoted many program hours to foreign languages. The station was owned by watchmaker Arde Bulova from 1939 - 1944.
The station was sold to the Philadelphia Bulletin company, publishers of the evening paper, for $620,000 on December 30, 1944. Programming consisted of music shows including "Sunrise Symphony" hosted by Ed Hurst. Studios were located at 1528 Walnut Street, with a new 5,000 watt transmitter located at 72nd and Race Street. In 1946, a new program called "The 950 Club" started airing afternoons from 1 to 6 hosted by Ed Hurst and Joe Grady.
In 1947, the Bulletin sold WPEN AM/FM for $800,000 and purchased WCAU AM/FM/TV in order to get innolved with the new field of television. New owners were the Sun Ray Drug Company owned by the three Sylk brothers. In 1950, the station moved to the Art Deco Philco Building at 2212 Walnut Street. The new facility housed five studios and a 250 seat auditorium used by "The 950 Club." (There was also a Sun Ray drug store on the first floor) With strong local personalities presenting the latest music in live broadcasts, WPEN dominated the ratings while remaining a mostly non-rock station. As the 1960s approached, and rock music exploded on stations like WIBG and later WFIL, ratings for WPEN began a slow decline.
A popular WPEN personality in the late 1950s was Al Raymond, known as "Pancho the Man in the Black Sombrero" who hosted the "Mambo Dance Party" from 1954-1957. In the mid 1960s, Frank Ford hosted an interview style show in a small restaurant called the William Penn Room set up on the first floor of the station. Anyone could walk in off the street and see stars such as Frank Zappa, Jerry Lewis, and Phyllis Diller.
Martin Field

In 1969, Martin Field bought the WPEN stations from the Sylks with an ambitious plan to challenge MOR powerhouse WIP. An extensive promotional campaign was launched, and some WIP personnel were lured to WPEN. A two page "confessional" style advertsiement for WPEN in a 1969 issue of Philadelphia Magazine read in part:
"The power and the gory [sic] of radio station WPEN is well known to most Philadelphians. It always had a great dial position and a strong signal. It once was king of Philadelphia Radio. But like Jack, it tumbled down hill and broke its crown. And its impact on this market diminished..." "Martin Field knew enough to know enough that he didn't know enough about running a radio station. So he brought in people who did. Two of the best people in the business: Harvey Glassock and Alan Holten..." "It's a matter of believing. WPEN believes in itself again. You'll see."
Listener response was poor and the attempt proved unsuccessful. The station was put up for sale, but there were no interested buyers. As a result, the station remained under the radar for years, even turning off the transmitter at midnight during some periods to save money. One small highlight occurred in 1972 when the WPEN studios at 2212 Walnut street were featured in the Jack Nicholson movie King of Marvin Gardens.
Greater Media
Greater Media Radio acquired WPEN AM/FM in 1975 for $4.3 million and promptly took the station off the air on January 6 for much needed technical upgrades. According to General Manager Larry Wexler, "56 days and $250,000 later," the station returned to the air as "Oldies 95PEN" with an inauguration ceremony featuring then Mayor Frank Rizzo who introduced the first song, "Those Oldies But Goodies" by Little Caesar and the Romans. Jocks at this time included Mike St. John, Loren Owens, Paul Cassidy, and Bobby "Dashboard" Dark. Most of the songs in the new format were rock hits through 1963, but eventually, some newer songs were added until the playlist resembled more of an adult contemporary mix by the late 1970s. In 1978, WPEN studios (along with sister station WMGK) moved to #1 Bala Cynwyd Plaza (now known as 1 Bala Plaza) in Bala Cynwyd, PA.
Adult Standards era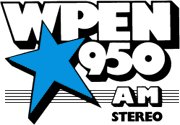 On Labor Day weekend in 1979, WPEN began a gradual changeover to an adult standards format under the direction of programmers Julian Breen and Dean Tyler. The station was known as 950 WPEN "The Station of the Stars" featuring standards from the 1940s, 1950s, and 1960s, with some soft pop hits from the 1960s and 1970s mixed in. (Think Frank Sinatra, Tony Bennett, Barbra Streisand, Nat King Cole, Rosemary Clooney, Johnny Mathis, Neil Diamond…) The oldies airstaff remained, and over the years many local radio legends passed through, such as Ken Garland, Joe Niagara, Bill Webber, Dick Clayton, Bill Wright, Sr, Tom Moran, Kim Martin, Joe Grady and Ed Hurst. New versions of the 950 Club and Steel Pier Show were produced. For many years in the 1980s and early 1990s, WPEN was the top rated station of its type anywhere, and one of the last successful Philadelphia music stations on AM. In 1989, WPEN began broadcasting in AM stereo using the Motorola C-QUAM system.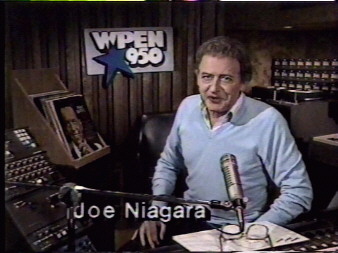 In the late 1990s WPEN began airing paid infomercials on the weekend. Since the older demographic of the station was becoming increasingly difficult to sell, revenue from such informercials was necessary for continued profitability. Around 2001, more 1950s and 1960s rock music was added to the playlist, although the focus remained on standards. WPEN was the flagship Phillies station for the 2002 through 2004 seasons, but returned to the more powerful signal of WPHT to satisfy listeners in the far suburbs who had difficulty receiving the weaker WPEN signal. AM Stereo was discontinued in early 2004 when WPEN began broadcasting IBOC digital radio.
Morning Show
From August 1987 until October 1992, Ken Garland was the morning show host on WPEN. Also joining him was his wife and WPEN News Director Elaine Soncini. Garland Announced on the air that he was suffering from Lukemia on October 12, 1992. He died that December and was replaced on the air by Jerry Stevens. Elaine Soncini took on an expanded role in the new show. In 1998, former station manager Dean Tyler took over the hosting duties, still shared with Soncini. Dean Tyler and Elaine Soncini surprised listeners on November 20, 2000 with their announcement that they were both retiring from radio effective December 1. Andy Kortman eventually took over the morning spot.
Return to Oldies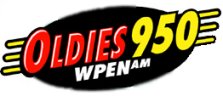 On August 30, 2004, WPEN dropped the Adult Standards format in favor of golden oldies under the name "Oldies 950" with the first song being "Rock Around the Clock" by Bill Haley & The Comets. Jocks in this new format included Charlie Bennett in the morning, Jim Nettleton and Christy Springfield from WOGL, Kim Martin, and Jerry Blavat from noon to one. Initially the focus was on pre-1964 oldies, but by the end of 2004, more late 1960s songs and Philadelphia-based soul hits were added.
Sports Talk
In August 2005, WPEN announced that they would be switching to a sports talk format, which became effective on October 3, 2005. In 2007, the station started calling itself "Sports Radio 950" and in 2008 was renamed "950 ESPN Philadelphia."
Sale to Family Radio
Greater Media sold WPEN to Family Radio, which had previously owned 106.9 FM until 2012. On December 21, 2012, after 83 years, the WPEN calls disappeared from the Philadelphia AM band when 950 returned to the air as religious station WKDN. In February 2013, WKDN turned off their IBOC digital audio.
---
Sources
WPEN website, retrieved 2/12/2005
Jan Lowry, "WPEN Profile", Broadcast Pro-File
Alan Boris, "Good Morning Rittenhouse! A Short Story of Broadcasting From The Square", Rittenhouse Sq. Revue, Aug, 2007
Discuss WKDN
Comments? Corrections? Worked there? Please let us know!
1. Posted on Tuesday, November 3, 2009 by Rob Garofalo:
I don't see any mention of the "950 Club" which was broadcast live from the William Penn Room and hosted by Larry Brown and Cal Milner. High school kids from all over Philly came to dance to the music of the fifties and watch interviews of all the recording stars. I was one of the producers at WPEN at the time and could tell you a whole lot of stories about WPEN. I would love to hear from others that worked at WPEN or came to the studio in the 50's.
2. Posted on Thursday, January 21, 2010 by Alan Boris:
Rob Garofalo, please snd us an e-mail at radio@alanboris.com so we can contact you for some of those stories!
3. Posted on Saturday, May 22, 2010 by Alyce:
Looking for an early christian broadcasting "Children's Church of the Air"?
4. Posted on Wednesday, March 23, 2011 by SteveWest:
Remember DJ Geoff Fox? Their bumper sticker in 1995 was shaped like a gold bar. I remember in the early 70s when they were off the air before being sold...many of the lights on their towers in Overbrook were out...its a wonder there were no plane crashes
5. Posted on Monday, May 30, 2011 by George Baylie:
My favorite memories of WPEN was going down to the William Penn Room in the evenings to see the Frank Ford Show. Frank had the best guests in town. Also a co-producer of the show was a man named Elliot who kept the show moving along. Ted Reinhart was the producer. My friend and favorite Newsman was Bill Smith of WPEN. He was a first class guy who was on there for many years. Bill and I would have lunch at nearby DiVinci's Restaurant near 20th and Walnut Streets. Bill carried a little radio so he could listen to WPEN while at lunch. Of all the news people there Bill was a real gentleman. Other news people were Jerry White, Alan Jay, and of course News Director Jules Rind . Jules lived in Chestnut Hill and spoke of Chestnut Hill often. He use to say that it was the last "civilized" section of Philadelphia left. Rind disliked many areas of the city and said whoever leaves the city last should turn out the light. Great memories from days gone by of that era.
6. Posted on Thursday, June 9, 2011 by Eve Daniel:
I would like to know what happened to Jerry Stevens when he left the morning show on wpen.I spoke to him every night when he had the night show
7. Posted on Thursday, June 30, 2011 by CHARLES CONWAY:
I WAS ASSISTANT RECORD LIBRARIAN AT WPEN FROM 1956-1961. LIKED EVERYONE AT THE STATION. JACK O'REILLY, MAC McGUIRE, BILL SMITH, BILL EMERSON, CAL MILNER, AND EVERYBODY. WORKING WITH PEOPLE YOU LIKE, AND DOING SOMETHING FOR A LIVING THAT YOU ALSO ENJOYED, WAS A GREAT EXPERIENCE.
8. Posted on Wednesday, July 20, 2011 by john s:
There was nothing like nor is there currently anything like the shows and the programing that made 950 the station to listen too when you were at work or enjoying a sunday afternoon. Gone are the days of a solid mix of music to relax by on any station to date...remembering Ed, Elaine, Ken and the team still brings a smile to my face... Alas this station and it's programing will alwyas be my "Blue Bird of Happiness"...
9. Posted on Saturday, August 13, 2011 by Howard Kaplan:
I remember WPEN's challenge to WIP in the early '70s very well. They called themselves "The New 95." They lured Chuck Daugherty and Tom Brown from WIP. My mother loved Tom Brown (and couldn't stand his WIP replacement, Dick Clayton) and so she became one of the few loyal WPEN listeners. I also flipped back and forth. I recorded many good songs from PEN in the early 70s. Later in their Dean Tyler years they were too heavy in big band and swing for my taste. What little pop they played was very tame and often tracks from vocalists' compilation CDs rather than their original hits. The recently demised WHAT ended up in that same rut, IMO. Too bad. Would be great to have a true MOR/AC format like WIP or WPEN had back then.
10. Posted on Wednesday, October 26, 2011 by David Dolan:
This radio station, without a doubt, was the best of the best. My favorite listening time was the late night show of Nat Wright called The Dawn Patrol. A portion of this show was called The Night Train which played the most memorable music from the Greatest Generation. I sure would like to hear more about these good old days of WPEN broadcasting and wouldn't it be great for Philadelphia to get a radio station dedicated to this great music once more. Big Band and oldies will never go away and the audience is out there just waiting to hear it once again. Thank you for this website.
11. Posted on Saturday, October 29, 2011 by David Dolan:
Where did the WPEN studios move to after they left 2212 Walnut Street? I heard it was to Market Street. And when did they move from Walnut St?
12. Posted on Sunday, November 6, 2011 by Bob Shore:
Question: What was the theme song of the 950 Club? I think it was Charlie Barnett's:"Cherokee;" Is this right?
13. Posted on Tuesday, December 6, 2011 by vancegreen38@aol.com:
Does anyone have access to archived WRCP broadcasts with Tom Green from the 60's-70's, he was my dad, I would love to be able t osend them to my mom. If someone could point me in the right direction I would be eternally grateful.
14. Posted on Sunday, January 29, 2012 by Jeffrey Stewart:
My mother once told us about being on your radio station back in about 1954 - 1955 The show was "the Nightingale of Castlerock" Her name was Marcelle Shepin. Would you please let me know if you have any info on this? Thank you!
15. Posted on Thursday, March 8, 2012 by Joe Harnett:
One of the true talents of the Station of the Stars passed away Tuesday, March 6th 2012. Bill Kimble was on the air from 7 till midnight, then I followed Bill from Midnight till 6 am and Joe Niagra. Bill was a story teller, a lover of music, and so very, very easy to be around. No ego... we spent many hours talking music and comedy. A great guy and the whole staff will miss him. Joe Harnett
16. Posted on Thursday, April 12, 2012 by LARRY KING :
CITYLINE AVE EARLY 70S BALACYNWID MEDIA LANDSDOUNE ARDMORE SUBURBIA IN IT'S INFANCY THAT'S WHEN I REMEMBER WPEN
17. Posted on Monday, July 23, 2012 by Eve Daniel:
I'm still looking for my favorite DJ Jerry Stevens..If anyone has any information about him that would be great..The Lady Eve..........
18. Posted on Saturday, October 20, 2012 by Alan:
Former WPEN Air Personality Andy Hopkins passed away on the morning of Thursday, October 18th, 2012.
19. Posted on Saturday, February 16, 2013 by George Brown:
I allways was interested in Phila Radio and really miss the old days.. I was a dial surfer..Oldies live on
20. Posted on Wednesday, August 7, 2013 by Barbara:
Such a shame that 950 doesn't play that wonderful music anymore, my mom so enjoyed that station and so did I. I don't understand why you can't find that kind of music on any station anywhere, very sad
21. Posted on Sunday, September 29, 2013 by Mort Block:
The Mambo Dance Party was hosted by Art Raymond, not Al Raymond. Great Latino music. You could dance in the studio. They also had a restaurant. This program was followed by Steve Allyson, then Bob London and sometimes Dave Arlen for late night talk.
22. Posted on Monday, October 14, 2013 by jb:
Does anyone recall bud breeze...ido
23. Posted on Friday, November 22, 2013 by Jack Kussman:
Does the names Larry Brown, Sid Pastner, Mark Pastner and Jay Schmukler mean anything to anyone? Probably about the l960 with Station WPEN in Philly. Got a long playing record in original package, never been opened named In Memoriam.... John Fitzgerald Kennedy. Have had it in the attic over 40 years and it was bought at a used furniture-antique store in Missouri in the early 70's. Wonder if these people are still alive. A poem on it by Mrs. Fawn Biddle entitled Friday the 22nd" Just wondering. JK
24. Posted on Sunday, January 19, 2014 by Alberta:
Hello Jack Kussman, I have the same album, can't find anything about them or the making of the album.
25. Posted on Monday, May 12, 2014 by Dorothy Weber:
My Uncle was born 1900 in Philadelphia. He had some old photo's, one I now own is ; (is as bottom of photo says- "The Laugh Round Up", WPEN Phila. Jack Steck Master of Ceremonies. Then is a list of names of men standing then sitting. Old black n white photo. Photo by Becker Studio's. they appear to b on a stage. 11 men. I was wondering if u have anything like this in u history records with photo's?? Or do u no anything about this photo? Is the group name, The Laugh Round Up or is that the station theme, etc? N what years was this happening n where in Phila??
26. Posted on Wednesday, July 9, 2014 by Roland Petit:
Harvey Glascock-corrected spelling
27. Posted on Tuesday, September 23, 2014 by Dave Brighters:
Does anyone remember the traffic reports from the WPEN helicopter? The reporter was "flying officer" Tony something or other. Got me started in aviation!
28. Posted on Thursday, April 9, 2015 by Bob LaBar:
I remember Bud Breese, was on late night. I think it was WPEN on Sunday mornings, there was a real estate show. Cannot remember the name of the host, but he spoke of and quoted Allen Domb often. Mr. Domb is running for city council and I am hearing his name for the first time in many years.
29. Posted on Sunday, June 7, 2015 by Rob Garofalo:
Just to answer a few questions. Yes, "Cherokee" was the theme song for the 950 Club. Signature song for Bud Breeze was "Breezing Along With The Breeze" and Red Benson's was "When The Red, Red Robin Goes Bob, Bob Bobbin Along." I'd love to hear from all you WPEN folks. rg666666@aol.com
30. Posted on Sunday, February 7, 2016 by alexis krase:
Jack Kussman- Sid Pastner was my grandfather, and Mark his son. Sid really looked up to JFK and put a lot into producing the record.
31. Posted on Thursday, April 14, 2016 by Mike Szelagowski:
I remember when when went to an oldies format my favorite dj was loren owens in the morning with comedy skits about Angelo boom boom Irechitti the former mayor of Camden NJ. The next thing you know Loren Owens was gone always thought he bought a plot in the pine barrens
32. Posted on Sunday, July 17, 2016 by Ron Bertotti:
Does anyone remember tha half hour show during the work week 12:00 PM to 12:30 PM featuring singer Jean Stewart? I would like any comments.
33. Posted on Saturday, September 17, 2016 by Louise Gordon (was Stabile):
I worked at WIP when Gertie Katzman was record librarian and was wined and dined by every record promoter in town. They sometimes sent a limo to drive her home. Harvey Glascock was GM and Dolores Simko (whose hair never got messed up) was his secretary. I worked for Bob Mounty who was general sales manager. Sales staff: Kevin Cox, Bill Dalton, Tom Shannon and (I am drawing a blank on the the fourth salesman)very laid back, very dry sense of humor. Paul Rust was News Director and he could be found after work at the bar around the corner whose name I've forgotten, always on the corner stool. They were some of my happiest times.
34. Posted on Saturday, October 15, 2016 by Nelson Baker:
In 1962,1963 John Roach was the traffic helicopter pilot a Flying Officer Al Shwartzman a Phila policeman was the traffic reporter,I was the vacation relief pilot.We flew the little Bell 47 helicopter owned by Keystone Helicopters with Howard Wright, a WW2 Flying Tiger.
35. Posted on Tuesday, February 7, 2017 by David:
@Mort Block (re comment # 21): WPEN "Mambo Dance Party" host Art Raymond (d. 2014) was the same Art Raymond who hosted Jewish-music programs on the former WHAT-FM in the 1960s and on New York City multiethnic (predominately-or certainly most notably-Jewish (and, later, hybrid Adult Standards/talk/Jewish)) station WEVD for decades until, at the latest, it both was sold and had changed its format in 2001.
36. Posted on Sunday, March 26, 2017 by Brian McFadden:
To Alexis Krase: I've written about your grandfather in a book on budget records and I'm about to update it and would love more information on Sid. Please email me at littlerichard@verizon.net Many thanks, Brian
37. Posted on Sunday, December 24, 2017 by Bob:
Heard a Christmas show talking about the stories around ww11. Any way of getting a recording or listen to them. Thank you.
38. Posted on Wednesday, January 17, 2018 by NELSON A DAVISON:
I worked with many of the WPEN personalities at RPL studios in Camden. I worked with a lady who was part of the Pat and Jack radio show on WPEN. What was Pats last name, the years have caught up with me and i can't remember her last name. I was a kid back then and I'am now 79.
39. Posted on Saturday, August 11, 2018 by Burt Sachs:
Is 95PEN off the air for good?
40. Posted on Wednesday, August 29, 2018 by Kevin Hilley:
Not one mention of the great Joe Niagara! Used to love listening to him in the afternoon!
41. Posted on Tuesday, November 20, 2018 by Marsha Hurst:
Does anyone know anything about the radio ministry of New Central Baptist Church? It was a Sunday Evening program on WPEN.
42. Posted on Thursday, November 29, 2018 by Marsha Hurst:
Does anyone know anything about the "Back Home Hour?" It was originated by a woman named Sister Alice Britton. It broadcast live gospel music from the New Central Baptist Church on Sunday evenings. Don't know the dates.
43. Posted on Friday, October 18, 2019 by Vincent Degliomini:
I would like to know if anyone has a promo photo of Flying officer Tony Degliomini?
44. Posted on Thursday, November 21, 2019 by Susan Mason:
There was a program called "My True Story" broadcasted 10:00 to 11:00 PM 7 days a week on WPEN from about 1960-1963. I'm trying to find out if recordings of those stories are available anywhere?
45. Posted on Tuesday, November 10, 2020 by Gary Blauvelt:
Just a detail to add about Frank Ford - he was billed as "The Man Who Owns Midnight."
46. Posted on Monday, March 22, 2021 by Lon von Hurwitz:
I worked at the "new 95' and was responsible for the promotion....I was sooo young then about 19 years old....hung out at the studios on walnut street all of the time as I also was a student at Temple...worked for Allan Hotlen and remember so well Chuck Dougherty, Tom Brown even the overnight guy, Bob Corse....went to the house party of new owner Martin Field...he was friend of Arlen Specter who came to station when he was D.A. for Philly.....went to Pagano's Restaurant after work around the corner on Walnut St.....the street level restuarant (closed soon after I arrived and just was the open audience for Frank Ford) who interviewed..it was a bit of an anomoly in the new format...but Frank Ford was partner to Lee Guber and the Music Fair Circuit....Lee was one of the first husbands of Barbara Walters....it was quite the experience for a young guy breaking into the business....
47. Posted on Saturday, March 27, 2021 by Paul Miller Miller:
My wife sang a solo on "Children's Church of the Air" in 1945. Don't know the call letters of the station.
48. Posted on Monday, May 17, 2021 by Bet :
I moved to Philadelphia in 1983. The evening I moved into my apartment in center city I was exhausted and just set my silvertone radio to something that was getting a signal. Every weekday morning from that day forward I heard a different version of Stardust while I got ready for work. Does anyone remember this?
49. Posted on Sunday, June 26, 2022 by Roger Hendler:
I have been a fan of 950AM for 65 years. Loved going to the William Penn room with friends to see the Red Bensen Show. Jules Rind was a great newsman. I remember in 1967-68 Robin Roberts did the sports on the Bob Menefee morning show. Music selection and personalities were always terrific. News was like WIP prior to the change to news at KYW was outstanding. Always loved the weekend NBC Radio Monitor including morning man Jack Greisen. Remember when Jack O'Reilly talked about the Phillies hiring of manager Gene Mauch. Loved Gene Packard and every personality including Grady and Hurst.
50. Posted on Saturday, December 17, 2022 by Anthony Degliomini:
My father flying officer Tony Degliomini did the traffic report for WPEN radio in the early 1960's he proceeded Officer Al Schwartzman. I know he did this I went up in the chopper with him many times but there is no record because there is no picture or documentation it was all destroyed. If anyone has anything with my fathers picture or an article from the newspaper please submit it to me degsfarm@gmail.com or broadcast pioneers of Philadelphia so he can take his rightful place in broadcast history. Thank you
Add your comment
Please note: commenting has been temporarily disabled. Please check back again soon for our new commenting system.