Philadelphia Radio Archives
History of Philadelphia radio station 106.1 WUMR
WQAL/WWSH Easy Listening

In 1959, engineer George Voron founded 106.1 FM as an adjunct to his electronics company. The call letters were WQAL, which stood for "quality." Mr. Voron built much of the station's equipment by himself, and owned the 500 foot self-supporting tower located next to the studios at 1230 Mermaid Lane in Wyndmoor. The programming consisted of a mix of vocal and instrumental music played from LPs. The first voice heard on the station belonged to announcer David J. Custis.

In 1970, Voron sold the station to United Artists, although he retained ownership of the station's tower until 1989. In the fall of 1970, United Artists moved the studios to 555 City Line Avenue, and changed the name of the station to "WISH" with new call letters WWSH. Easy listening music was then supplied to the station on over 600 reels of audiotape by the SRP company.
Nels Hobdell, operations manager of WWSH during much of the 1970s, recalls the idiosyncrasies of this format and its creater, Jim Schulke:
The system of playback was called 'matched flow', whereby two machines, each loaded with one hour tapes, would alternate 15 minute segments. The resulting mix was personally programmed by Schulke, and followed a strict formula. For example, there could be no horns playing after 6pm, or no more than four vocals each hour. The short pauses between songs, known as "savor time" were also carefully controlled. We were also very conscientious about cleaning the tape heads after each reel, and performing frequent machine adjustments. It's not clear whether any of these things made any difference to the audience, but Schulke was quite adamant that his rules should be followed. The general manager at the time, Jim Connor, was also very strict about adhering to the Schulke format. He would be known to follow along at home with the log, and call the program director if the proper song was not being played. Shulke felt that my announcing, as well as afternoon host Ted Sohier's, was the best example of how to do his format. At one point my voice was syndicated on over 40 of his easy listening stations nationwide. He would fly radio executives into North Jersey for a demonstration, and often insist that they wear earplugs to keep their senses "pure" during the car ride from the airport. They would then sit down in a special studio, and listen to a live broadcast of WWSH via a gigantic antenna aimed at Philly that he mounted on the roof of the building.

In 1977, United Artists sold the station to Cox broadcasting, who also owned the Shulke format. Although ratings were still strong, the demographics of the station skewed older, making the station a tougher sell to advertisers. With the audience continuing to age, the format was not attracting any new listeners. In August of 1982, the station announced that it would switch to an adult contemporary format because Philadelphia could not support two local beautiful music stations. The Shulke format then moved to WEAZ. On September 6, 1982, WWSH fired its announcing staff and began playing the same AC format that proved very popular at sister station WSB in Atlanta. Unlike Atlanta, though, Philadelphia already had at least four adult contemporary stations, (WSNI, WMGK, WIP, WKSZ) and the WWSH effort produced disappointing results. The station at this time was simply called "FM 106."
WZGO/WTRK Top 40 Era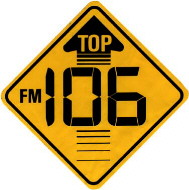 Based on listener research, consultant Bobby Rich helped institute a format "something in between the softer adult contemporary stations and the harder rock stations and the urban contemporary stations… Some people want to call it Top 40, which is basically the most popular songs that are out there today, mixed with future hits and past hits." This format switch occurred August 1, 1983 on live TV via a prime time special on KYW-TV (channel 3) called "Radio: Red Hot and Right Now" hosted by Dave Stanley. The new name of the station was "Top FM" (also a name play on the dial position) still using the calls WWSH. This take on top 40 was more laid back than competitor WCAU-FM and barely put a dent in their ratings supremacy.
In July, 1984 the call sign was changed to WZGO with new name "Z-106" but with similar disappointing results. On May 23, 1986, the station's call sign was changed to WTRK and rebranded again as "Electric 106", consulted by Mike Joseph, who had created the "Hot Hits" version of CHR for WCAU-FM (98.1) five years earlier. Like WCAU-FM in its early months of hot hits, WTRK featured a very tight playlist of only current hit songs and intense disc jockeys; unlike WCAU-FM, however, ratings and revenue for "Electric 106" did not improve. Cox sold the station to Cleveland-based Malrite Communications in April 1987 for $13.8 million.
Eagle 106

The name was changed to "Eagle 106" with new call letters WEGX. Malrite brought considerable resources and talent to the struggling station. By the summer of 1987, Eagle 106 was back in the ratings race. Malrite attempted to avoid the "bubblegum" image of teen-oriented rival WCAU-FM by targeting more adult listeners during the day and relying on extensive music research with women who were their target demographic. The station remained a dominant top 40 performer for six years. Former child star Danny Bonaduce (from the Partridge Family) was one of the more well-known Eagle 106 DJs. Popular morning shows included "Welch and Woody" in the 1980s and John Lander and "The Nut Hut" in the early 90s.
Smooth Jazz WJJZ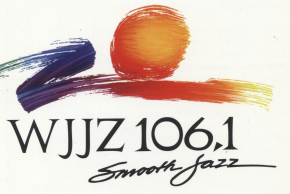 On Friday, March 12, 1993, at 1:06 pm, Eagle 106 dumped the Top 40 format and became "smooth jazz", with new call letters WJJZ. The last song played on Eagle 106 was "I Will Remember You" by Amy Grant. The station reportedly wanted to appeal to an older, more prosperous audience than the scores of teens and young adults that were attracted to Eagle 106. At first, the smooth jazz format contained an eclectic mix of Contemporary Jazz, New Age Music, and Adult Contemporary. However, by the mid 90s, the format settled into a more ratings-friendly mix of Adult Contemporary crossover hits and soft R&B.
In January, 1994, WJJZ was purchased by Pyramid Broadcasting for $20 million. Since Pyramid already owned WYXR-FM, this became the city's first "duopoly" arrangement, taking advantage of new FCC regulations allowing multiple station ownership in a single market. In January, 1996, both WJJZ and WYXR were purchased by Evergreen. Evergreen was later purchased by Chancellor Media, which was then purchased by AMFM, and finally Clear Channel. (Clear Channel rebranded as iHeartRadio in 2014.)
My 106.1
By the early 2000s, the the number of instrumentals on Smooth Jazz decreased and the station began to sound more like a mainstream Adult Contemporary station. After a number of on-air staff changes, the format was finally dropped on August 10, 2006. Program director Michael Tozzi bid farewell to 13 years of Smooth Jazz and Rhythmic Adult Contemporary "Philly's 106-1" began. (In October, 2006, the WJJZ calls and Smooth Jazz format were picked up by Greater Media's 97.5, although in September, 2008, they too dropped the format.) Within a month, the callsign was changed to WISX and leaned towards hot AC for a time. The station was referred to as "My 106-1" until November 2010 when it started calling itself "Mix 106.1" returning to a more rhythmic AC bent.
On June 29, 2017, the "Mix" name was dropped and WISX flipped to classic hip hop as "Real 106.1", (often using the term "Throwbacks") with "Summertime" by Philadelphia duo DJ Jazzy Jeff & The Fresh Prince being the first song played. Chio continued as morning host, while Ryan Seacrest and Mario Lopez's syndicated shows were dropped. Owner iHeartMedia described the new format in an announcement: "Real 106.1 will broadcast a variety of Hip Hop, R&B and Rhythmic music from the '90s and early 2000's, including songs from popular artists such as Notorious B.I.G., Eminem, Beyonce, Rihanna and Kanye West."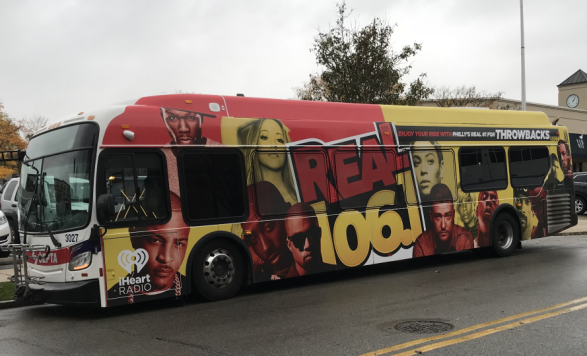 106.1 The Breeze
At Noon on November 9, 2018, after playing "End of the Road" by Boyz II Men, WISX began stunting with Christmas music. Morning host Chio and other air staff posted on social media sites that they had been let go due to the change.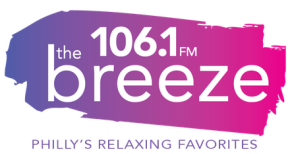 On November 12th, WISX flipped to Soft Adult Contemporary with new name "106.1 The Breeze." The first song played was "Me and Mrs. Jones" by Philadelphia native Billy Paul. This change marked the return of a format that had not been heard in Philadelphia since WSNI dropped it in 2006. The first live host on The Breeze was Dan Blackman, former long time host on AC WBEB. Initially the format leaned softer but by 2020 it had a more mainstream adult contemporary sound.
Rumba 106.1
On March 8, 2022, at midnight, after playing "Scenes from an Italian Restaurant" by Billy Joel, WISX dropped its soft AC format and began stunting with various music and promotions until March 11, when WISX flipped to Spanish contemporary hits as "Rumba 106.1". The flip brought the "Rumba" branding back to Philadelphia for the first time since 2011, when WDAS flipped to urban oldies, and back to FM since 2007, when WUBA flipped to alternative. On March 21, 2022, WISX changed its call sign to WUMR to match the new format.
106.1 holds the Philadelphia broadcasting record for the most call letter changes at eight. (Although it was tied with 96.5 WTDY at seven call changes from 2017 - 2022.)
---
Sources
Interview with Nels Hobdell, May 1996.
KYW-TV 3 Philadelphia special - Radio Red Hot & Right Now - 1983 (via YouTube)
Discuss WUMR
Comments? Corrections? Worked there? Please let us know!
1. Posted on Saturday, April 10, 2010 by Bruce Schaeffer:
I was the General Sales Manager of WWSH until a year before it sold to Cox Broadcasting. You can add to the story that thousands of dollars in advertising were often turned down because the commercials were too loud or up-front. Jim Shulke was quite a super guy.
2. Posted on Wednesday, December 21, 2016 by Patrick Plott:
I lived in the San Francisco Bay area back in the 70's and 80's and listened to another SRP subscriber-KFOG 104.5 FM. I too thought that SRP surpassed Bonneville and TM Century, due to their uniqueness, sound quality, and matched flow. There is a question I have been trying to get answered and that is, SRP had one particular Christmas instrumental,"THE 12 DAYS OF CHRISTMAS", which featured a harpsichord intr. It sounds like something John Gregory would have done but I cannot find any such recording in his discography. Would you happen to know who the artist was? I also heard it on a YouTube video "WPAT AM and FM Dec 1980" half way through that video. That station too was SRP. If you do know the artist of that Christmas song, I would like to know. That!
3. Posted on Monday, July 17, 2017 by Assante Southerland:
I wish jjz was back on the radio format because without smooth jazz the radio will never be the same.
4. Posted on Tuesday, October 17, 2017 by Jamie:
I was around 7 or 8 years old when 106.1 was Wish 106. I was a very sickly child back then, and my parents used to let me rest in their bed when I got particularly ill. To help sooth the rough times, they would put on WWSH on the old clock radio on the night stand. The beautiful music would make me feel so much better. Thanks so much, Wish 106 for seeing a sick little boy through many a rough day and night.
5. Posted on Wednesday, August 29, 2018 by Kevin Hilley:
My dad absolutely LOVED WWSH. Had it on our "hi-fi" all the time!
6. Posted on Tuesday, December 4, 2018 by Claire Spille:
Love this new station
7. Posted on Sunday, January 24, 2021 by Rick Adams:
My dad liked to hear Caravelli WIG-WAM when this station was WISH or WWSH on the new at the time W.T. Grant Bradford Stereo. Memories
8. Posted on Thursday, March 18, 2021 by Lisa Ruess :
Does anybody know what happened to the WWSH beautiful music recordings? I'd love to hear some of them.
9. Posted on Sunday, January 30, 2022 by Valerie:
Thanks so much for this history! Finding proof of something you remember from your childhood is an invaluable treasure. Thanks!!
10. Posted on Sunday, February 13, 2022 by John O'Connor:
There do not seem to be any elevator music stations lately, probably because there are not too many people alive anymore who like it.
11. Posted on Thursday, October 13, 2022 by Marcus:
I forget the date and time but 106.1 is now a spanish format rumba i think
12. Posted on Tuesday, February 7, 2023 by Erv:
Does anyone recall the name of the beautiful female who hosted there during the late 90s - through early 2000s?
Add your comment
Please note: commenting has been temporarily disabled. Please check back again soon for our new commenting system.