Philadelphia Radio Archives
History of Philadelphia radio station 101.1 WBEB
WDVR Philadelphia
On May 13, 1963, Dave Kurtz, then an engineer with Philco Electronics, turned on the master switch of WDVR-FM in the Barker building at 18 W. Chelten Ave. in Germantown and played "The Theme From The High and the Mighty." Within four months, the station's mix of "familiar music" such as Mantovani, Percy Faith, and Lawrence Welk made it the number one FM station in Philadelphia. At launch, Kurtz was joined by sales manager Jerry Lee and station manager/program director Marlin Taylor.
At this time, the world was dominated by AM radio.

Few FM stations had ever shown a profit, nor were they able to compete with AM stations in ratings, advertising revenue, or recognition. Indeed few people had FM radios, or ever bothered to listen to FM. Most car radios, even in new cars, were equipped with "AM only" radios, and sales were slow for FM sets in general. AM was considered "real broadcasting" and FM was considered "hobby broadcasting." With few listeners, and even fewer dollars, a small number of FM stations were beginning to experiment with recently approved stereo broadcasting. Their stereo schedules usually totaled no more than a few hours a week. WDVR started an industry trend by broadcasting in stereo 24 hours a day, seven days a week. This was not the only groundbreaking event undertaken by Kurtz and business partner Jerry Lee. In 1968, WDVR became the first FM station anywhere to gross $1 million a year. The station also created the first big money giveaway in radio ($101,000), and the first professional TV spot to promote radio.
In 1968, WDVR moved its studios to 10 Presidential Boulevard in Bala Cynwyd, then known as the Reynolds Aluminum Building. The transmitter had moved earlier from the roof of the Barker Building to a tower in Roxborough. In 1969, United Artists offered $3.3 million for the station. Although this was a staggering amount of money at the time for a single FM station, the offer was turned down.
WEAZ Eazy 101 Philadelphia

On September 15, 1980, started using the name EAZY 101, and changed call letters to WEAZ shortly thereafter. The first song on EAZY 101 was "Nice 'n' Easy" by Frank Sinatra. The station's TV promotions featured spokesman Patrick O'Neal telling viewers: "Other station's call letters begin with a 'W'. Ours begins with an 'E'. E-A-Z-Y." (Note that the station's call letters did actually begin with a 'W', despite what O'Neal said on TV) When easy listening rival WWSH (106.1) switched to Top 40 in 1982, EAZY 101 was the only remaining Philadelphia beautiful music station. During the mid and late 80s, it was often tied for first place in the Arbitron ratings. As the 80s progressed, WEAZ added more vocals per hour, usually from the orginal artists. However, the station was still unmistakably formatted as beautiful music, with instrumental versions of new and old music.
WEAZ Radio Giveaway
Around 1985, WEAZ began offering free radios to local businesses through a letter writing campaign. The radios were permanently tuned to 101.1 FM and had no external knob for changing the frequency. These were high quality table units in a rosewood cabinet weighing almost 13 pounds and featuring a six inch speaker. An optional matching speaker-only attachment was also available. According to owner Jerry Lee, they gave away 50,000 radios worth $1.7 million.1 As a result of this promotion, 101 FM in Philadelphia likely had the highest percentage of daytime listening of any station in the country for almost 20 years. Some of these radios are still in operation today and are routinely seen in medical office waiting rooms throughout the Delaware Valley. A label on the radio reads "L&K Sales" which refers to the station owners at the time, Lee and Kurtz. At one point, rival station Kiss 100 offered a kit containing a small plastic screwdriver and instructions for re-tuning the radio to the nearby Kiss 100 frequency of 100.3 FM. The station met with protest from Eazy 101 over this offering, and very few radios are known to have had their frequency altered. Because the radios did not use a quartz crystal-controlled tuning system, they were very prone to becoming slightly de-tuned over time, resulting in many being discarded by the late 1990s due to audible interference.
EZ-101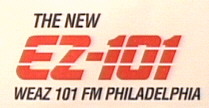 In 1987, Jerry Lee arranged an industry study of American listening habits and determined that "People who grew up after the advent of Rock 'n Roll basically do not like instrumental music."2 So on February 6, 1988, WEAZ dropped the easy listening format and started on the road towards adult-contemporary (AC). The station was extremely popular at the time of the switch, and was inundated for days with angry, distraught callers. The new TV spokesman was Robert Urich, and the station's name was shortened to EZ-101. Initially, the new format was programmed with a satellite-delivered music service but airstaff returned by the following year.
WBEB

By the early 90s, WEAZ had evolved from a very light AC station to a very mainstream AC station, yet it was still called EZ-101. All of that changed on April 25, 1993, when WEAZ broke its final ties with the old easy listening image and became B101.1, "More music with less talk." The call letters were changed to WBEB and Robert Urich was dropped from the TV ads in favor of anonymous, attractive thirtysomethings. The last song played on EZ-101 was "Easy" by the Commodores. The first song on B101 was "Some Guys Have All The Luck" by Rod Stewart.
The station's morning show received more focus under the B101 name. After the name change, EZ 101 morning man Bob Bateman was dismissed and Don Dawson took over the slot. The following year, Chris McCoy and Joan Jones ("Chris and JJ") became a popular morning team. Joan Jones was replaced by Tiffany Hill in the late 1990s. In 2007, Chris was let go and Samantha Layne joined Hill. The following year, Michael Chew replaced Layne.
In the early 2000s, WBEB began playing an all-Christmas music format begining around mid-November and lasting through Christmas.
More FM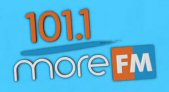 On December 10, 2013, WBEB announced they would be rebranding as "More FM" to distance itself further from its lighter rock roots. The announcers and format would stay the same. The name change took place on December 26, 2013.
Ownership
101.1 was well known throughout the radio industry for being the last major market station in the country that was independently owned. Unlike every other commercial FM station in town, it was not owned by a conglomerate or media company as part of a cluster of co-owned stations. The original owner, Dave Kurtz, granted business partner Jerry Lee up to 49% ownership in the station in the 1970s based on Lee meeting certain annual revenue and profit targets. Lee was a visionary when it came to marketing radio, helping advertisers succeed, and spending heavily on research.
In 2005, when Dave Kurtz died, Lee bought the remaining 51% ownership from Kurtz's widow. However, at that time the station had a very high valuation (approximately $180 million) and by many estimates, he overpaid. By 2015, with loans coming due, lenders took control of the station, although Jerry Lee remained chairman of the board.
End of an Era
On July 19, 2018 Entercom (owner of all the former CBS radio stations) announced that it was purchasing MoreFM for $57.5 million, thus ending the station's reign as the last Philadelphia independent and any association with Jerry Lee. On September 9, 2018, Entercom took over operation of WBEB in advance of closing on the sale through a time brokerage agreement. On November 8, Entercom changed the name of the station back to B101.1, noting how heavily marketed and well known the name had been in the past.
---
Sources
(1), (2) The Pulse of Radio magazine, 3/2/1992
Interview with Dave Kurtz, 1993
Rich Franklin
WEAZ aircheck, 4/25/1993
Discuss WBEB
Comments? Corrections? Worked there? Please let us know!
1. Posted on Thursday, October 8, 2009 by Bill Stephens:
During the EAZY 101 years, WEAZ would lease radios which were permanently tuned to 101.1 FM. These radios were often found in doctors' waiting rooms and other such environments.
2. Posted on Saturday, October 10, 2009 by Alan Boris:
Actually, the EAZY 101 radios were free to businesses. They had excellent speakers and sound quality. You can occasionally still find these playing WBEB in offices today, 20+ years later.
3. Posted on Friday, October 23, 2009 by Michael J. Gushue:
I enjoyed listening to 101.1 FM when it was WDVR. It was nice and easy as they would say in the late 1970's.
4. Posted on Tuesday, February 16, 2010 by Brian Stroud:
I just found one of these radios last night. I'm definitely outside of the listening area, and since I'm on the opposite side of the state, I can barely pick up WGGY 101.3 on it. Just the appearance of the radios themselves make them well worth holding onto, as does the sound quality, whether they are in the listening area or not. As for the "permanent" setting, if you are well outside the listening area and would like to use the radio for something else, you can find the receiver mo
5. Posted on Tuesday, February 16, 2010 by Brian Stroud:
Oops. I hit the character cap. I meant to say you can find the receiver module inside the speaker cabinet and you can set it as you wish by adjusting C2, C5, and L3. Or you can replace the module altogether with one that's more convenient. Once you get them set where you want them, they'll work great in environments where you don't want the tuning tampered with.
6. Posted on Wednesday, April 14, 2010 by Phil:
I know one place that still has an EAZY 101 radio box. Its at Ambrozy Tax Service at Richmond and Venago Sts in Port Richomnd. Seeing that box brings back old memories.
7. Posted on Monday, October 18, 2010 by Crystal:
@ Phil omg yes they do i use to be their neighbor and i remember going in there and selling them candy bars and seeing te radio my dad still goes there for taxes
8. Posted on Saturday, June 2, 2012 by Wes:
I found one of these today at a thrift store, works great, paid a whole $5 for it. I live in Jensen Beach, FL and I'm picking up some 101 station, the speaker quality does sound really good.
9. Posted on Friday, February 22, 2013 by Mark:
I found an EAZY101 radio in a dumpster after an office cleanout about 10 years ago. I remembered my Dr's office had one when they were still WDVR. They are really good radios but the only time I turn it on is during the Christmas music time from B101
10. Posted on Tuesday, August 13, 2013 by Lee Martin:
I was Program Director and Morning Man from January 1981-December 1987, during the EAZY 101 heyday. When I got arrived we were number 8 in the market 12+, and within three years we were number 1, using the Bonneville music format. I was highest-rated morning man off and on for about two years in the middle of that stretch. It was a great time, a great station, and I really miss it. I left because of the impending format change.
11. Posted on Saturday, August 2, 2014 by john tier:
craft litho @655 long lane still has a working model
12. Posted on Wednesday, November 5, 2014 by DRC929:
I can't wait to stat hearing Christmas music on 101.1 I've been listening for a number of years. I've been tuned in for christmas music on 101.1 since 10-25, 2014. I can hardly wait please start early please please
13. Posted on Monday, March 2, 2015 by DEDRIA:
Today I donot like this station anymore at first it was nice hearing Sinatra and other smooth singers as Dean Martin Sammy Davis nat king Cole Ella Fitzgerald and others. This station today is not eazy 101 this be101 is horrible........ Help change back to what it was????????
14. Posted on Sunday, December 20, 2015 by Dick Tyler:
I was a announcer on WDVR and WEAZ up until August 1986 and worked there along with Lee Martin,PD.The format changed soon after thanks to a "Focus Group".Like DEDRIA's comment above I think todays 101 is crap.Maybe with the ownership up-heaval things might change but I am not very hopeful.
15. Posted on Friday, February 5, 2016 by k.bealer:
I have a eazy101radio. I ouned a business at the time. it's a sept 1987. wondering what it is worth today.
16. Posted on Saturday, June 18, 2016 by kve777:
I see these radios at flea markets and thrift stores in South Jersey and Philly on a regular basis. Although I buy lots of vintage audio, I avoid them. Now that these radios are 30 years old, they will be in need of an overhaul. To k.bealer- they are worth about $0 to 5, depending on condition. Supply far exceeds demand. I may now pick one up, just to try to tune it to WXPN.
17. Posted on Friday, December 30, 2016 by Terry Brennan:
The absolute best gig I have worked in radio. Loved the music. Extremely well treated by the station. Lee Martin was a super PD. Learned a lot from Rod Phillips as well. Russ Mundshek a super engineer.
18. Posted on Sunday, June 18, 2017 by Rod "Storm" Phillips:
Those were excellent radio days, indeed.
19. Posted on Sunday, October 21, 2018 by Alan Boris:
I worked at EZ-101 in the early 1990s and one of my jobs was to attempt to fix the EAZY 101 radios that were routinely returned to the station. At that time, we got about 2 - 3 broken units in the door each week. I was able to salvage about half of those and they would go right back out again to interested listeners.
20. Posted on Monday, August 17, 2020 by Jerry V Di Trolio:
I Over The Past 50 Years WDVR Came Into My Life,My Father Had It On ,In The House When I Was A Kid Growing Up,When I Would Go And Get My Hair Cut,Around The Corner,From My House,My Barber Would Have It On,In His Shop,And Johnny Mathis Would Be Singing,"Chances Are",Where I Use To Work,As A Dock Worker,At Acme Markets Bakery,They Would Always Have It On, Throughout The Bakery,I Worked There 15 Years.I Love & Miss WDVR,Radio Format,From 1963 To 1981.Do Sell Cassette Tapes,Or WDVR Record Albums,Or A Booklet,I Can Purchase On WDVR?,Thank You!
21. Posted on Friday, August 21, 2020 by Christopher Caldwell:
I worked the afternoon drive shift for a couple of years when the station became EZ-101, and then moved to 7 to Midnight when they became B101. Then to Phoenix 104.7 for afternoon drive. It's been 30 years, and yet I remember every detail about my time there. Including a freak ice storm in 1992/3 where I had to do the morning, midday, and part of the afternoon show because only a few people made it in. Many good memories.
22. Posted on Friday, July 23, 2021 by Tom Sayen:
My podiatrist has had an office in Wynnefield Heights (near Channel 6) for many years. He still has a working EAZY101 radio. He says it cam with the office. His office is windowless and recently he joked that if it weren't for his EAZY101 radio he would not have known it when 9/11 occurred back in 2001. He is Jewish but says his patients find the Christmas music played on B101 uplifting.
23. Posted on Sunday, September 11, 2022 by Warren Patton:
Does anyone remember the two themes WDVR used to play in the 1960s after commercial breaks? Very upbeat instrumental cuts that segued nicely into the playlist. Love to hav them on my phone.
Add your comment
Please note: commenting has been temporarily disabled. Please check back again soon for our new commenting system.