Philadelphia Radio Archives
History of Philadelphia radio station 560 WFIL
WFIL was formed in early 1935 by the combintaion of two existing radio stations: WFI, which was placed on the air March 18, 1922 by department store Strawbridge and Clothier, and WLIT (formerly WDAR) of the Lit Brothers department store. Both stations shared time on the same 740 AM frequency, which was not uncommon in the crowded airwaves of the 1920s. On November 11, 1928, both stations moved to the familiar 560 frequency.
The department stores were located across the street from each other, and each had studios in their stores and antennas on thier rooftops. WFI had an early affiliation with New York City station WEAF that was the forerunner of the NBC radio network. When the stations merged, they adopted a portion of each call to become WFIL. New studios and offices were opened in the Public Ledger building at 6th and Chestnut Streets. At this time, the station was an NBC-Blue affiliate operating at 1,000 watts. In addition, WFIL was also a member of the Mutual Broadcasting System and the regional Quaker Network.
In 1937, New offices and studios were located on the 18th floor of the Widener Building at Broad and Chestnut Streets. A new 1 kilowatt "hi fidelity" transmitter was inagurated in southwest Philadelphia (near 63rd and Passayunk) with a 329 foot self-supported tower. In 1946, the station was sold to Triangle Publications for $1.9 million. Triangle, owned by Walter Annenberg, also owned The Philadelphia Inquirer, and later TV Guide and Seventeen magazine, among other media properties. At this point, the NBC Blue network had become ABC, of which the station was an affiliate.
In 1947, WFIL raised its power to 5000 watts and installed new broadcasting equipment in the more spacious (and cheaper) land acquired in Whitemarsh Township, PA. Around this same time, the AM studios in the Widener building were upgraded and FM and TV facilities, still in their infancy, were added as well.
In 1952, WFIL moved to new studio quarters in the WFIL-TV building at 46th and Market Street, the first building in the country specifically designed for television broadcasting. A new 11,300 sq ft addition to the building, which had been opened in 1948, allowed all broadcast activities to be consolidated in one place. At this location, the TV show "Bandstand" (later renamed "American Bandstand") began with host Bob Horn and shortly thereafter with Dick Clark, who had been a staff announcer for WFIL. At this time, WFIL was known as "The Philadelphia Inquirer Station" with a "middle of the road" format.
According to Roger Clipp, General Manager of the WFIL stations from 1956 - 1968: As personnel, equipment and programs burgeoned, the "new" building (vintage 1947) at 46th & Market became hopelessly inadequate and after several years of searching for the right location, Triangle in 1962 began building its new Triangle Broadcast Center at 4100 City Line Avenue, Philadelphia, which it occupied January 12, 1964. This very handsome and efficient edifice now houses the WFIL stations and all the management personnel for the Triangle Radio and Television Division.1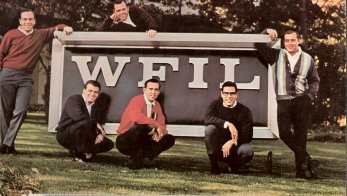 A major programming change to top 40 music occurred on September 18, 1966, known as "the pop explosion." It was described in promotional material as "a bright, exciting sound of truly modern radio; the sound of popular music; young, personable air personalities; a station that immediately attracted the attention of literally thousands." Popular air personalities at this time, known as "Boss Jocks" included Jay Cook, Jim Nettleton, George Michael, Dave Parks, Frank Smith, and Chuck Browning. WFIL personalities in the later years of the top 40 era included Dr. Don Rose, Jim O'Brien, Dick Heatherton, and Banana Joe Montione.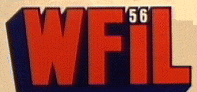 In 1971, Triangle sold WFIL to LIN Broadcasting for $11.5 million (WFIL-FM was sold to Richer Communications and became WIOQ) As FM radio gained popularity in the late 1970s, music formats on AM suffered a severe loss in ratings, and WFIL was no exception. In 1977, an adult contemporary format debuted, and in 1979, the format was switched to a middle of the road format. In 1980, the studios were moved to 440 Domino Lane and shared space with sister station WUSL-FM.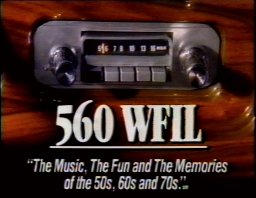 From 1981 to 1983, WFIL programmed a country format, and then an oldies format called "Famous 56" in an attempt to cash in on the station's glory days of the mid 1960s, but to no avail. In 1987, LIN sold the station to WEAZ-FM radio for $4.5 million and the studios were moved into the same location as new sister station Eazy 101 at 10 Presidential Boulevard. The new owners immediately ended all live programming on WFIL and started playing an oldies format delivered by the Transtar satellite service. A massive modernization program was undertaken at the transmitter site, eventually resulting in a new transmitter and towers. The unpopular Kahn AM Stereo system that the station installed in 1983 was replaced by the slightly less unpopular C-QUAM system.
By 1989, most listeners interested in oldies had migrated to WOGL FM, the winner in the four-way oldies race. At this point, the owners of WFIL commissioned a feasibility study which determined that putting any more resources into the oldies format would be a waste of money. So, on May 11, 1989, WFIL quietly dumped the syndicated oldies format and began simulcasting soft adult contemporary sister station EZ 101. This was likely the low point in the storied station's history. By July, the calls were changed from WFIL to WEAZ.
WISH 560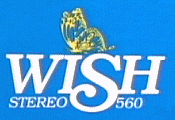 Since there was virtually no reason for anyone to listen to an inferior AM simulcast of an FM station, ratings were all but non-existent. A sale of the station to Salem Communications for $6.5 million was announced in 1990 but subsequently fell through. After limping along almost invisible for two years, WEAZ constructed a tiny automated studio and launched easy listening "WISH 560" on August 15, 1991. The name "Wish" was a play on the old WWSH calls from a popular Philadelphia easy listening station in the 1970s.
Alan Boris, author of this site, worked in the engineering department of WEAZ and WEAZ-FM and recalls the following:
The Wish 560 studios were carved out of some existing space in the office and were not much larger than a walk-in closet. However, it was very neatly and efficiently designed. A lot of custom work by the engineer at the time, Russ Mundshenk. There was room for maybe two people in the announce booth, with much space taken up by some enormous floor standing open reel recorders used for Sunday morning public affairs programming. The announcer would look through a glass window at the equipment racks in the other half of the Wish "closet." These racks contained four 50 disc CD changers, with two copies of every CD loaded in alternate changers so there could be seques between any song. The whole system was run by a fairly advanced PC for the time, with a nice touch screen visual interface. Commercials were stored as digital audio files, which was pretty sophisticated for 1992. The only live announcer I ever remember seeing in the booth was the great Gary Brooks who did the morning show. He would have to use the touch screen system in maual mode, and I remember that the touch screen could sometimes be a bit sensitive, resulting in some on-air abnormalities. The rest of the day was entirely automated. The FM jock, often the only person in the building after hours, would occasionally be called in to reset the automation computer or tend to some other problem. I was aware of the heritage of 560 AM and was happy to find some old desks in the corner of an office that were the only remaining property that had been passed down from previous owners. I peeled off some faded WFIL stickers from the 1970s and saved them!
When WEAZ-FM became WBEB-FM (B101) in May 1993, WEAZ changed calls to WBEB. Wish 560 hung on for two years, but the audience size never met expectations, so when Salem Communications made an offer, WBEB was sold for $4 million in October, 1993. Salem already owned 990 AM WZZD, former arch rival of WFIL then known as WIBG. (wibbage) Ironically, both stations are now housed together in the WZZD studios at 117 Ridge Pike in Lafayette Hills. After the sale of WBEB, the calls were changed to WPHY and a religious "time-brokered" format was adopted. In 1994, talk programming was added, and the heratige calls of WFIL were reinstated at 560 AM.
---
Sources
Roger W. Clipp, "The History of WFIL", Broadcast Pioneers of Philadelphia
Jan Lowry, "WFIL Profile", Broadcast Pro-File
Discuss WFIL
Comments? Corrections? Worked there? Please let us know!
1. Posted on Tuesday, June 8, 2010 by Nick Reynolds:
Famous 56 newsman during the late 60's
2. Posted on Monday, December 12, 2016 by Larry O'Leary:
I never lived in the Phila area but somehow how have an album (in great condition) created for WFIL. It says WFIL (56 dots the I). Most music is from middlish 60's. Album cover is kinda cool with 3 red double decker buses, 2 red muscle cars a van and a pick up truck and a bunch of girls in striped shorts waving! I have no emotional connection so if there is some historical value I will gladly send on. Let me know.
3. Posted on Tuesday, March 21, 2017 by Alfred Bunzl:
For anyone interested, here is a studio quality recording of WFIL sent to me late 1972: https://www.mixcloud.com/alfred-bunzl/wfil-philadelphia-pa-jim-obrien-tom-dooley-19711972-am560/
4. Posted on Monday, March 27, 2017 by Sms:
Some of my best years were working at wail 1987 - 1989 and that the oh so temperamental touch screen.
5. Posted on Tuesday, October 17, 2017 by Jamie:
Famous 56 WFIL is what introduced me to Golden Oldies. Jerry Blavat, Hy Lit and Heisky were on then, as well as Joey Reynolds in the mornings. Those were the days!!
6. Posted on Friday, March 30, 2018 by Paul Bunting:
Excellent, well-written, factually correct history of WFIL. Starting in 1971(?), there was a Sunday night talk show called "Crossfire" hosted by Bill Jones, an articulate broadcaster with a great voice. Anybody know whatever happened to him or where he is now? Thanks.
7. Posted on Tuesday, January 1, 2019 by Nan:
I grew up listening to Famous 56 WFIL. It was THE station to listen to back in the late 60's and early 70's. I also listened to WPEN when it had the oldies format back in the mid to late 70's. I even went back to listening to WFIL when it went back to the oldies format in the 1980's. And of course there was WOGL WIOQ when they had the all oldies format as well. Nowadays, radio stinks! I don't even listen to the radio anymore. WOGL plays mainly all 80's music. No. Elvis. No Beatles. No British Invasion. No Motown. No Philly sound. Nothing! Radio is just not worth listening to today. I have loads of cassette tapes of oldies shows that I taped off of the radio between the late 70's and the late 90's. Plus I have Youtube playlists of songs from the 50's up to 1973. This is now where I get my music from!
8. Posted on Tuesday, April 30, 2019 by Brenda:
I recently purchased an old sports jacket, maroon satin with gold trim. A triangular patch, on the chest says WFIL AM-FM-TV inside a basketball. Has 3 patch on upper right arm. In very good vintage shape, flannel lined. If I had to guess, I'd say it was made in 1950s. Label says Pearson Sporting Goods - 1010 Chestnut Street - Phila. PA. Any info will be much appreciated.
9. Posted on Monday, November 2, 2020 by Warren:
Does anyone have a copy of the WFIL Top 56 of 1968?
10. Posted on Thursday, November 12, 2020 by Warren:
Does anyone have the list of the Top 56 songs of 1968 on WFIL? I'm just looking for the songs not an original copy. Thanks, Warren
11. Posted on Sunday, December 27, 2020 by Gary Kleiman :
I was working at WFIL, Famous 56 right out of Temple in 1972. I spent a year there as the assistant Promotion Director and drove the 3 double decker busses and occasionally got to drive the 2 Prize Patrol vehicles, the Boss 302 Mustang and the Mach1 Mustang. We also had a mobile stage thst we took to parades and other promo functions. I got to drive the very Hot "Boss Chicks" around to our promotions. The very best promotion I ever did for the station was an accident. I drove one of the Double decker busses to Atlantic City during the summer of '73 loaded with "Boss Chicks" and beach towels and other prizes to give away. I drove the bus On to the beach in Margate right by Lucy the giant Elephant landmark. Loads of beachgoers gathered around to get our giveaways and after about an hour I thought it was time to move to a new location. The bus had sunk into the beach and would not move. Someone contacted the Atlantic City newspaper and they sent a photographer to the site and he took loads of pictures. I called a towing service and they sent their biggest tow truck. They hooked up the bus but it would not budge. All of a sudden about 100 people surrounded the bus and started pushing while the tow truck pulled. The photographer was taking pictures the whole time. The next business day I thought I was going to get fired. No...my boss called me in to tell me that I had gotten the station some of the best PR ever and he showed me the front page of the Atlantic City Newspaper. There is was, a full Color photo of hundreds of people pushing and pulling on ropes and the tow truck pulling the double decker bus on the beach by Lucy. He said to me that they couldn't have bought that kind of publicity. My goof up ended up making me look good. That was a very special place to work. The TV station took up about 2/3 of the round building and we took up the rear side. Working with Jay Cook, Jim Nettleton, Dr. Don Rose, George Michael and Long John Wade was very special.
12. Posted on Sunday, January 31, 2021 by RecordSteve:
I won my 1st record off of radio (WFLI) signed by George Michael "The Best of Bread." That memory lives on by this 68 yr old Jersey Kid = thanks for the music & memories!
13. Posted on Thursday, July 22, 2021 by Kurt Vollrath:
After the Flyer's won the cup in 1974, there was an "interview", I believe I remember hearing it WFIL, that had and interviewer ask questions to the players and their answers were clips from popular songs back then. One question was to the Watson brothers and the answer was "....me and baby brother, love one another..." Another question was to Shero and the question was "Is the reign of the Canadians over?", response "....I can see clearly now the rain is gone..." Does anyone know if there is a recording of that and if so how can I find it?
14. Posted on Thursday, March 10, 2022 by Chuck Shillingford:
If memory serves me right, I believe that WFIL ran an FM signal before coming on board with the AM station in 1966. I specifically remember hearing A Walk in the Black Forest by Horst Jankowski, Things We Said Today by The Beatles and Love Is a Hurting Thing by Lou Rawls among others. Does anyone else have similar memories?
15. Posted on Monday, November 14, 2022 by Samuel Davis :
I am looking for old radio broafcast of Prophey F S. Cherry or F.S. Cherry and or the debate with Bishop Johnson
16. Posted on Friday, January 27, 2023 by Eileen:
I have a vague recollection of being in the WFIL studio (around 1968?) for the Jerry Blavat show and the musical guest was Patti LaBelle and the Bluebells. Anyone else remember this?
Add your comment
Please note: commenting has been temporarily disabled. Please check back again soon for our new commenting system.