Philadelphia Radio Archives
History of Philadelphia radio station 92.5 WXTU
KYW-FM
On October 5, 1942, Westinghouse radio station W57PH began broadcasting on 45.7 MHz from studios located at 1619 Walnut Street. Eventually, the station was renamed KYW-FM and assigned to the 92.5 frequency. KYW FM left the air for "undisclosed reasons" on August 18, 1953. (The FM listening audience at this time was negligible)
As WIFI
In 1958, Mel Gollub, former WIP radio personality known as "Mel Stewart" founded WIFI-FM on the 92.5 frequency. Although licensed to Philadelphia, the station was located in Norristown and played an MOR format that included some talk and sports. WIFI was an early stereo pioneer, initiating almost 18 hours a day of stereo programming in 1961. Progressive rock arrived at the station in the late 1960s with host Johnny Devereaux and others.
FM Top 40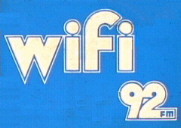 In 1970, Gollub sold WIFI to General Cinema and studios were moved to 555 City Ave. For a few years, various automated formats were utilized, including one called "Hit Parade '70." Eventually, an AM-style Top 40 format emerged with high-energy live jocks. Although the station's signal was only fair, and it took Philadelphia longer than most markets to accept FM radio, the station had some success with the format. At one point in the late 1970s, with WIBG and WFIL no longer playing Top 40, WIFI was the only true Top 40 station in Philadelphia. A popular morning show, "Byron and Tanaka" was one of the early FM "personality" teams.
Rock of The 80s

When WCAU FM debuted their "Hot Hits" format in 1981, they grabbed most of the teen audience from WIFI. In response, WIFI briefly attempted an adult contemporary format in 1982 but it failed almost immediately due to stiff competition and a diluted audience as a result of three other AC stations (WMGK, WSNI, WWSH). In early 1983, the station called in consultant Rick Carroll who had transformed Los Angeles' KROQ into a Southern California ratings success. With much fanfare and press coverage, Carroll attempted to replicate his "Rock of the 80's" New Wave format in Philadelphia by dramatically changing the station's sound and bringing in DJs such as Mel Toxic and Lee Paris. The station was referred to as "i92" and debuted the new format on February 25. Ratings did not improve under the new format and by that spring, management admitted that the change was a mistake and that "Philadelphia doesn't appear to be into new music the way that the west coast is."1
WXTU
"Rock of the 80s" was dumped on August 1, 1983, having lasted less than six months. New owner Beasley Broadcast Group changed the call letters to WXTU and the format to Urban Contemporary. By March, 1984, the format was changed to country and the station finally found a successful format that continues to this day.
---
Sources
(1) Art Camiolo, KYW-TV 3 Philadelphia special - Radio Red Hot & Right Now - 1983 (via YouTube)
Discuss WXTU
Comments? Corrections? Worked there? Please let us know!
1. Posted on Friday, October 21, 2011 by Gary Bundy:
I did news at WIFI, when it moved to One Decker Square, Bala Cynwydd. I was hired by John Teneglia of General Cinema Commuications. I worked there for 10 months from (I believe) 1973 to 1974 with such notables as Hy Lit, Bobby Walker and Scott Taylor. I returned to a teaching and coaching position in public schools and retired as an elementary principal in the Wissahickon School District (PA). I am currently an adjunct faculty member at Cabrini College, Radnor, PA. Gary Bundy
2. Posted on Saturday, May 5, 2012 by Angel :
any way I can get lists of music that was played on I-92 back during those awesome 6(?) months?? Man. I think of those mornings getting ready for school, hearing DaDaDa, old XTC and the more obscure new wave that you STILL don't hear in those stupid clothing stores targeting my age peeps. I remember sneaking into the Kennel Club underage -- c'mon...help a girl out, will ya??
3. Posted on Tuesday, June 12, 2012 by Craig Baker:
Worked at WI-FI from '61 until '70. What memories and what a great training ground ! I can still hear Mel Gollub saying: "If we could just get an AM license, we'd have it made."
4. Posted on Friday, August 10, 2012 by Steve :
Worked there around 1980, my first job in radio. I was a lowly copy writer for Byron & Tanaka's news and entertainment reports. It was a blast and I was treated with respect by both those guys especially Tanaka who was a pleasure to know. I think their show was followed by Allison ?. I also remember a sales guy named John Rafal, also very friendly to me. As a result I had a 20 year career in Philly radio sales so thanks WIFI! I would shutter to think how somebody as green as I was would be treated in today's corporate radio world.
5. Posted on Tuesday, December 11, 2012 by Johnny Devereaux:
I loved all time I spent working on WI-FI 92.5 MEL Gollub was good to me.. from sept 1961 till may 1970 then worked for Gen.Cinema for a while...I then worked for KOME FM 98.5 (SanJoseCa.)and I'm retired now living in Sunnyvale Ca.and in good health I also worked at WNAR AM I Missed freeform radio, I Played everthing no restrictions.
6. Posted on Thursday, December 13, 2012 by Johnny Devereaux:
WIFI was my Ist job and it was a great experience of 10 yrs from 1961 to 1970 Mel was a kind and generous boss........Johnny Devereaux
7. Posted on Thursday, December 20, 2012 by Rab Terry:
I remember listening to John Devereaux in bed with "earphones" when I was in junior high ( when the station wasn''t playing high school sports). Think I still have a tape that has ... And I am trying to remember back many years, Led Zeppelin..unknown in the US, CTA, Genya Raven, things that me and my listening friend would take the train to center city to try to find in the import bin. Kind of my intro to music that wasn't in the mainstream.
8. Posted on Saturday, February 2, 2013 by LLOYD ROACH:
WIFI-92 pretty much launched my management career. I participated in all of it from 1971 to the end of the decade. Contrary to the description, WIFI was not in 555 but rather One Decker Sq. The station's 50KW transmitter was West of Norristown,so the station was marginal in Center City but huge in the suburbs. Managers included, Dann Lerner (Later owner if KISS-100) Jeff Poll, Bill Parke and Frank Tenore. John Tenalia, group VP, always said the station had more guts than the others. Many an evening spent at the library.
9. Posted on Monday, March 25, 2013 by Craig Baker:
Good to see so many people remember WI-FI or what ever the call was when you listened. When Johnny and I worked there, the entire station was located on Potshop Road, East Norriton Twp. (legend has it that there had been an old pottery shop nearby) If memory serves me, the frequency had been allocated to Glenside and Mel had it switched to a Philadelphia license. I must assume the signal now comes from the antenna farm in Roxboro. As Johnny mentioned, Mel was a kind and generous man and very, very funny. Today I operate two AM stations in Georgia and there are many days when I wish I had a station on that new FM band.
10. Posted on Friday, July 5, 2013 by Bob Wade:
I was part of the team that worked at WIFI when Mike Joseph Brought in the HOT HIT'S format to WCAU that started the demise of WIFI...I can remember the first day we listened to Terry Young, the motormouth, and talking amongst ourselves we thought, 'this will never work' 6 months or so later, CAU was #1 music station in the city and WIFI92 was scrambling for it's life...at which point, it became the dismal 'rock of the 80's. I was lucky to work with some great people, Byron and Tanaka, Liz Kiley, Andre Gardner and the guy who gave WIFI it's last hurrah, Tom Bigby.
11. Posted on Tuesday, November 12, 2013 by Donald S. Browne:
I first heard WIFI/92.5 MHz in September 1963, while a sophomore at Drexel. The station aired unique (and unusual for the times) "specialty" programs which sounded "brokered": 50s Rhythm and Blues (Five Keys, etc.). When I returned to Philadelphia from the Army in February 1971 (Vietnam era), WIFI had been sold by Mel Gollub to General Cinema, and they were playing the syndicated automated format "HitParade '71".
12. Posted on Tuesday, December 24, 2013 by Ted Taylor:
Buzz Allen brought me to WIFI in 1965 to handle high school sports play-by-play and we did an ambitious schedule of games. At the station I did a nightly talk show from a restaurant in King of Prussia, became "The Ultra T" and did a weekend lat evening rock show, also did a Saturday AM "Beatles" show that kicked butt in the ratings. We broke "Long & Winding Road" one Saturday morning - we got a reel-to-reel copy from England. Back on the air again at WRDV FM 89.3 doing a morning show.
13. Posted on Wednesday, February 5, 2014 by Joy:
Whatever happened to the Radio Station that would play Soft Instrumental Music (Elevator type music) from the 70's and 80's at night during the 80's. The name of the station was WWSH (Wish)
14. Posted on Wednesday, April 2, 2014 by Steve Kelly:
WIFI fm-January 1st, 1973 I flew into Philadelphia and met with John Tenaglia of General Cinema and George Burns (consultant). I was hired to come in and turn the station from an automated oldies format to live jock top 40. At the time we were only the 3rd Fm top forty in the country I believe. I had come up with the Boogie format, which consisted of top 20 hits and oldies rotated in a very repetitive rotation. In one book we recorded a 2.1 which was damn good at the time considering we had basically no signal into downtown Philly. We went onto get high 3's in the ratings and became very competitive. The same format was then used on KRBE in Houston, WGCL in Cleveland and Z93 in Atlanta, all of which had great signals. They became the top 40 leaders in their respective markets. I see Lloyd Roach had posted a comment here earlier. He was on the sales staff at WIFI while I was there along with Dan Lerner, GM and Jeff Poll was sales mgr. We actually had the great Hy Lit on in the mornings for a while, plus Bill Figenshu in mid-days, Bobby Roberts at night (Fritz Coleman, KNBC TV Los Angeles weather man) Jon Rivers, Tom Dooley and many more that I can't remember. Great staff, Great times in radio. Thank you Jon Tenaglia for bringing me to Philly
15. Posted on Monday, May 26, 2014 by Buzz Allen:
Worked for Mel Golub from 1959 until stsion was sole in 1970. Mel was the best boss. Solid jazz programing with Ted Taylor Dave Solomon and myself. Known as the friends with pleasure. Made many great friends and still in touch with Ted, Dave and Craig Baker. Far from retired, running two full time businesses in Pompano Beach, FL.
16. Posted on Tuesday, June 3, 2014 by Dave Hall:
I began my teenaged years listening to WIFI. A graduate of WFIL, and being fortunate (or unfortunate depending on how you saw it) enough to be less than a mile from the transmitter, I could hear the station on practically every electronic radio project I tried to build. When I got older, I hiked up to the transmitter site and peered into one of the windows and could see wood paneling and what looked to be the remains of what was probably the original studio, before it became remote. When I got a little older and started to get into "harder" rock, the once advantageous strong signal from WIFI made it almost impossible for me to pick up WMMR, which was close at 93.3. So I had to settle for WYSP and their newly experimental "Quad" transmissions. One of the short-lived WIFI jocks in the 1975 time frame was Jerry Kane, who I had the pleasure of meeting thanks to a mutual interest in CB radio. Jerry invited me and a couple of other CB guys down to the studio to see how his show was produced, and for a long while becoming a radio DJ was my dream job. Unfortunately, the rise of mega-corporate cookie-cutter formats dashed that dream, and I ended up becoming an engineer in the cable TV field instead. I lost track of Jerry and never knew what happened to him after he left WIFI
17. Posted on Sunday, June 22, 2014 by Hank:
Unfortunately, I don't have the same fond memories of WIFI 92. I heard the station through out the years I was attended High School durring the late 70's. My memories dictate too much repeat of the same artists and songs. I just got tired of hearing so little variations of music, especially Peter Frampton's Live Album. Granted, I do prefer Blue Grass Genre over all other types of music, the same 12 artists in a day & the same 40 songs played several times a day was not my taste at all. By 1977, I acquired a 1957 Grundig Majestic Console AM/FM/ Shortwave Radio Receiver which really opened my eyes & ears to other music & information which was more favorable. Eventually I became an Amateur Radio Operator in 1978 then Electronics School & then some Radio Station Design & installation.
18. Posted on Friday, June 27, 2014 by C. J. Jones:
I was Vice President and General Manager for WXTU as we at Beasley built a very successful Country Music station for Philadelphia. One of the first things I did was hire WABC-NEW YORK program director RICK SKLAR as programming consultant and RUSTY WALKER of Mississippi as Music Consultant. Within our first full year WXTU grew to be the second most popular station with MEN age 25 and older in the Arbitron Ratings and that resulted in a great improvement in revenue and profits. We had some great talent and sales executives at WXTU and amazed just about everyone in Philly by making Country Radio a big success, which it remains today. George Beasley was a great supporter of his largest market station, eventually buying WTEL-AM to add a second station to his Philadelphia cluster. I eventually left and built my own radio station company with a number of stations in 7 Southeastern cities. WXTU was a great place to work.
19. Posted on Sunday, September 21, 2014 by Lou Kolb:
I discovered Wi-Fi when i got my first fm radio in the late 60s. Having grown up on AM-top 40, I was ready for something new when "underground" radio came along and Wi-Fi was the first in philly to do it beside the college stations. Eventually, I got into radio myself, spending almost 40 years in the business, mostly in Williamsport, Pa. Craig Baker helped me out in 1969 and 1970 as I took my first steps in ham radio. Today I'm retired from Broadcasting but still active in ham radio. Fond memories reading these posts. WA3MIX
20. Posted on Thursday, April 30, 2015 by Tim Dougherty :
I worked as part on air and production from the introduction of rock of the 80s in spring of 1983 through 3 formats. I did overnights weekends and short stint on mornings, It was the best time ! I was hired by Roy Laurence , a great man.....Art Camilo was the station manager through rock go the 80s and new 92 format featuring Dr Perry Johnson. Dennis Dougherty took over as station manager when the flipped the switch to wxtu, as college student working philly radio I was proud to be apart of this historic switch but wasn't for me. Fortunately wxtu picked Villanova basketball in the fall of 1984, I took a job as an onsite producer for the network........it was the right move being won the NCCA Championship, I still didn't get my ring. Dennis Doigherty stayed there after I left in 85, my oldest brother. He suddenly passed away April 29 2015 and has 2 daughters Rachel and Merrie who I love very much......he touched a lot off lives in radio world and will sorely be missed.
21. Posted on Wednesday, June 10, 2015 by Craig Baker:
Great reading these comments and finding out that so many folks are still fond of the old WI-FI 92.5. Spoke with Mel Gollub's son Mark this week and I'm happy to report that all of the Gollubs are doing well these days. Anybody out there know where Stan Snyder is? I hear from Les Crist, Dovrini, and Johnny Devereaus now and then, but can't find a number for Buzz Allen. Perhaps he'll see this and contact me. All the best to all of you. Write if you get work. Sincerely, Craig Baker WKVQ, WYTH, and WLRR FM
22. Posted on Saturday, July 11, 2015 by Doug Harms:
I listened to Johnny Devereaux as a teenager in the late '60's. Great memories. I remember his introduction of phase delay that he called his "unigue-Q technique-Q" I would then move down the dial to MMR for the Marconi Experiment in the evenings. Interesting that I went to school with one of the Deckers and Rod Phillips, another local radio personality.
23. Posted on Saturday, August 22, 2015 by Glenn:
I have one, pristine (collective) memory of WIFI 92 in the early '70s of listening to the esoteric selections of Bill Figenshu. What stuck with me most was a song of which I could not recall the title nor artist. A fragment of the lyrics knocked about in my subconscious for over 40 years. Finally, this morning, I got a 'hit' on Google for "Meat" rendered by Manfred Mann's Earth Band. Listened to the song on YouTube and the actuality of it was very close to how I'd enshrined it. Those times I'd listened were after school, reclined and wearing my Dad's padded headphones. All of the sunlit memories of a seemingly simpler time came back in a rush. Thank you for reading. I've enjoyed reading everyone's recollections here this morning.
24. Posted on Saturday, January 23, 2016 by Craig Baker:
An update: Recently I've heard from Buzz Allen, Johnny Devereaux, "Dovrini the Hit Spinning Genie" aka Nick Whittier, Ralph McKee, and I often visit with Les Crist. If there are other WI-FI folks out there, I hope you'll get in touch. A reunion would be stretching it, but it would be nice to say hello. Recently, I visited Philadelphia and had lunch with Bill Wright Sr. of Wibbage fame. Great trip back home, renewed some old memories. All the best to all readers. Craig
25. Posted on Sunday, July 24, 2016 by Paul Troy:
Worked at WIFI in news and production in 1970. Trained Tony Bruno when he graduated broadcasting school. Scott Taylor was there as was George Bailey. Think about the irony on two notes. First, this was KYW at one time. Wouldn't they wish they had all news on FM now! And what great call letters before changed to WXTU. WI-FI!!! Crazy! I am an active voiceover artist and member of The Broadcast Pioneers.
26. Posted on Friday, August 5, 2016 by Michelle Levine of Gaithersburg, Maryland:
The WIFI 92 FM station in Philadelphia, Pa. is what I used to listen to when I was teaching at a College in upper Philly back in 1973 but I am getting old now but I am still interested in songs saved on a tape and now put on a CD to listen to which is VINTAGE WIFI92. I want to hear the same format as played back in 1973 and 1974. Music meant well back then instead of school kids doing things for the money as nowadays here in Rockville, Maryland at IHeart Radio and Clear Channel Communications such as DC101 and MIX 107.3 FM. Contact WUSA9 News and speak to Ellison Barber and have her mention this on the 9News station. Thank you for your service! 202-895-5999 to speak to 9News.
27. Posted on Friday, January 27, 2017 by Eric Bradway:
Jerry Kane at WIFI 92 was my friend as well He used to do those Sunnnnnnnnnnnday at Atco Dragway Commercials
28. Posted on Friday, April 7, 2017 by Gary Hendler:
I worked at Universal record distributors from the 60s through the 70s and was very friendly with Johnny Deverauex does anyone know how I can get in touch with him. My number is 610-715-1953
29. Posted on Tuesday, April 18, 2017 by Boss Baby Landers:
Jerry Wild Child Kane moved on to the DC Area in the 80's at the Country FM station there (Mornings?), and then to DC's WOOK-FM reincarnate as "Hits-100 WDJY" in evenings as JJ KANE. He also did a show at Hot Hits WMAR-FM 106 in Baltimore at its inception in 1983 (weekends?); his name is Jim Randall. I have an air check of him that I taped on my JVC-M90 boom box. WDJY (100.3) came in spotty in Towson MD., so I recorded it off the FM in mono and transferred it to reel.
30. Posted on Friday, September 1, 2017 by Barry Willig:
I remember WRCP as the country radio station of Philadelphia until 1984. It stood for Real Country Power. Does anyone else remember WRCP?
31. Posted on Wednesday, September 20, 2017 by Richard Franklin:
I was a very young avid radio and TV wannabe and practiced since I was old enough to talk. I knew Johnny and used to sit in on some of his WIFI broadcasts. I lived in Ambler. Al Novack, Dave McCrork and I frequented WNAR, WIBG, WFIL, WIFI, and all the area radio and TV stations. As young teens we formed Broadcast Sound Associates for sound work, recording, and record hops. I am a member of Broadcast Pioneers. LINKS: http://wifi92fm.com/ http://www.wnar-am.com/graphical/
32. Posted on Saturday, January 27, 2018 by Donald Messina:
I need to know if WXTU broadcasts German music and announces German cultural events to Philadelphia If not, can you tell me of another station that does.
33. Posted on Monday, February 5, 2018 by gus lewis:
WIFI-92! WOW! Geez, I have so many spotty memories of that station, like enjoying Hy Lit on Saturday afternoon (1973?).Anyway, they fire Hy Lit and replace him with that horrible-sounding Dene Hallam. Also, I recall Scott Taylor (the Black guy) doing news. Talk about a boring six and a half minutes of worthless dribble. And how about Champe Haggins (from WDAS-FM) going over there as "Brother Truckin' Louie". Holy cow, there's another WIFI train wreck. Al Bandiero (spelling) was excellent, signing on in the PM with "IT'S NOW OFFICIALLY NIGHT TIME! And what name did John Galanses go under? Boy, I do remember that aweful signal WIFI had in S.E Delco. They were one of the few FM top forties in those years, along with WZYQ Frederick MD, WKZQ Myrtle Beach and 96-X Miami. One other thing: Lee Paris RIP.
34. Posted on Thursday, March 15, 2018 by Carmen Malizia:
While in high school I contacted Johnny Devereaux. He shared his time At WNAR and WIFI. WNAR located inear a farm on Old Arch Road had been broken into and most of the record library was gone. I heard Johnny Beg his audience for records to play. I called him and offered to loan him My records with the stipulation that I went along with them. He picked me up at my home in Philly and would first bring me to WIFI early on Sunday mornings they would fire up the transmitter because broadcast day ended at midnight. I remember Polka Joe and other brokered shows. Craig Baker wastheengineer at both stations. Their was Ron Diamond in the evening. I became one of Ron's VIL's. Buzz Allen did sports and had something to do with a car dealership in Glenside PA. I remember Johnny Devereaux had a hand injury that happened when he was working at a rug company. At WNAR There were church tapes played on the old Ampex reel to reel located next to the 500 watt RCA transmitter. There were brokered shows from Super Lou with a tape loop for echo oh and the forever wanna be DJ and a legend in his own mind Ronald Joseph. I had radio in my blood. The Vietnam war would change everything for me. I would become a radar repair man trained at Ft. Monmouth NJ one time home to Major Armstrong inventor of the superheterodyne receiver and inventor of FM. I would come back to Philadelphia and almost became at Bill Wright's Columbia School of broadcasting Broadcasting. But I took a serious look at where the industry was going and in 1972 a teacher took me aside and said 3 words"digital, digital, digital. With that advice spent 40 years working with digital electronics. I am now retired but volunteer as a DJ for the VA medical center and at our clubhouse in our 55 plus community. I don't think any of this would have been possible if it weren't for my Sundays spent at Mel Galops WIFI. "Thousands of listeners everywhere the modern sound the tempo high on station WIFI". Johnny Devereaux if your out there I'd love to hear from you. We Carmen Malizia
35. Posted on Friday, March 30, 2018 by Vera:
I'm looking for the DJ's names that were on wxtu country, in the 1990s.
36. Posted on Tuesday, October 9, 2018 by ranna sha:
if I'm not mistaken, Jerry Wild Child Kane was assistant PD at WPKX (KIX Country) in 1983. He possibly went by 'Jason Kane'. He moved over to WDJY in 1984. Didn't he use the name "Jim Randall" at WMAR-FM in its early Hot Hits Days around Sept.1983? Somebody help me out. Anybody out there who jocked at WMAR-FM when it was in the basement of channel 2 would be able to confirm this.
37. Posted on Thursday, August 15, 2019 by Ricky Clarke:
I remember WiFi 92 from my childhood from 1971-1974. I was about 5-8 years old. We lived in Warrington,PA in what was called at the time Paul Valley Apartments at 1700 Street Road. There called something else now. My brother was a lifeguard at that pool that's still there almost 50 years later. We played this station at the pool from 9 AM to 10 PM almost every night! The 70s pop music was tops and I still think of those days when the music hits were new... What a great childhood I had at that pool and that place. It's where I learned how to swim like a fish and ride a bike. That radio station made such an impression that I never forgot those call letters. WiFi 92? I'm 53 now living not far from Richmond, VA. We had a station down here close to that playing great early 80s pop called Q94.... Until it changed format in early the middle 80s when music in my opinion turned to junk. After that it was K95 country for me then to classic Rock. Now in 2019 it's. Sirius XM yacht Rock, The Bridge and what Ever!
38. Posted on Wednesday, January 1, 2020 by darrin moore:
My brother taped some of the Top92 Countdown on 12-73.First time listening to WIFI.On the air that night was,,if memory serves me correctly,,Chuck Elliot,Bill Foster,Bobby Walker,Charlie Brown.WIFI also did some broadcast's in reverb in early 74.My recollection of Dj's;Gary Morgan,Bill Foster,Shotgun Kelly,Jerry Kane,Steve Rivers,Brother Louie,Jim Brown,John Fox,Long John Wade,Mark James,Al Bandiero,Joey Mitchell,Geoff Robbins,JJ Kennedy,Bill Britton,I think Banana Joe Montione,a brief Joe Niagara,Chuck Bennet?Bob Hamilton,Bob Travis,Byron and Tanaka,I know I missed some.I apologize,,going off of memory.Just turned 59,it was a time I cannot forget.
39. Posted on Saturday, May 2, 2020 by David Murphy:
I won the first record I ever owned from Wifi92. The first time I ever heard Yaz was on i92. I was really bummed that it didn't last. It did influence my taste in music forever though.
40. Posted on Saturday, September 5, 2020 by mel toxic taylor:
i am collecting and posting all my WIFI 92 Rock of the 80's stuff here >> https://www.meltoxic.com/i-92-rock-of-the-80s/
41. Posted on Thursday, March 18, 2021 by Timothy Todd:
WIFI 92 was my go-to radio station back when I was in junior high school (1977-1980), and a few vivid memories I have of WIFI 92, was its variety of music, from top 40 and disco tunes from that period, to classic rock, the "party line" they had every night around 7pm, where people would call in and tell a joke, and on Thanksgiving Day they had segments on the history of Thanksgiving Day that were played in intervals throughout the day. I know the Thanksgiving Day feature was aired in 1977 and 1978, but not in the years after. Great memories!
42. Posted on Thursday, March 25, 2021 by John Anthony Mellon:
Worked at wpst as walt ballard wondering where jerry kane is and geoff richards of wfil. look foward to hearing from somebody. shiloh205@gmail.com
43. Posted on Wednesday, May 26, 2021 by John Anthony Mellon:
Trying to find out where Jerry Kane who worked at WIFI is now also two other former WFIL jocks: Geoff Richards and Tony Mann. Any info would be greatly apppreciated. I am compiling info for a book on Rhilly radio of old. Thank You.
44. Posted on Saturday, September 4, 2021 by Woody Retro:
One of the saddest days I had in the 80s was August 1, 1983 when WIFI dropped their Rock of the 80s format in favour of some bland format. I suppose Arbitron killed it, but most of my friends & acquaintances listened to WIFI up til that day.
45. Posted on Saturday, October 23, 2021 by John Mellon aka Walt Ballard:
I'm writing an magazine article about wifi-92 and need any info on: Jerry Kanr, Max DeCarlo and Gary Morgan. Any and all info would be greatly appreciated. Thanks
46. Posted on Saturday, October 23, 2021 by John Mellon aka Walt Ballard:
Send info to: shiloh205@gmail.com
47. Posted on Tuesday, October 26, 2021 by John Mellon aka Walt Ballard:
Darrin Moore forgot WIFI-92 dj Super Max DeCarlo
48. Posted on Friday, November 19, 2021 by John Mellon aka Walt Ballard:
No one has Super Max DeCarlo listed as a former DJ at WIFI
49. Posted on Saturday, January 29, 2022 by John Mellon aka Walt Ballard:
Does anyone besides me remember Bobby Walker from WIFI
50. Posted on Sunday, March 6, 2022 by Bruce Scott:
No mention of Sam Lit?
51. Posted on Saturday, March 26, 2022 by John O'Connor:
I do remember my WIFI 92 days. Prior to them, I listened to Wizard 100, which was an AM station, until they switched yo all disco at the beginning of 1979. From then, it was WIFI for about a year, when they played a lot of music through the first half of 1980, which would be a classic rock format today. By mid to late 1980 they evolved into a format that was too AM ish for an FM station, then I settled on WYSP, which at that time played mainly heavy metal, competing with WMMR. But a few years later, WYSP became a classic rock station, and was my favorite radio station for nearly ten years, until they changed to a modern rock format, hoping to attract a younger audience. Since then, I basically flip around the dial.
52. Posted on Tuesday, May 17, 2022 by Jack Kulp:
I did an internship at WIFI in 1973 after WFIL turned me down. Gary Bundy (see lead comment) took me on. Steve Kelly was PD at the time, Dan Lerner GM. Great fun for a high school senior!
53. Posted on Saturday, May 21, 2022 by Steve Green:
I had picked up and was driving along with this gal I was seeing, and decided to have some radio fun. In the cassette deck I had put in a tape from WIFI 92 and set the lit FM dial to approximately 92.5. I explained to her that I was getting pretty good reception. The jock's name was Don Marino, maybe from around 1979. WIFI was running a contest and asking the listeners to write down all the Beatles songs they heard until February to enter the contest. Since we listened in August, and along Sunrise Highway on Long Island, I got a double- and then a triple-take out of her. 'Until FEBRUARY ?!?!?' she hollered. WIFI also sent me an envelope with about a dozen see-through WIFI 92 window stickers. I proudly had one for over a year, driving around my home of Long Island.
54. Posted on Tuesday, June 21, 2022 by Jim Russo:
I worked at the Upper Darby (69th St./Market St.) Robert Hall Clothes from 1973-75 where WIFI-92 played from opening to closing time from a single radio on a shelf in the middle of the store. In keeping with the chain's "low overhead" motto, there was no piped in music but the manager got to choose which commercial radio station would play in store. With the exception of a few hours of WWDB's Sid Mark "Friday's with Frank", WIFI was it. After a 9 hour Saturday shift those repeating Top 20 tunes were seared into my brain. That was a jarring contrast with the on-site tailor's classical music in his shop (Met Opera on Saturdays) on WFLN. Later when the store was expanded and remodeled they switched to the brand new "Magic 103". The Clifton Heights store manager was more adventurous and would occasionally play WMMR in his store but that was risky business as one day the Regional Manager made a surprise visit in the middle of Steppenwolf's "The Pusher".
55. Posted on Saturday, August 13, 2022 by dave kishner:
what hurt them was signal and stereo compression they had a dead spot from upper darby to camden where psfs located wmmr blocked them bad after camden the were strong even listened to them in wildwood ...500 feet at 50kw from potshop road should of had better center city coverage they had great ratings in reading and the lehight valley where they were like a local...
56. Posted on Monday, December 12, 2022 by Bruce Scott:
No mention of Sam Lit (Hy's son) who did weekends on WIFI?
57. Posted on Monday, February 6, 2023 by Joe Blair:
I did mornings at WXTU when we flipped it to Country in 1984. I did character voices with host Larry Coates. We both came from US-101 Chattanooga to do the flip. Country had been tried in Philly before but never did work until Country 92. I really enjoyed my 2 years there and then returned to Chattanooga with Big Jon Anthony for 5 years before heading home to Evansville Indiana.
Add your comment
Please note: commenting has been temporarily disabled. Please check back again soon for our new commenting system.