Philadelphia Radio Archives
History of Philadelphia radio station 1540 WNWR
WJMJ
1540 was founded by Patrick J. Stanton, former general manager of WDAS on December 25, 1946. The daytime only station operated out of the ballroom of the St. James Hotel in center city Philadelphia. The format was middle of the road music and religious programming. The call letters reportedly stood for "Jesus, Mary, and Joseph."
Sally Starr was a popular host at the station begining in the late 1940s. Her shows were often broadcast from local record shops throughout the Delaware Valley.
WRCP
In August, 1965, WJMJ was sold to Rust Craft Broadcasting, a division of the Rust Craft Greeting Card Company. Calls were changed to WRCP and studios were eventually moved to 2043 Locust Street in Philadelphia (referred to as the "Rittenhouse Ranch.") The calls have been variously described as meaning "Rust Craft Philadelphia" and "Real Country Power." A "Modern Country" format was instituted in 1967 under program director John Mazer. In the 1960s and early 70s, a WRCP stagecoach with staffers dressed as cowboys/cowgirls was used as a promotional tool. Some of the station's country DJs in this period included Don Paul, Dave Stanley, Nick Reynolds, Shelly Davis, Bob Steele, and Jack Gillan.
On October 17, 1977, WRCP AM and FM split into completely separate programming. The FM side, with new calls WSNI, went with a "beautiful country" format while the AM continued with a more traditional country format. In 1980, the FM dumped country for adult contemporary, making WRCP-AM the only country station in Philadelphia at the time. In 1981, after WFIL adopted a country format, WRCP switched to "Philadelphia gold" oldies from the 60s and 70s with jocks Ron Cade, Jay Patrick and Tom McDonnel.
WSNI/WPGR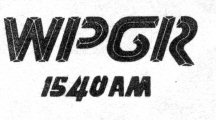 In 1983, the calls were changed to WSNI to match sister station WSNI-FM. Program Director Don Cannon, whose WSNI-FM morning show was simulcast on 1540, instituted a short-lived "Beatles and Mowtown" format. Some of the jocks during the oldies format included Mike St. John, Hy Lit, Harvey Holiday, Tommy McCarthy, Jerry Blavat, and "Armand In The Morning." The following year, the calls were changed to WPGR, "Philly Gold Radio."
In 1992, the oldies station was sold to a group of local investors under the name All Star Radio. (Eric Farber, Marina Kats, Robert Rovner, Bob Daniels and Anthony Corradetti) The station was renamed "Geator Gold Radio" with Jerry Blavat as operations manager. In 1994, WPGR received permission to operate 24 hours a day, although at very low power after dark. A number of veteran Philly jocks came and went during this period including Bob Charger, Georgie Woods and Sally Starr (who had worked at the station some 40 years earlier.)
The last broadcast as WPGR was with Georgie Woods on June 30, 1995. The last song was Hope That We Can Be Together Soon by Harold Melvin & The Blue Notes. As the song faded out, Woods said the final words on WPGR: "We are now signing off the air at WPGR. This is the end of WPGR. The new station will be known as WNWR. And with that, God bless you, it's been a pleasure, and mazel tov."
WNWR

In 1995, the station was sold to Global Radio for $1.4 million, with new calls WNWR and time-brokered ethnic and multicultural programming. Time was made available to any person or entity willing to pay, so over the years, a large variety of programs came and went. One mainstay was Barry Reisman, who had been on the air at various Philadelphia stations since the early 1960s. Studios were located in the 200 Monument building in Bala Cynwyd.
In June, 2011 it was announced that all programming on WNWR would be moving to WWDB 860 AM effective June 14th. At that point, China Radio International (a state-owned international radio broadcaster of the People's Republic of China) began leasing the station's entire broadcast schedule. Occasionally the feed from CRI would go down, producing lengthy amounts of dead air, or play two feeds at once.
In April, 2018, Aztec Capital Partners (owners of WHAT-AM) agreed to purchase WNWR from Global Radio for $375,000. According to FCC filings, WNWR went off the air June 14, 2018 "in order to explore potential modifications to the transmitter site." By 2021 the station was once again on the air with 1,000 watts during the day and 7 watts at night, awaiting approval of a construction permit "to relocate the transmitter site of WNWR, Philadelphia, PA to the tower site of WHAT, Philadelphia, PA using a multifrequency diplex filter system."1
---
Sources
"WJMJ, Philly, to Debut Dec 25.", The Billboard, 11/16/1946, p. 9
(1) fcc.gov "Engineering Report WNWR Transmitter Relocation"
Radio Insight, "Aztec Capital Partners Acquires WNWR Philadelphia" April 18, 2018
Discuss WNWR
Comments? Corrections? Worked there? Please let us know!
1. Posted on Thursday, August 19, 2010 by Michael McDevitt:
Miss the old 1540 WPGR days good time Oldies music
2. Posted on Friday, August 27, 2010 by Bill Smith:
I was there a couple of times. (1) 73-76 as transmitter-watch engineer and fill-in jock. (2) 86-88 (PGR): started on the 6p-signoff shift, later did AM drive briefly.
3. Posted on Wednesday, September 29, 2010 by Ben Runkle:
I have fond memories of WRCP in 1970-71. I had moved to Philly from my native North Carolina and was working at William Moennig & Son a few doors down Locust St. One evening I was listening at home, called the station and had a nice chat with the DJ. We eventually became acquainted and I visited at the studio a couple of times. They promoted a show with Merle Haggard at the old Memorial Hall and it remains one of the best concerts I have ever seen. The station manager at the time was a man name
4. Posted on Sunday, November 14, 2010 by Neil Rice:
Hav e great memories of WPGR and Jerry THE GEATOR Blavat when i was outprocessing at Fort Dix in early Aug 1992. Best radio station I have ever listened to. I feel a sense of loss with its demise. Great memories (if only for a week). Enjoy them while they last. Thanks
5. Posted on Saturday, April 9, 2011 by Steve Dave:
I hear from creditable scoures that WNWR is Flipping to CRI. Sun Up to Sun Down all CRI all day long. They maybe striking a deal in May. Dont know the details but its going to happen.
6. Posted on Wednesday, August 3, 2011 by Nick Reynolds:
I have great memories working at WRCP twice during the 60's and 70's. I had the pleasure of interviewing Dolly Parton on the air. I still get cards from my listeners.
7. Posted on Sunday, April 6, 2014 by Gordon:
Growing up in berks county Pa, the only radio station that my family listened to in the late 60's and 70's was WRCP, Grew up listening to Country and still do to this day, the best country music was made in those days and nothing like the crap coming across the airwaves today!!!
8. Posted on Sunday, May 4, 2014 by Nick Reynolds:
I worked with many great people at WRCP AM & FM including Don Paul, Bob Steele, Neil Howard, Mike Dugan, Shelly Davis in the sixties and again in the seventies. We did concerts at Convention Hall including Capitol Records doing a live recording of the great Merle Haggard. Wonderful memories to share with my thousands of listeners.
9. Posted on Thursday, April 14, 2016 by Jake:
Listened to WPGR from Maguire Air Force Base in summer of 1992. Great oldies station. Loved The Geator. Memories that have stayed with me. Boy, do the years fly by.
10. Posted on Tuesday, October 11, 2016 by BOB BOGASKI:
NICK REYNOLDS & I NEW EACH OTHER BACK IN 1961 BEFORE I WENT IN THE AIR FORCE--- IBUMPED INTO HIM IN HARRISBURG PA. AS I WAS GETTING READY TO SHIP TO VIET NAM,FIRST TOURE ----- MEET AT RADIO STATION ,,THEN WENT OUT FOR A FEW DRINKS----OUT OF SERVICE 1969 ONLY TO CALL HIM AT RADIO WRCP -- TOUCK WIFE & 3 KIDS TO SEE HIM IN THE THANKSGIVING PARADE -- ALYCE & I BUMPED ITO HIM IN NEW JERSEY OFF RT. #9 --- LAST TIME === HAS ANY BODY SEEN HIM OR HIS BROTHER ???? H TRHEY LIVED ON THOMPSON ST. BELOW BRIDSBURG ???????
11. Posted on Tuesday, October 17, 2017 by Jamie:
I can remember waking up early on Sunday mornings to tune in to WPGR to catch the Elvis & Friends show with Rockin' Ron Cade. And all those other great oldies on that station.
12. Posted on Friday, August 30, 2019 by Bruce Scott:
In your defunct call letters list you've omitted WPWT (91.7 FM) where I was on the air in the late '70s-early '80s. Please add. We were proud of the job that we did back then. Thanks. -Bruce Scott (And, yes, WPGR was a great station, too.)
13. Posted on Friday, August 30, 2019 by Bruce Scott:
I collect old jingles and air checks. I have one with a WPGR top-of-the-hour legal ID giving its city of license as "Bala Cynwyd!" [Actually, "WPGR, Bala Cynwyd-Philadelphia."] What was with that? (It was immediately followed by an "Andy Volvo" name shout.)
14. Posted on Monday, February 17, 2020 by David:
Jerry Blavat (aka The Geator with the Heator [or The Geator, for short]) joined the WPGR airstaff from April 1987 until the call letters as well as oldies format signed off for the last time (WJMJ/WRCP-AM/WSNI-AM/WPGR/WNWR was a daytimer in the summer of 1995.
15. Posted on Wednesday, March 11, 2020 by Joseph Cannavo:
I find it quite interesting that no mention was made that WJMJ was also the principal station in Philadelphia for Italian language programming under the direction of Ralph Borrelli. In fact, Pat Stanton was decorated by the Italian Government with the title of "Cavaliere" or best meaning Sir in English. Also missing is the fact that Stanton himself did an daily Irish program for many years.
16. Posted on Tuesday, July 28, 2020 by Rick Davis:
My brother Shelly Davis went from WMID Atlantic City to WRCP Philadelphia.
17. Posted on Wednesday, November 24, 2021 by Jay Patrick:
I did PM drive at WRCP from the very beginning of the oldies format until July, 1983, when I joined the lineup at crosstown Kiss 100. I had the pleasure to work with, and learn from, some legendary talent, including Hy Lit, Ron Cade, and Mike St. John. Speaking of Philly radio legends, Don Cannon was PD.
18. Posted on Saturday, May 21, 2022 by Patricia Elizabeth Nosie:
Hey Everybody, great to read your memories! I'm searching for airchecks of my Daddy dj, Chuck James (went on to Heaven at 87 years of age on Father's Day, June 17, 2018 ~~ I love & miss you so much, Daddy??) ... he told me about the "Chuck James Show" on WTEL, WHAT, & WDAS (mid~1950s/early 1960s, leaving radio in the mid~1970s), but I just found (one day only so far: 9/12/1960), that he also dj'd for WJMJ! The Philadelphia Inquirer would list all radio programs back then, and noted on that day for WJMJ was: "7:00am: Farm Reports, Hymns, Chuck James Show" ... so interesting to think of djs helping out on neighboring stations. Does anyone remember my Dad's show? He also told me (during his WHAT or WDAS days) that Jackie Wilson agreed to go with him to a fan's home & surprise her ~~ and she got two surprises: first, her favorite deejay knocks on her door, who then says someone else wants to meet her ~~ and Mr. Wilson appears (all recorded & later shared on~air). Even now I get a little faint at the thought of my fave dj AND fave singer showing up at my door ("be still my heart")?? And finally, Daddy was woo'd to Los Angeles' KGFJ radio station to take over the great Larry McCormack's slot because of their similar voices (Mr. McCormack went on to become a legendary TV news anchor and was missed on radio, but Chuck James won the fans' hearts, bless him). I remember going to Wilshire Crest elementary school with children of another beloved KGFJ dj, Big Jim Randolph ... I sure enjoyed being known as a deejay's daughter. Next stop for Chuck James was L.A.'s KDAY station.(And throughtout his radio career, did some Armed Forces radio shows.) Wow, Luther Vandross sings that beautiful song of wanting to dance with his father again ~~ and I sure wanna hear my Daddy's radio shows again??????.) Thanks Philly Radio Archives for this chance to share!
19. Posted on Saturday, May 21, 2022 by Patricia Elizabeth Nosie:
More about dj Chuck James: he was given huge assists in the radio world by Philly's Superhero deejay, Georgie Woods!, who introduced the then new WHAT dj to Georgie's Philly Uptown Theater All Star shows audiences. Chuck James helped host some shows there, which I thought was the only venue ~~ until I found a flyer of Daddy hosting his own show at the Ogontz Theater, called the "All~Star Stage Show." He booked acts not scheduled for the Uptown, and here's the lineup for November 10~12, 1961: (can't find a secure link of the flyer to post, so typing info here) OGONTZ THEATER 6035 Ogontz Ave. FRI.. SAT.. SUN.. NOV. 10~11~12 CHUCK JAMES of radio station WHAT ROCK 'N' ROLL STAGE SHOW featuring an all~star cast including THE CRYSTALS THE ORLONS Dream Lovers ~ Lavenders Tommy Montgomery ~ Faye Simmons Barry Smith All~Star Band EXTRA ADDED ATTRACTION JAMES RAY ... ... ... ... Adults $1.50 ~~ Children 75¢ You know,there are many Chuck James names out there, but I think I might have the only deejay Daddy with a radio moniker story like this: He was born Clarence Charles James Weldon in Bryn Mawr, PA, 1930 ... my Gramma Marie told me that he was their first live birth so he got all the names in case they didn't have more children (my Aunt Edna and Uncle David fotunately joined our family soon thereafter??) ... and the rest is history of how Daddy chose his two middle names from his grandfathers, to ride the airways with as dj Chuck James??. Daddy struggled with memory loss the last 5 years of his life (2013 ~ 2018), and having the privilege of being able to be his companion & caregiver, I kept a notebok nearby to capture the many times he could share in conversations, and his deejay memories were plentiful. ... He was bedbound during his last 7months and our time was filled with me reading to him, and playing his favorite dvds of oldtime comedy shows (he couldn't take anything too deep or sad ~~ so no news (he'd cry over the awful things going on), and surprisingly no sports becaused he'd want to get suitedup for football saying his coach wanted him to get in the game ~~ which all fits in with his memories of his high school (Tredyffrin Easttown1949 graduate) & college (Lincoln U, attended 1year, 1949/50, but left for Columbia Broadcastingschool & pursuit of his radio career fulltime) athletic days of football (jersey #42), basketball, and track. I was with Daddy at 4:30am in the ICU at the USChospital when his last br
Add your comment
Please note: commenting has been temporarily disabled. Please check back again soon for our new commenting system.