Philadelphia Radio Archives
History of Philadelphia radio station 610 WTEL
WIP was the randomly assigned call letters for a 500 watt station on 833 kHz that began broadcasting on March 17, 1922. The owners were the Gimbel Brothers, with studios above the Gimbels department store at Ninth and Market Street. Two steel towers supported WIP's inverted "L"-type antenna on the roof of the store. For a few years, as radio broadcasting was in its infancy, the station jumped around on the dial and/or shared a frequency with other stations: 750 kHz with Wanamaker's WOO, 590 kHZ in 1923, 860 kHz in 1927, and finally the familiar 610 kHz shared with WFAN in 1928 under the calls WIP-WFAN. (WFAN was part of a Haverford radio-enthusiast club.)
In 1931, WIP purchased WFAN and consolidated all broadcasting at the WIP studios. In 1932, the station was transferred to a newly formed company, the Pennsylvania Broadcasting Company, in order to separate ownership from the department store since WIP was now a successful broadcast enterprise in its own right. In 1935, the studios were moved to 35 South Ninth Street and two years later the transmitter was moved to 21st and Hamilton Streets.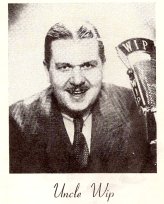 In 1938, the station began a full 24 hour a day broadcast schedule and used the slogan "Philadelphia's Pioneer Station." In 1940, the station was granted a power increase to 5,000 watts and the transmitter site was moved to Bellmawr, NJ. The previous tower at 21st and Hamilton was dismantled and the property sold.
From the begining, one of the most popular personalities on the station was children's show host "Uncle Wip." While Uncle Wip was portrayed by several people, one of the longest running was Wayne Cody. By 1933, Uncle Wip's "Kiddie Club" had over 500,000 names on its list, and over 750,000 by 1941. In addition to making numerous appearances, some of Uncle Wip's other activities included an Aviation Club, a "Toyland Parade" and a "Drum and Bugle Corps."
In 1958, WIP AM and FM were sold for $2,500,000 to WIP Broadcasting, Inc., a new syndicate headed by Benedict Gimbel, Jr., the station's former General Manager.

In 1960, the Metropolitan Broadcasting Division of Metromedia, Inc., owned by John W. Kluge, purchased WIP AM and FM for $2,700,000. This essentially ended any connection the station had with the Gimbel family or retail concern. On May 11, 1961, WIP's licensee name was changed to the parent company name, Metromedia, Inc. The following year, offices and studios were moved to more modern and larger quarters in the Wellington Building, overlooking Rittenhouse Square at 19th and Walnut Street. The format was MOR, a mix of 50s and 60s pop music with a heavy emphasis on newscasts. Instead of chasing the younger audience of rock station WIBG, WIP targeted a slightly older 25 - 49 year old crowd with music from artists such as Frank Sinatra, Henry Mancini, and Stan Getz. This was similar to the direction taken by New York sister station WNEW. Pivotal to the station's success was long time announcer Joe McCauley, known as the "Morning Mayor" for 14 of his 26 years at WIP. Other announcers during this period included Ned Powers, Tom Brown, and Chuck Daugherty. At one point, the station called itself "Channel 61 color radio" and later "The big W."
The station gradually added more soft rock to the mix and evolved into an adult contemporary format by the 1970s, a format it would keep for the most part through its gradual change to sports talk in the late 1980s. The station had great popularity with the AC format in the early and mid 1970s and boasted a strong news department with frequent newscasts. Some of the announcers included Ken Garland, Bill Webber, Tom Moran, and Tom Lamaine. In the mid-1970s, Eagles football play-by-play begain airing on WIP and brought a whole new audience that often stuck around after the game was over. As FM radio began to steal the music audience from WIP in the early 80s, more talk programming was added. (Such as "Telephone Talk" with Jack Ellery and Steve Martorano overnights) By the mid 80s, as the amount of music decreased even further, most of the new talk hosts brought in featured sports programming. By 1988, the change to all sports programming was complete.
A management buyout group, known as the Metropolitan Broadcasting Corporation became WIPs owner on November 18, 1986, and they subsequently sold the station to a division of Specatcor Inc. on December 8, 1987 for $6 million. In 1989, studios were moved to newer facilities at 441 North Fifth Street. In 1993, WIP was sold to Infinity Broadcasting for $2 million, and when Infinity merged with CBS in 1996, CBS became the new owner. In 2004, studios were moved to Two Bala Plaza in Bala Cynwyd.
On September 2, 2011, WIP began simulcasting on 94.1 FM, replacing rock station WYSP. The simulcast of WIP and WIP-FM soon began to gradually split, and ended entirely January 2, 2013, when WIP became a full-time affiliate of CBS Sports Radio, airing national programming to complement the local programming on WIP-FM.
In 2014, WIP AM was sold to Beasley Broadcast Group and changed its call letters to WTEL, the longtime former call letters of Beasley-owned sister station WWDB. In early 2015, WTEL became an affiliate of ESPN Radio, dropping affiliation with CBS Sports Radio. In 2020, Beasley Broadcast Group leased out WTEL's operation to iHeartMedia and the station became the Philadelphia affiliate of iHeart's Black Information Network, a news/talk format simulcast on WDAS-FM's HD2 sub-channel and oriented towards African American audiences.
---
Discuss WTEL
Comments? Corrections? Worked there? Please let us know!
1. Posted on Wednesday, September 23, 2009 by Curtis:
As a young man growing up in West Conshohcken, my parents and brother and sisters and I would occasionally see a move at the Ridge Pike out-door theator. I still and recall listening to WIP's station break song. Who were the people singing and how can I listn to it again? Respectfully, Curtis
2. Posted on Friday, December 4, 2009 by Donna:
I worked there with the announcers mentioned (Ken Garland, Bill Webber, Tom Moran, and Tom Lamaine) around 1978-80. My job was in the Traffic Department handling the commerical logs. It was a nice place to work, the staff was friendly.
3. Posted on Saturday, December 26, 2009 by Tom:
Does anyone remember the traffic reporter that died in a helicopter accident while reporting the traffic?
4. Posted on Monday, January 18, 2010 by Albert M. Kennedy:
I used to listen to WIP in the early 1960s. They used a musical jingle, "WIP Six-ten, color radio, Philadelphia" at station breaks. It was a great radio station, with a wide blend of music, not like the niche broadcasting you hear on most stations today. I miss it.
5. Posted on Sunday, March 21, 2010 by Tom Gallagher:
I worked as a summer engineer at WIP during the summers of '66, '67 and '68. In that era, WIP was a major force in music, entertainment and local news. It boggles my mind just to imagine what the news operation alone cost to run. In the 40+ years since then, I've spent the bulk of my career working on Wall Street, but working at WIP was the most fun I ever had--and it changed my life in many ways. In addition to Moran, Weber, Chuck D, Nat Wright, Hickok, even the difficult Joe McCauley, I
6. Posted on Saturday, May 8, 2010 by Tom Moran:
Hey, Tom Gallagher, I DID NOT FORGET...I owe you an email. This 'computer' thing has taken over my life, well almost. It sure is addictive. I have heard from several graduates of the Wellington School of Broadcasting, aka, 610WIP. Honest, Tom, one of these days we'll talk. You, as I recall, often contributed ideas designed to improve what I was trying to accomplish. It worked well until 'The Great Downsizing' began in January, 1984 with the late Great Nat Wright being shown the door,
7. Posted on Monday, May 17, 2010 by phyllis ariano=mcginnis:
I worded in Program dept. of WIP in mid 40's; secty to Murray Arnold and others. Handled the Dawn Patrol commercials for Pep Boys (Joe McCauley was the d.j.) Moved in to front office as exec.secty to Ben Gimbel, Jr.before moving on to other stations and advertising and then to New York. Had a long career in broadcasting and received good training at WIP.
8. Posted on Wednesday, June 9, 2010 by Don Barth:
Was a production and on-air engineer until '69. Great times!! Bickhardt, Yost, Lombardi, Drock; Best engineering group in the city!! McCauley was demanding, but fun to work with. "Chucky From Kentucky" was a kick to work with. So was Tom
9. Posted on Sunday, August 1, 2010 by Beth Williams:
It's great to hear from Tom Moran & Don Barth about WIP radio before the "Great Downsizing" happened. Nat Wright was my dad, and he always had a good word about working with Both of those fine guys. He told me about a night Don was his engineer (before he took over the "Dawn Patrol") and Nat had a record on. He stepped into where Don was working and they got into a conversation while the record was playing. After a good while, Nat said:"Hey, Don, what time is it anyhow?" The record had been
10. Posted on Saturday, August 7, 2010 by Phil Harris:
I followed Del Dengate as the WIP chief engineer from early'79 when he retired until the station was sold to Spectacor in '87. Even though music was less prominent in the format in my later years at the station we always enjoyed our work. This was a fantastic station to work at with some of the best radio broadcasting professionals in the city. When it was sold it was a sad day in my 45 year broadcast engineering career.
11. Posted on Thursday, September 30, 2010 by Bob Russo:
What a station! I worked there from '67 to'70 & again from '79 to '82. From '70 to '80 I worked in NY but no station could compare with WIP. The people where the best pros & the nicest people!
12. Posted on Monday, November 22, 2010 by NELSON A DAVISON:
MY MEMORIES OF WIP GOES WAY BACK TO WHEN JOHN FACENDA DID THE NEWS AT 6pm JUST BEFORE ALL THE NIGHT TIME SOAPS. LATER YEARS I LISTENED TO MC CAULEY, CHUCK, DICK CLAYTON, AND OF COURSE TOM MORAN. IN LATER YEARS I GOT TO WORK WITH TOM AT RPL IN CAMDEN, AS I WAS ONE OF THEIR ENGINEERS. TOM AND I ARE BOTH INTERESTED IN MODEL TRAINS AND SO EVERY ONCE IN A WHILE I WILL BUMP IN TO TOM AT A TRAIN SHOW. I "AM RETIRED AND LIVING IN DELAWARE, BUT I SURE MISS TOM AND THE GANG. WE ARE LOSING A LOT OF THEM. THERE ISN'T TOO MANY LEFT. NELSON A DAVISON
13. Posted on Wednesday, January 12, 2011 by john lyons:
I used RPL to do hours of educational tapes for my employer,Reliance Insurance Company.One day, my engineer, Richie, gathered allof my crack-ups and played them back during a break, it was a riot. I got to meet Tom Moran and a few other radio greats at RPL and Baker Sound. I would love to find Richie again. Wwe spent many hours in the studio doing good work. JL
14. Posted on Sunday, March 13, 2011 by Ron:
I think it was on WIp that a Drexel University had a program, mainly giving personal financial advise. His name was Harry but I don't remember the last name. Can anyone help with the last name? Man, he gave good advise!
15. Posted on Thursday, April 28, 2011 by Gail:
My mother Margaret (Marge) Anderson Cathey, now deceased, was also a secretary to Ben Gimbel in the 1940s -she told many stories about the station. Does anyone recall her ?
16. Posted on Tuesday, June 28, 2011 by Scott:
You can listen to 2 WIP jingles at the Broadcast Pioneers website at: http://www.broadcastpioneers.com/bp3/wipjingles.ram
17. Posted on Tuesday, November 29, 2011 by Sue Downs:
I also worked at WIP in the 1968-70. I remember working with Del Dengate, Tom Moran, Bill Hickock, Joe McCauley and many others. Good to see the emails from many of us "old timers. They were great days and proved a great start in my career.
18. Posted on Wednesday, February 15, 2012 by George Barkman:
My earliest recollection of radio was on WIP an early morning show with Mac McGuire. My dad always listen to this show before he went to work. Does any one else remember Mac? And and we went to the Uncle Wip show several times. We loved it.
19. Posted on Thursday, February 23, 2012 by Bob Schaumann:
Two years working weekends in the WIP newsroom, 1966-68, while at Villanova. Learned much from great newsguys (Samuel Hall, Gordon Thomas, John Paul Webber, Robert Vaughn, Noel Heckerson, Ron Gold, and Paul Rust) and a great group of air personalities. Don Barth, Harry, Walter, and other engineers rounded out the group. A lot of fun -- great memories!
20. Posted on Wednesday, March 14, 2012 by Rjs:
The guy who gave financial advice was Harry Gross
21. Posted on Wednesday, April 18, 2012 by richard pfaff:
my father worked at wip from 1931/1972 his name was frank pfaff he was an engineer he did most any there i was in the stuido one time met patty page i was about 6 or7 i also met ben gimbel a few times he was nice man i'm64 now and i loved going to the station in the gimbel building
22. Posted on Thursday, May 31, 2012 by Rose Shannon:
Stumbled across this web page and enjoyed all the comments. I, too, worked there 1953-1960 starting as reception to Benedict Gimbel (Grace Collins was his secretary)-left his office for programming and became first female to hold jobs of Program Ass't, Production Ass't and News Ass't - I worked for Mitch Krauss when we won a Peabody Award (Mitch dictated and I typed it up). Best time I ever had in my life, oh what stores I could tell. Sadly, so many I worked with are now gone (Grace Collins included) but Mitch Krauss and Loretta Katz are still around though and we exchange cards at Christmas. I am retired living in Naples FL now and love it here.
23. Posted on Monday, June 11, 2012 by Larry Johnson:
My fondest memory of the old WIP broadcast was listening to Jan Pierce singing " The Bluebird of Happiness" song around midnight every day.This was during the time when Joe McCauley and Ken Garland were hosting along with others
24. Posted on Tuesday, June 26, 2012 by Tom Gallagher:
To Richard Pfaff: I worked at WIP as a summer relief engineer. I worked with your father--he was a fine man, kind and patient with us young kids. Always there to help and teach. To Don Barth: he man, you split for the Voice of America. How things. Gallagher
25. Posted on Saturday, August 4, 2012 by Jeff Munzinger:
I cannot get out of my mind a WIP jingle from the early 60's that went like this: 'Nighttime is the right time To listen and enjoy, color-ful WIP; So sit back and relax, in pajamas or slacks, And take it easy with WIP, 'cause, Nighttime is the right time to listen and enjoy WIP, color radio'
26. Posted on Wednesday, December 26, 2012 by Tom Wahl:
WIP was Great Radio! I had the pleasure of meeting Tom Moran and watch him work between 7 & 8 PM during the summer of 1969 I believe. I was just a kid working my first job in radio over in South Jersey. I was escorted by my GM who knew Tom and invited me to meet him. What I saw and heard was awe inspiring for a young kid. This was major market radio at its best complete with an engineer, Nelson was the gent, on the otherside of the glass in the control room. I seem to recall the WIP main air studio that Tom Moran worked in was up a few floors. There were a total of 4 turntables, two on each side of him, cued his records and punched a few carts by way of color coded buttons I believe. It was incredible to watch and listen to a pro at work who made it seem all so easy. Tom was such a nice guy. I also had the pleasure of meeting Tom Brown who was getting ready to go on air. I also visited the newsroom where I met Noel Heckerson. The newsroom was impressive also. And, we went downstairs I believe to visit a colleague I worked with in Jersey. he was doing a Sinatra show on WMMR. My visit to WIP was great and I remember it fondly.
27. Posted on Monday, December 31, 2012 by Maryann Ruprecht:
Memories of time gone by. WIP and Ken Garland, it was the soundtrack of my life. I remember one lovely June morning in the 1970's and Ken is saying "this is a day to be in Booth Bay Harbor Maine." I've fondly recalled that saying all these years. No matter where I've lived since then, there have always been days in summer that I am brought right back to those words of Ken's and to hearing them in the kitchen of my New Jersey home. With all my heart, thank you Ken. And thanks to the internet for making this kind of sharing possible all these years later.
28. Posted on Tuesday, April 9, 2013 by Dennis McGuire:
George Barkman asks "Does anyone remember Mac?..." He was my Dad. Some great stuff on Youtube regarding Mac McGuire and the Harmony Rangers.
29. Posted on Thursday, June 6, 2013 by Vicki Weber:
To Dennis McGuire: my father, John Paul Weber, worked with your dad, Mac McGuire, for many years. In fact, as a little kid I was in your house. My brother thinks your dad had a bar in his basement, but he's not sure.
30. Posted on Wednesday, July 17, 2013 by Michael McNamara:
I had the pleasure of interning for Merrill Reese while a senior at La Salle back in 1986. A fantastic team of Merrill, Bill Zimpfer and the LATE and GREAT Gordon Thomas. Even though I had to take the Broad Street Line from Olney Ave. at 2:30 in the morning, the experience I had in the Wellington Building was tremendous.
31. Posted on Monday, July 22, 2013 by Bob Schaumann:
Vicki Weber, I remember you -- you were in high school and would come into the newsroom on Saturday mornings when your dad would work the morning shift (1966-1968). Your dad was an absolute gentleman, with a good sense of subtle humor.
32. Posted on Saturday, July 27, 2013 by Vicki Weber:
To Richard Pfaff: I remember well my dad, John Paul Weber, speaking of the engineers--your dad, Frank Pfaff, Jerry Mahoney and Mr. Yost (I can't remember his first name). The Gimbel building was great -- big studios as I remember, before the downsizing to Rittenhouse Square. And thanks, Bob Schaumann, for remembering me.
33. Posted on Saturday, August 10, 2013 by David J Gundersen:
I went to American Academy of Broadcasting in early 1971. WIP part-timer Dick Harvey was my teacher. One night, he took us for a tour of WIP and as we passed by the WMMR studio, he said, "I see Michael (Tierson/Tearson?) has the window open. He must be smoking weed." We didn't go in! Loved the tour, though.
34. Posted on Sunday, September 1, 2013 by Chuck Cannon:
Became a huge fan in the early 70's. Had a tour of the station during an overnight stint by a friend Joe Simone. On air line up was as good as it could have gotten. WIP is how radio was suppose to be. Spening time with some friends listening to good music. WOGL is the only station that even comes near to WIP in it's great years. It is really missed. I also attended the American Academy of Broadcasting in 1979. Worked in radio in the Lehigh Valley off and on for almost 20 years. Best job I ever had. WEST AM1400 was very much like WIP. People in the Easton area loved it. It went off the air as an English speaking station 7 years ago. It also like WIP is really missed.
35. Posted on Tuesday, February 4, 2014 by Rob Vaughn:
Great to re-live all this history! My dad, Robert Vaughn, was part of the great WIP news team (with Gordon T., J.P. Weber, et al) in the '60s....and I did news there from 1983 to 1985 (mostly weekends) -- making WIP the only station to employ both my father and me. We were both hired by the great Paul Rust. It was my privilege to work with Mary Cummings, Bill Zimpfer, Peter Gamble, Paul Kurtz, Richard Scott....so many fine people. And what a treat to briefly share a studio with the likes of Tom Moran, Wee Willie, Tom Lamaine, and ever-so-briefly with Nat Wright. GOOD ole days. I was swept out in the "Great Downsizing" too. Sigh. Now in TV news in Allentown; WIP was a key part of my growing up as a news guy. God bless you all.
36. Posted on Wednesday, April 23, 2014 by Beth Williams:
I used to hang out at WIP to watch my dad, Nat Wright, when he had the Dawn Patrol. John Paul Weber, Gordon Thomas,Bill Paine were always very gracious to me, even when crazy busy. Ken Garland and Charlie Swift..... stayed WAY out of their way.
37. Posted on Tuesday, June 10, 2014 by Roger Hendler:
WIP had the best personalities. Beth, you father was wonderful and a friend. The Dawn Patrol kept me company on my early morning back to DC. I first visited SWIP when it was in the Gimbel Building. The station had outstanding staff personnel including Bill Devol as [promotion Director.
38. Posted on Saturday, June 28, 2014 by jerry mcveigh:
UNCLE WHIP USED TO TELL US IT IS TIME TO GO TO BED .CIRCA 1946-1948
39. Posted on Wednesday, July 2, 2014 by David:
One little-known fact about WIP was that it utilized a Top-40 rock 'n' roll format for a year before it switched to MOR (Middle of the Road) in 1961. It returned to a full-time rock music format when it switched, in the mid-70s if not well into the early 70s, to the Adult Contemporary format it had been gradually evolving into beginning about 1969.
40. Posted on Thursday, September 4, 2014 by Diana Bassett:
I have an Uncle Wip's autographed radio booklet from 1941. Is it a collectible?
41. Posted on Thursday, November 6, 2014 by Geri (Gillen) Deering:
my dad, who passed away about 18 months ago, was named William "Sparky" H. Johnston. He was known his entire life as "Sparky" Johnston. I have a photo of him holding the "WIP" microphone when he was 4 or 5, 1933: to "Chief Sparky" signed by CHUCK PRATT. I have very little information about my family's past....but WILLIAM HOWARD JOHNSTON (aka SPARKY the fire safety boy) was my loving father who married my mom & had 2 daughters with her, & treated my sister & I as if we were his. I'd LOVE to receive ANY INPUT OR INFO THAT ANYONE MAY KNOW ABOUT HIM! Please, if u can...write me by e-mail?? thank you
42. Posted on Wednesday, December 3, 2014 by terence:
i remember the great wip jingle that went like this dub a u ip such great memories
43. Posted on Friday, January 30, 2015 by Steve Norris:
"The channel that really swings, the channel that really sings, Not necessarily along with Mitch!" It was all my parents listened to, therefore, all I listened to. It was a great radio station, and the personalities were so likable (at least to ME they were).
44. Posted on Monday, May 11, 2015 by David:
In 2011, WIP expanded to 94.1 FM (replacing longtime rock station WYSP and simultaneously eliminating the latter callsign). Initially WIP-AM and -FM simulcasted each other and soon broadcasted a separate sports format each. Their remaining simulcasts ended in 2013, with WIP-FM retaining a local format and WIP-AM affiliating full-time as an affiliate of CBS Sports Radio. In October 2014, CBS traded several of its radio radio stations in Tampa, FL, Charlotte, NC and Philadelphia to Beasley Broadcast Group for 5 Miami stations as well as Philly stations WRDW and WXTU, selling only WIP-AM. Upon completion of said transaction two months later, WIP-AM changed its call letters to WTEL (the call letters of the current WWDB 860 AM prior to 1998).
45. Posted on Friday, July 31, 2015 by Mke:
when i was a child i used to listen to wip for school closing number nothing better then hearing ken garland say your school #
46. Posted on Wednesday, May 11, 2016 by Jim fritchman:
Was there a sportscaster named John Deignan in the 1970's?
47. Posted on Sunday, May 22, 2016 by BillUSA:
I was born in 1960 and lived in Chester until 1969. Every morning Mom would have WIP tuned in. I still remember "Chicken Ma-a-a-an, he's everywhere, he's everywhere" and the station jingle "610-WIP-Phil-a-delphia". For the life of me, I cannot recall how another intro went something like "(personality daughters name here) daddy needs (a job rings a bell, but not sure)". Those were the days...
48. Posted on Sunday, May 22, 2016 by Bill McCloskey:
I worked at WIP from 1961 until I was drafted into the Army in 1966. When I came back Metromedia sent me to WASH-FM in DC. I was a "news assistant, starting at $1 an hour. Working with Paul Rust, John Paul Weber, Charles Edwards, David Crane, Bill Paine, Nat Wright, Jim Leaming and Eagles star Pete Retzlaff (sports), Gordon Thomas and the great engineering crew already mentioned was the best education. DJ Tom Brown engineered my way into the station -- I worked as a volunteer at his record hops at St. Alice's in Upper Darby. WIP execs worked with the area schools to develop the snow closings numbers system to avoid huge blocks of time spent reading the list of "Vacant Stairs Middle School - 2 hours late, etc, etc.
49. Posted on Saturday, May 28, 2016 by Jim Fritchman:
Does anyone remember a sports announcer named John Degnan in the 1970's
50. Posted on Wednesday, June 1, 2016 by Paul:
I worked at WIP in 1990 for a whopping nine months. That's all I have to say.
51. Posted on Saturday, June 25, 2016 by RickB:
Does anybody else remember that WIP had a studio at the Cherry Hill Mall in the 1960s? It was a glass-walled structure that sat right in the middle of the mall between the Strawbridge's court and the Woolworth's grill. If I recall correctly the studio originally had a WPEN sign on it, but I don't ever recall seeing that station broadcast from the facility. WIP took it over and used it quite a bit for a few years. I think it was gone by the '70s.
52. Posted on Saturday, June 25, 2016 by RickB:
@Jim Fritchman: I remember John Diegnan (I think that's how he spelled it). I think he eventually went to ABC Radio as a network newscaster.
53. Posted on Monday, July 4, 2016 by Don Barth:
Beth Williams -- I worked with, and sorely miss, your dad for the nine years I worked at WIP. Never, before or since, have I worked with anyone with a stonger work ethic and desire to entertain. "Nawty Nat, the Nasal Night Rat" was "always on" and eager to tickle his listener's funnybore, or whatever else would get a laugh or giggle. His family was always his main topic when he wasn't on the air. One of his favorite stories (was it about you?) when talking about Ella Fitzgeral, used to pronounce her name "Elephants Gerald". I think of him often.
54. Posted on Sunday, July 10, 2016 by David:
In 2015, WTEL--that is, the current WTEL (WIP-AM prior to late 2014)--dropped its affiliation with CBS Sports Radio and became an affiliate of ESPN Radio, along with WPEN "97.5 The Fanatic" (licensed to Burlington, NJ). (The latter is still affiliated with ESPN Radio, but the only ESPN programs it now airs are live sporting events presented by ESPN Radio.)
55. Posted on Sunday, July 10, 2016 by Bob Hart:
As a boyhood friend of Gordon Thomas in Williamsport, PA I watched his broadcasting career progress from DJ at WLYC-FM (right after high school at age 18 in 1949), newsman at WWPA, and eventually on to WIP. He was just one of those guys with great pipes you had to know would make it big in radio. He left us way too soon.
56. Posted on Tuesday, August 9, 2016 by Scott Krier:
I was "forced" to listen to 610 as a young boy. It was the station of choice for my parents, my mom especially. I enjoyed Wee Willie Webber and, of course, Ken Garland. Early morning out of town trips brought the Dawn Patrol with Nat Wright. Still, the most memorable for me was the station jingle that featured the principal DJS (the Metropolitan 8) and ended with Nat Wright and Jim Tate, the Metropolitan 8 on WIP. Thanks for the memories and the (partial) earworm!
57. Posted on Sunday, August 14, 2016 by Andy Fisher:
I worked in the newsroom at WIP for four months in the summer of 1965 -- got drafted -- then came back and worked another year there. Everyone I worked with was friendly and helpful. Don Barth was a great "partner in crime." We once re-edited Herb Alpert's "A Taste of Honey" so it ran an extra minute, and played the tape while Bill Hickok thought the record was playing. The expression on his face as the needle cycled in the last groove and Herb and the Tijuana Brass played on and on was priceless. I left WIP when Paul Rust told me I should get out of radio, because I didn't have the voice for it. I did, but not for another 12 years.
58. Posted on Monday, August 15, 2016 by Rich D'Ambrosio:
I loved WIP in the 1960s and 1970s. It may have been the classiest station ever in Philadelphia radio history. My favorite air personalities were Ken Garland, Tom Brown, Tom Moran, Bill Webber, Dick Clayton, and Bill St. James. I also remember when Charlie Greer came to WIP in 1969 from WABC New York. Sadly, we'll never have a station like 610 WIP ever again, and that's a shame.
59. Posted on Saturday, August 20, 2016 by Vicki Weber:
To: BillUSA Could the jingle you're trying to remember belong to personality Dick Clayton? It started, "Clayton needs work, Clayton needs work...." He'd read letters from his mother on air. I'm John Paul Weber's daughter.
60. Posted on Sunday, February 5, 2017 by Phyllis Ariano mcgimmis:
You may have read my earlier post way back! I worked at wonderful WIP in the fourties...knew all your dads, john Paul Weber, mac McGuire etc etc etc...and mr yost 's name was Walter. It was truly a great place with all the best people on staff.
61. Posted on Tuesday, April 4, 2017 by Larry Palletti:
My WIP memories go back to the Second World War, when John Facenda -- the best radio voice ever -- would tell us that "WIP Breaks the News!" The morning jingle still haunts me: "Start the day right by listening to your radio. Catch up on the overnight news! While you're getting ready to start your day, we'll have music bright and gay -- with Joe McCauley! -- So listen to our cheery hello, as you start the day right with your radio."
62. Posted on Wednesday, April 19, 2017 by Barbara Bachers Chilcott:
Had the pleasure and great fun of hanging with Tom Moran, Andy Fisher and doing some of the voices for Dick Clayton's "Colonel Updraft" bits. Still have (and play) old albums station getting rid of. How I miss those days and and all those wonderful voices!!!
63. Posted on Sunday, July 2, 2017 by John P Hackett Jr:
Trying to track down my fathers history. I have a note that he worked @ WIP in 1940. Does anyone remember him?
64. Posted on Saturday, July 22, 2017 by Jim Gray:
Nighttime is the right time to listen and enjoy, colorful WIP. So sit down and relax, in pajamas or slacks, and take it easy with WIP. Because nighttime is the right time to listen and enjoy colorful sounds... Color Radio-o-o.
65. Posted on Saturday, July 22, 2017 by Don Collins:
Dec. 7, 1941... our family in Marcus Hook was listening to a Christmas story on WIP when an announcer broke in and reported the Japanese had bombed Pearl Harbor. Anyone know who the announcer was? Might have been a network person but I believe it was local. Writing a book about MH in WWII
66. Posted on Sunday, October 15, 2017 by Don gibbs:
Anybody remember Dick Clayton Sunday morning show with sports guy who talked nonsense -- his name something "steen-stein"?
67. Posted on Thursday, October 19, 2017 by Don Gibbs:
Does anyone remember the sports commentator on Dick Clayton's Sunday morning show who talked nonsense? His name was "?--steen-stine"
68. Posted on Sunday, November 12, 2017 by Vicki Weber:
To: Bill McCloskey, I just watched "90 Years of WIP" on YouTube and your story of Paul Rust barking that you get Harry Truman on the phone. President Truman must have answered his own phone frequently because my father, John Paul Weber, called Independence, Missouri in 1957, not to speak with President Truman but to get a story, from perhaps the librarian, about the opening of the Presidential Library. President Truman himself answered the the phone and recognizing his voice, my father flipped on record and got an interview.
69. Posted on Tuesday, November 14, 2017 by Jerry Daniels:
I was on air at WIP from Jun 78- Feb 79. I filled in on all shifts except Morning Drive. I also had 3 weekend shifts at $60 per show. I knew all the on-air guys: Ken Garland, Wee Willie Weber, Bill Neil, Tom Moran, Tom LeMaine, and Nat Wright. All great guys. All made me feel right at home. During the week I drove the truck-a-luck for$5/hr. I also got to go to Eagles games and was there in Vince Papale's final season. I would have loved to stay but those guys mentioned were too good and weren't going anywhere so in Feb of 1979 I left for a fulltime job in Baltimore. What a great experience.
70. Posted on Friday, December 1, 2017 by Beth Williams:
Don Barth...hoping your Thanksgiving Day went well. Hard to believe that my dad, Nat Wright, died nine years ago. Time flies. I remember just how cool you engineers were, and I miss the days when I hung around the newsroom and studio.
71. Posted on Tuesday, April 3, 2018 by Richard Newell:
So, Del Dengate. I have a copy of Maria Muldaur's album from 1973, the one with Midnight At The Oasis on it. Inside the cover is a sheet of Del Dengate's WIP/610 notepaper with the tracks listed with timings. But get this. I live in New Zealand. I'd be fascinated to know how this record, bought at a second hand record store in Auckland, found its way from Philadelphia
72. Posted on Sunday, April 29, 2018 by Kevin Kille:
I was born in 1956 and grew up with WIP on the house radio till about 1970 when mom switched to some classic station. Anyway, for years they played this particular jazz tune just before the 5 PM news. I can vaguely remember snippets of it. Anybody know what it was?
73. Posted on Friday, May 25, 2018 by Charlie Dorfman:
Dick Clayton..."Clayton needs work, Clayton needs work, Little Susie? Clayton's father Richard, needs work. In Philly, NY, Atlantic City, a new job every week...what a pitty...Clayton needs work, Clayton needs work, Clayton needs work won't ya hire him." I think that about 85% accurate.
74. Posted on Saturday, September 8, 2018 by Alan Galespie:
Does anyone remember the theme song for ... Nat Wright's DAWN PATROL......????? ........... I think it was Roy Eldridge's trumpet....
75. Posted on Monday, September 10, 2018 by Andy Fisher:
To Don Gibbs: I think the guy you're trying to remember is Jack Edelstein, a wealthy local businessman who loved radio and was a natural and hilarious comedian. Another contributor to this board mentioned an engineer he remembered only as "Walt." That was Walt Jost. Dick Clayton, who made a star out of Jack Edelstein, had a gimmick where he would announce, "It's WALT'S Time!" A beautiful waltz would play for a few seconds, then Walt Jost's voice would say, "It's quarter past, Dick!" and the waltz would fade. You had to be a real insider to get the gag.
76. Posted on Thursday, October 4, 2018 by William Rein:
Late 1970s, Sunday mornings, family breakfast time, of course 610 WIP on the kitchen radio: "Clayton needs work, Clayton needs work, little Suzy Clayton, tiny Dickie needs work - in Philly, Scranton, or Sea Isle City, a new job eeeeevery week - what a pity!" Also, "Dick Clayton's School of Broadcasting - and Vinyl Upholstery." My childhood and teenage memories are often cued by the songs I hear that were played back ca 1968-1985 on WIP. And yes, Ken Garland reading the school closing numbers with a background of "Al Herschkovitz and his band" playing really old 1930s-type music - then turning to that all-news station in the middle of the dial in case they might have missed our school!
77. Posted on Thursday, October 4, 2018 by Bill R:
Also recall, still, "T - O - double M - O - R-A-N spells TomMoran...Everyone says he really sounds so British - Funniest thing he's really speaking Yiddish! No..one... can-accuse-Tom... of ever being shy...(I forget what the rest was until it ends with) Tom Moran's Your Guy! Tom - Mo - Ran's Your Guy!" Followed by one of the station jingles at the time "When you think about fun you think of Siiiiix Tehhhhn - WIP - Phila-del-pheee-ya!"
78. Posted on Saturday, November 24, 2018 by JUDY SEIBERT:
I was the 6 year old Birthday Girl on the June 26, 1945 UNCLE WIP SHOW, which was TELEVISED! I remember receiving a most delicious chocolate birthday cake. I believe the broadcast was in Gimbels.
79. Posted on Tuesday, March 12, 2019 by Scott Carr:
I grew up listening to WIP late at night when I couldn't sleep and for the school closings when there was snow. Also my Grandfather performed in studio with his harmonica band at some point in the mid-late 1930's. I don't suppose there is any sort of archive of these sorts of broadcasts since they were before magnetic tape was in use.
80. Posted on Saturday, July 6, 2019 by Aleasa Hogate:
I think my mother Alice Longworth Dolbow and her sister Georgiana Dolbow sang as "the Dolbow Sister" in the 1900' My aunt Georgiana sang the lead and played a soprano uke and my mother played a baratone uke and sang the harmony. Do you have any info about 'The Dolbow Sisters? If so please get in touch with me at goaleasa@aol.com
81. Posted on Sunday, July 7, 2019 by Bill Gunter:
Does anyone besides me remember when WIP had station promos featuring jazz musicians? I recall one with Stan Getz and one with the Count Basie Orchestra.
82. Posted on Tuesday, September 10, 2019 by Frank Iacona:
Fond memories of WIP. My mother, Rose Iacona was the Traffic (commercials) Manager in the mid to late 60's. Living in the same NJ suburb as Pete Retzlaff, they carpooled to work sometimes. Reading a lot of these names brings back memories of her friends and co-workers.
83. Posted on Monday, October 21, 2019 by tom keegan:
Worked at WIP from 1949 to 1951 then enlisted in USAF for 4 years. Returned to WIP and was studio & transmitter eng. Also Dawn Patrol with Nelson Smith and Joe McCauley. Did you know his granddaughter was Ann Hathaway?Writing a book which will include WIP history. Later was a Tech writer for a year and then went back to radio at WCAU. Was transmitter super & Sports. My wife Rose Pasquarello was Ben Gimbels sec. Rose passed on in 2005, she had given me 5 sons. The book title I am trying to write is titled "38 States and Canada" The name comes from "Daddy Gino's Jazz Roost" on Dawn Patrol and how the book title came to be. To Vicki Weber. The 6 AM news was by your father as you know and in studio 4 he would arrive around 5:55am and greet me with a good morning but in other words that were funny. I know John P.Weber was in WW-2 and believed a paratrooper and injured. He never told me that found out from others, he was a wonder guy. I knew 90% of people mentioned and worked with many. Jack Pyle-Dan Curtis- the Toms- Chuckie from KY & "little Red"- Lester piano Time Bob Horn- Mel Steward-Dick Reynolds-Tom Brown another Tom-Dick Carr-many more. Ken G. & Nate Wright arrived after I left. Tom Keegan .
84. Posted on Thursday, November 7, 2019 by Jack Moore:
Let's not forget "The Bluebird of Happiness" sung by Jan Peerce.
85. Posted on Sunday, February 2, 2020 by Vicki Weber:
To Tom Keegan. Thank you for the nice memories you recalled about my father, John Paul Weber. While not a paratrooper, he was injured in Germany during the war. While recuperating in a Georgia hospital in August 1945 , he wrote a letter to his Major, ending the note, "It's been a long time, this business of war." I know this because Major Bach thoughtfully sent Father's letter to us in 1989.
86. Posted on Thursday, February 6, 2020 by Vicki Weber:
To Bill Gunter: I remember my father, John Paul Weber, talking about the radio days before he was assigned to just news. I guess the WIP format was different in early radio. He would talk about interviewing Sophie Tucker. After he died, I found a drawer full of memorabilia.....a studio photo of my father behind the mic with Benny Goodman.
87. Posted on Wednesday, March 11, 2020 by Joseph Cannavo:
I don't see where it is mentioned that WTEL is now and for quite sometime has been owned by Beasley not CBS. In fact, our organization ARA Delco entered into a contarct with Beasley in 2015 to air an Italian-American radio program on Sunday mornings. To this very day the program is still on and is under contract with Beasley.
88. Posted on Saturday, May 16, 2020 by Rita Gaudet:
Can someone please tell me how many years my favorite "Dawn Patrol" was on the radio? I've been listening to music while cooking a lot during this Covid-19 pandemic (some days I never even turn on the TV) and it's reminding me of the mid-50s when I stayed up ironing dresses whose skirts were full enough to fit 8-10 crinolines under them. Was I still listening in 1960-1963 when I was working full time and often up all night cleaning, sewing, and ironing? I know I listened to the radio, and believe it was still Dawn Patrol at that time. If anyone remembers the years and the DJs, I'd love to know that. Can't find anything chronological on the Internet for that particular radio show. Thanks.
89. Posted on Saturday, July 25, 2020 by Rich D'Ambrosio:
Rita, The Dawn Patrol was the first all-night radio show in Philadelphia (and second in the nation-WNEW's Original Milkman's Matinee was the first). I believe the Dawn Patrol (name after a movie of the same name) debuted in the late 1930s. The first DJ was Mort Laurence. He was followed by Fred Wood. In 1942 Joe McCauley took over and the Dawn Patrol became the most popular radio show in town. He had a large audience during WWII-third shift workers doing war-work, people up late, etc.He played Jan Peerce's "Bluebird of Happiness" three times a night. In 1947 that song became a national hit. McCauley moved to mornings at WIP in 1954. There were many hosts between 1954-60. In 1960, Dick Reynolds took over for a few years. Tom Moran once did the show, as did Jim Tate. In 1967 Nat Wright was asked to fill in until WIP temporarily. He stayed on for 17 years. Nat did the final Dawn Patrol in January 1984, when it was replaced with a talk show.
90. Posted on Monday, August 10, 2020 by William Johnson:
When I was a kid in elementary school the radio alarm would wake me to "It's time to get up. It's time to get up. It's time to get with it, in Philadelphia. Another great day is with us, and to start it off properly, we would like to be the first to say good morning and to share the news at WIP." I know this was between 1968 and prior to June, 1972.
91. Posted on Friday, April 16, 2021 by David Chambers:
Are there any archives for WIP-AM (now WTEL)? I'm looking for audio broadcast archives from WIP in May 1948 (unknown whether AM, FM, or both). Thank you in advance!
92. Posted on Monday, April 19, 2021 by David:
On August 31, 2020, Beasley Broadcasting began leasing (the modern incarnation of) WTEL (the former, original WIP) out to iHeart Media (fka Clear Channel International) and reformatted to the Black Information Network—the African-American-oriented all-news network that iHeart debuted two months earlier.
93. Posted on Monday, May 10, 2021 by Fran Odyniec:
I remember seeing the WIP studio at the Cherry Hill Mall and Chuck Daugherty doing his show. Dick Clayton also had a promo: "Clayton's Place." In 1976 while doing weekends at WVPO in Stroudsburg, PA, I would tune in to WIP during the bicentennial summer of 1976. There was a tremendous promo that went somthing like this: "The The Great American Birthday Party... W-I-P" over a patriotic music track. I agree re: Tom Moran. He did a guest appearance for us a few years ago on the then Brandywine Scenic Railway. What a kind gentleman. I believe he would ofen open his show with: 'Hello, You."
94. Posted on Wednesday, May 26, 2021 by Adrienne:
Hello! Does anyone remember the early 1990s -a man had interesting interviews with authors pre-dawn on Saturdays? What was his name & the show's? I wish I could get the series. (One author was Susan Strasberg on her Marilyn Monroe book, another was about the Titanic, a great diversity of books.) Thank you so much for your time, love, Adrienne
95. Posted on Saturday, June 26, 2021 by Michael McClatchy:
I discovered and began listening to WIP in 1963. I was 13 and loved listening when my parents bought me my first transistor radio. While I continued listening while entering Lenape High School all my friends and class mates were listening to some phenomena called Wibbage. It was WIP which laid the ground work for my love of standards by Bennett, Como, Nat Cole & others. Miss "Cash Call Jackpot." And jingle: "Coins, shillings, dollars, money, the sound of money!" Loved the tension to see who would answer, where the lived. If they won. Loved Wee Willie Webber, Tom Brown. I was on a trip to San Fran in '84 when I heard Tom Brown on the air. I called the station from a pay phone and he was gracious to talk to me. Miss the format and best lineup of personalities!
96. Posted on Monday, November 29, 2021 by Bill Paine (Jr):
I wish I had found this ability to post years ago. My father, Bill Paine worked there first in the 60's and later in the 70s in the mighty news department. Dad passed away in February 2014. In recent years, I have taken some of his air tapes and digitized them.
97. Posted on Monday, November 29, 2021 by Bill Paine (Jr):
I think there should be a mention of the WIP softball team in the 70s - the Metro Mediocres. Loved going into work with Dad - especially the occasional Christmas morning - getting to chat with Ken Garland.
98. Posted on Monday, November 29, 2021 by Bill Paine (Jr):
Then there was the time that the Eagles players' wives played a game against wives and women of WIP in a game at halftime. I was about 8. My Mom got to play in that game and the families got to hang out on the sidelines. All I really remember was that the Eagles players were really tall and large (but friendly) - and there was someone in a gorilla suit...
99. Posted on Monday, September 5, 2022 by Darian:
wow // so far ZERO people have mentioned tom brookshire or tony bruno or bill campbell from the station
100. Posted on Monday, September 5, 2022 by Darian:
Adrienne there was a guy on PRE=DAWN on SUNDAYS named peter solomon ALSO there was a show called " head to head " pre=dawn on saturdays or POSSIBLY sundays
101. Posted on Wednesday, October 19, 2022 by Monica Land:
Just curious but does anyone know what was meant by "color radio" with the call letters? Thanks.
102. Posted on Sunday, January 1, 2023 by Edward Casey:
I started listening to WIP when Chuck Daugherty was on evenings. I think he also did a remote from the Cherry Hill Mall. The personalities were tremendous. More than just DJs. Really enjoyed Jim Tate when he did evenings. Bill Hickox was also a favorite. I won a pizza from Pagano's one night for a call in trivia question. WIP Was the gold standard for me from 1960 till the downsizing
Add your comment
Please note: commenting has been temporarily disabled. Please check back again soon for our new commenting system.