Philadelphia Radio Archives
History of Philadelphia radio station 1060 KYW
Chicago Origins
KYW began as a Chicago radio station on Armistice Day (November 11) 1921, the seventh radio broadcasting station in the US. It was jointly owned by Westinghouse Broadcasting and the Edison company. Early programming included performances by the Chicago Opera Company. In fact, the first words ever spoken over KYW were by Mary Garden, world-class soprano and director of the Chicago Grand Opera Association: "My God, but it's dark in here!" during a transmitter test in a darkened theater.
In 1928, KYW was reassigned from 570 AM to the 1020 frequency resulting in a severe decline in coverage in the Chicago area. In many locations, the signal could not be received at all. After many legal battles over its frequency assignment, KYW applied to move the station to Philadelphia in 1932.
Move to Philadelphia
In 1934, KYW moved to Philadelphia with its new transmitter site located in Whitemarsh Township on Joshua Road (a rural location at that time.) Initially, studio and sales operations for KYW were handled by WCAU personnel out of their offices on Chestnut Street. Meanwhile, construction was underway on new KYW studios and offices at 1619 Walnut Street, which was completed in 1938 at a cost of $600,000. The new facilities included a large stage and auditorium studio below street level, suitable for producing radio shows with live audiences. Upon moving into the Walnut Street location, a deal was made with NBC to handle all of the station's sales and programming operations. This arrangement continued until 1940 at which point Westinghouse resumed these duties.
During the Golden Age of radio, KYW had its own house band and provided programming to the NBC Red network, with which it was an affiliate. The station's offerings included music, cultural arts reviews, and dramatic shows. Some notable personalities in the 1930s and 1940s included Peter Roberts, host of "KYW Morning Salute," "Lunchtimers" host Peter Roberts and Toni Winston's "Letter To A Soldier."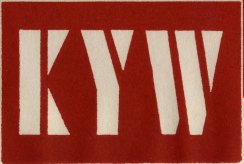 In 1941, KYW increased transmission power from 10,000 watts to 50,000 watts and the same year also changed its frequency from 1020 AM to 1060 AM as part of a nationwide shift in radio frequencies. Westinghouse acquired WPTZ TV (channel 3) from Philco for $8.5 million in 1953, giving KYW a sister TV station.
Swap with NBC
In June, 1955, Westinghouse agreed to trade KYW and WPTZ to NBC in exchange for the network's Cleveland properties, WNBK-TV and WTAM-AM/FM, as well as $3 million in cash. After clearing regulatory hurdles, the swap went into effect on February 13, 1956. NBC changed the 1060 call letters to WRCV and Westinghouse moved the KYW call letters to Cleveland. The building at 1619 Walnut Street which had been known as the "KYW Building" was renamed the "NBC Building."
NBC had been interested in acquiring a VHF TV station in Philadelphia for years, the largest market in which it did not own one. (This was at a time when VHF stations were much more desirable and profitable than UHF stations) After being rebuffed more than once, NBC (according to Westinghouse1) threatened to drop its network affiliation (and programming) from WPTZ and Westinghouse's Boston TV station unless they agreed to the trade.
During the early years of NBC's ownership of WRCV, Hy Lit briefly hosted two shows, "Rock 'en Roll Kingdom" and "Sinatra and Company" (as "Johnny Dollar") which was fed through the NBC radio network to other stations in selected cities. In the late 1950s, WRCV played contemporary music from records with announcers that included Mac McGuire, Ted Jackson, and Jack Rattigan. In 1960 the station began a big band format that lasted about three years. Announcers during this period included Jack Pyle, Vince Lee and Bill Bransome. WRCV then started evolving into an adult-oriented MOR station with announcers such as Reggie Lavong and Bill Webber.
Not long after the station swap in 1955, the government started an investigation into the transfer that ultimately led to a bitter and complex 10 year skirmish for control of the stations. The battle involved a large list of government and corporate players including the FCC, Congress, Department of Justice, RCA, Philco, Westinghouse and RKO-General2. Ultimately, the swap was reversed, and Westinghouse regained control of the stations on June 19, 1965, renaming them KYW TV and KYW AM.
All News Format
When Westinghouse returned to Philadelphia, they inherited a radio station that was dead last in the ratings. Two other Westinghouse stations had earlier switched to an all-news format, WNWS Chicago in 1964, and WINS New York in 1965. (The first all-news station was Gordon McLendon's XETRA in Tijuana Mexico which covered the Los Angeles market in 1961) On September 21, 1965, KYW also adopted the all news format. Announcer Bill Webber played the last song in the old format (known as "Million Seller Tunes") which was "A Wonderful Day Like Today" by Frankie Randall. At 12 noon, announcer Steve Porter became the first voice on the all-news format.
All-news was considered a gamble and it took almost ten years to perfect the format. Former general manager Roy Shapiro said "we never knew when the listener got on and we never knew when the listener got off, but whenever the listener joined us we had to provide them with the news."3 Over the years, the pace quickened, the writing got tighter and a schedule of sorts developed (sports at :15 and :45, traffic on the twos…)
Beginning in 1963, Westinghouse referred to its broadcasting division, which included all of its TV and radio stations, as "Group W." Group W stations utilized a distinctive and memorable corporate typeface for their logo and on air imaging. KYW used this typeface until around 2003, but it can still be seen in use on a few former Group W stations. Westinghouse Broadcasting was also well known for announcing the "Group W" name at the top of every hour on many of its news and talk stations.
The all news format on KYW was not an overnight success, and did not turn a profit until 19754. In the early years, it was regularly beaten in the ratings by the music formats on WFIL, WIBG and WIP. In the early and mid 1970s, they competed with WCAU's flip-flopping news and news/talk formats. It was not until the mid 1970s that KYW consistently dominated the ratings.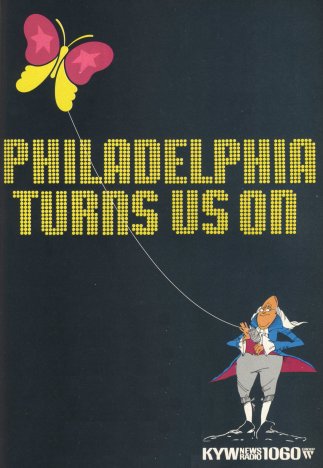 Background Ticker/Teletype machine
At some point after the start of the all news format on KYW, the sound of a teletype machine was head in the background while announcers read the news. This was done for a number of reasons: it added drama and credence to the news stories, filled the voids between items as announcers paused, and acted as an aural cue to listeners letting them know they were tuned to 1060. (A teletype machine was a sort of electric typewriter that printed news stories which were transmitted over a wire from a news bureau such as the Associated Press.) Although teletypes had not been used for decades, KYW continued to include a recording of this distinctive sound in the background until it was finally retired in 2020. The teletype sound along with many of the slogans used on KYW originated at WINS.
KYW and KYW-TV moved into a new four story facility at Fifth and Market street on Independence Mall in 1972. Some of the on air staff at this time included Don Lancer, Jack O'Rourke, Andrea Mitchell, David Madden, Vince Lee, Dick Covington, and Bill Bransome.
In 1976, KYW produced one of its first memorable jingles which celebrated the nation's Bicentennial. It was not until 1978, however that the familiar "KYW Newsradio 1060" jingle made its first appearance. Over the next few decades, this became one of the most iconic jingles in the Delaware Valley, ranked among the Action News theme and the Melrose Diner commercial. The jingle underwent a major revamp in 2019 to have a more modern sound.
Notable Personalities
Sandy Starobin was the Harrisburg reporter for KYW and Pittsburgh sister station KDKA. Starobin was well known to listeners for his distinctive sign off "SAN-dy STA-ro-bin, HARR-is-BURG." Starobin worked at the station from 1968 until his death in 1993 at the age of 51. Most listeners were unaware that Sandy Starobin was blind for the last three years of his life.
Fred Sherman
Another KYW personality with a memorable sign-off was business analyst and banker Fred Sherman. For more than 25 years he delivered financial information in his unique style, ending with "I'm Fred Sherrrrrrman." Sherman was let go from KYW in 2009 at the age of 85, and he died later that year.
Dick Covington
Dick Covington has been the voice of KYW's station identifications at the top of each hour since the inception of the all-news format in 1965. Although he passed away in 2004 at the age of 77, his voice is still utilized for the station IDs, having periodically recorded updated promos as station ownership and slogans changed over the years. During his tenure at KYW, his duties included anchoring and financial reporting. Covington retired from the station in 1986, but returned on a part-time basis until 1997.
School Closings
Before the widespread use of the internet and personal communications devices, KYW was known as the school closing station during major snow storms. A good part of morning drive was taken over by the reading of hundreds of school closing numbers.
Ratings
After hitting the top of the ratings in the mid 1970s, KYW was almost always the number one station overall in Philadelphia. Some of the challengers over the years that briefly bested KYW included: John Debella's WMMR morning show which beat KYW in 1987, Howard Stern on WYSP in 1993, and soft rock B101 in 1999.
AM Stereo
In December 1986, KYW began AM Stereo broadcasting using the C-QUAM system, and added the phrase "in AM stereo" to their top of the hour ID. This phrase was discontinued in the late 1990s and the C-QUAM AM stereo was abandoned in 1998. In September 2007, the station began using the HD Radio system from iBiquity. KYW is also available on the HD-2 subchannel of 94.1 WIP-FM.
KYW is currently the easternmost station in the United States whose callsign begins with the letter K. It is also one of three such stations in Pennsylvania, the other ones being KQV and sister station KDKA, both in Pittsburgh.
Ownership Changes
The Telecommunications Act of 1996 loosened ownership restrictions of broadcast stations, and like many other Philadelphia radio stations, KYW changed ownership numerous times in the late 1990s: Westinghouse purchased CBS in 1995, making CBS-owned WGMP (formerly known as arch-rival WCAU) a sister station. In 1997, Westinghouse purchased Infinity Broadcasting and merged their 75 stations with their own, eventually renaming itself CBS Corporation. In 1998, CBS spun off a portion of its radio and outdoor advertising holdings, including all of its Philadelphia radio stations, as Infinity Broadcasting. Infinity (and CBS) were acquired by Viacom in 2000. In 2005, Infinity Broadcasting reverted back to the name CBS Radio. In 2017, CBS merged its radio division with Entercom.
Anniversaries
Philadelphia Mayor Ed Rendell proclaimed September 21, 1995 "KYW News Radio Day" in honor of the station's 30th anniversary. The mayor commented on how impressed he was with the station's election coverage and the speed with which they reported the results. In 2005, KYW commissioned a catchy 40th anniversary song written by Larry Freedman and Bob Dewald and sung by Bob and Denice Nejame. You can hear it on this page.
The station reintroduced the song for their 50th anniversary in 2015. In addition, the legal ID was buried in a commercial break to provide time at the top of the hour to announce this milestone. The Philadelphia Inquirer was mentioned as a 50th "anniversary partner" but little information was provided about the nature of this partnership.
Sounders and Sponsorships
In the early 2000s, KYW began using a sounder to introduce traffic and sports. The traffic sounder uses car horns played to the tune of the station jingle while the sports sounder is reminiscent of an old-time college cheer. In recent years, a generic sounder was also placed before some weather forecasts.
Beginning around 2013, the station started selling naming rights to various parts of the broadcast. At the top and bottom of each hour it is announced that the news is originating from the "Penn Medicine Studios" and the traffic reports are courtesy of the "TruMark Financial Credit Union 24 hour Traffic Center."
Studio Moves
In March, 2007, KYW moved from its long-time facility at 5th and Market Streets one block east to space in the 400 Market Street building. The former KYW building was demolished and replaced by the National Museum of American Jewish History. Also displaced was KYW-TV which moved to 16th and Spring Garden along with Channel 57. WYSP (now renamed WIP-FM) moved along with KYW into the 400 Market Street building.
On Sunday March 2, 2014, KYW joined channel 3 and channel 57 in the Spring Garden location, which was renamed the "CBS Broadcast Center in Spring Garden." Three new air studios and four production studios were constructed to serve the station. This placed all of the Philadelphia CBS news operations under one roof, with KYW and CBS3 sharing content and reporting resources. When Entercom bought CBS Radio in 2017, KYW and CBS3 no longer had the same corporate parent, and the partnership became less formal. In 2020, the studios were moved to the Entercom headquarters at 2400 Market street and the content partneship with CBS3 was ended in favor of a new partnership with NBC10.
FM Simulcast
In 2020, Entercom acquired WPHI 103.9 FM from Urban One as part of a multi-market station swap. On November 23 of the same year, KYW began simulcasting on 103.9, retaining the WPHI calls but eventually emphasizing the simulcast in their on-air identification as "KYW Newsradio 103.9".
---
Sources
(1), (2) "Bitter Battle For Channel 3" Greater Philadelphia Magazine, December 1962, p.19
(3), (4) KYW Aircheck, 9/21/1995.
Discuss KYW
Comments? Corrections? Worked there? Please let us know!
1. Posted on Sunday, March 9, 2014 by r yoder:
your time is off about ten minutes?
2. Posted on Sunday, March 9, 2014 by Mike Walowy:
I remember to very obscure things about listening to KYW when I was growing up in the 70s......the first, was the background sound of a teletype running as the news was being broadcast...probably real back then and then it may have been dubbed in after electronic printers came into use. The other, was the "clink" of what sounded to me was a nice cube, clinking against a glass, when the announcer would say "KYW news time......." And then break for a commercial. Almost as if someways was pouring a cocktail, before the station break. Any thoughts on either of these .
3. Posted on Sunday, April 20, 2014 by joe livingston:
bill gregory worked at kyw in 1969. i last heard his broadcast in 1984.what happend to him? did he retire in 1984?please let me know.joe livingston
4. Posted on Wednesday, June 10, 2015 by Dan DiNardo:
I thought the last song WeeWillie played was "Que Sera Sera", by Doris Day, which had been a Top 10 song in '56
5. Posted on Wednesday, July 27, 2016 by Bruce Devonshire:
I can pick up KYW during the day here in Carlisle, PA. I used to live near Philly, and I remember when KYW replaced WRCV. My brother couldn't believe an all news station!
6. Posted on Friday, May 15, 2020 by Pamela Johnson:
Interesting history. My Mother (Mary Frances Hodges or a variation thereof at the time), used to say that she had the same announcer as Hazel Scott when Mom played the piano and sang at KYW in Philadelphia. Growing up we never paid much attention to the specifics but would love to know if KYW has any of her recordings. They would probably be between the late 1930's and the mid 1940's. My Mom is still alive and still plays the piano.
Add your comment
Please note: commenting has been temporarily disabled. Please check back again soon for our new commenting system.