Philadelphia Radio Archives
History of Philadelphia radio station 93.3 WMMR
WIP-FM
On February 11, 1941, the Federal Communications Commission granted Pennsylvania Broadcasting Company a construction permit for a new FM station on 44.7 MHz on the original 42-50 MHz FM broadcast band with the W47PH call sign. The construction permit was modified on November 4, 1941 when the FCC reallocated the station to 44.9 MHz with a corresponding call sign change to W49PH. The station signed on the air April 20, 1942 with a simulcast of its sister station WIP 610 AM's middle of the road (MOR) format. On November 1, 1943, the station was assigned the WIP-FM call sign, and in 1947 the FCC reallocated the station to 93.3 MHz.
In the 1950s and 1960s, WIP-FM continued to simulcast WIP AM's full service MOR format of music, news, sports and talk for all or part of the day. (In 1967, it was only simulcasting from midnight - 6AM) Original programming on WIP-FM was also MOR and easy listening, but using announcements from the AM disc jockeys. In 1962, the station's antenna was moved from 35 South Ninth Street to the top of the PSFS building.
WMMR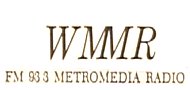 The station was purchased by Metropolitan Broadcasting in 1959, which was a spin-off of the defunct DuMont Television network. Although Metropolitan Broadcasting changed its name to Metromedia in 1961, it continued to use the Metropolitan name for its broadcasting division until 1966. At that time, the station changed its call sign to WMMR to reflect the new Metromedia name. (From 1948 to 1993 a local student-run carrier current radio station at the University of Minnesota used the slogan "WMMR" though unofficially.) The WIP calls would reappear on the FM dial some 40 plus years later on 94.1 after WIP-AM changed hands many times.
Progressive rock

In 1968 WMMR sister stations KSAN-FM San Francisco and WNEW-FM New York found major success with the progressive rock format, which was a freeform format consisting of many types music including rock that was meaningful to the youth culture of the day. However, WMMR only gradually embraced this format, starting with Dave Herman's show dubbed the "Marconi Experiment". The first song played on the show was "Flying" by The Beatles. Over the instrumental song, Herman recited these words: "Arise my heart, and fill your voice with music. For he who shares not dawn with his song, is one of the sons of ever darkness." This was known as "The Incantation" and continued as the regular show opening. Initially the show aired daily from 8PM until Midnight while the rest of the day's programming could be described as easy listening or MOR, including shows such as Jack Rattigan's "Sinatra and Company". As the Marconi Experiment gained popularity in audience numbers and sales, it was expanded to 9PM to 2AM in the fall of 1968.
Former WIBG host Jerry Stevens arrived at the station as Program Director in September 1969 (after a stint at WNEW) and further experimented with the station's format, which evolved into a full time progressive one later that year, finally displacing the remaining "Sinatra-type" music. A survey commissioned by the station in 1970 found that WMMR was the most listened to station in the last 24 hours on the local college campuses of The University of Pennsylvania, Temple and Villanova.
Michael Cuscuna, from the University of Pennsylvania's WXPN, replaced Herman in 1970, but was quickly hired away by WABC-FM (now WPLJ) in New York. Michael Tearson, also from WXPN, replaced Cuscuna and remained a mainstay at WMMR for over 20 years. Herman went to WABC-FM and then for a couple of decades on WNEW-FM, and later on WXRK. Tearson later worked at WMGK in Philadelphia, from April 2002 until January 2013. He was also heard on Sirius XM's Deep Tracks channel. Lyn Kratz, often known as the "Diva of Darkness", did a late-night show from 1975-1980 and again from 1984-1996.
Several Philadelphia FM stations tried to compete with WMMR in the late 1960s, including WIFI and WDAS-FM. Neither station stayed with the rock format for long. In 1970, WIFI switched to a Top 40 format, while WDAS-FM changed format around 1971 to a varied album oriented R&B. Later in the 1970s, two other Philadelphia radio stations briefly became competitors: WYSP (formerly WIBG-FM) and WIOQ.
One of WMMR's most influential disc jockeys during the 1970s was Ed Sciaky, who was known for playing and boosting the careers of new artists such as Billy Joel and Yes. Sciaky is credited with introducing Bruce Springsteen to Philadelphia, among others. WMMR alumni include David Dye, host of the World Cafe on WXPN and syndicated on many NPR stations. Another former WMMR DJ is Nick Spitzer, now a New Orleans resident and host of "American Routes" on NPR. One-time WMMR midday DJ Dick Hungate later switched to WYSP, pioneering the classic rock format in Philadelphia. Some WMMR DJs such as Dave Herman and Carol Miller would later go onto longtime careers on New York stations.
During the 1970s, the station's progressive format morphed into album-oriented rock. In the early 1990s they leaned towards classic rock. By the 2000s they programmed a blend of energetic classic rock and up-tempo current rock. Though more oriented toward the heavier end of the music spectrum today than in its earlier days, WMMR continues to play old and new music. Since 2007, the format has been described as active rock.
Studios and ownership
In 1962, sister station WIP AM moved into the Wellington building at 19th and Walnut street, overlooking Rittenhouse Square. WIP-FM, just an afterthought at the time, tagged along for the ride. In 1989, WMMR, by that time one of the city's top heritage rock outlets, was sold to Group W (Westinghouse Broadcasting) but did not move to the KYW Building at Fifth and Market Street until February, 1992. ("WMMR DJ John DeBella, fellow jock Pierre Robert and an escort of about 30 bikers from the Tri-State Hog Club made the trek on noise-polluting Harley Davidsons, broadcasting every inch of the way."1)
In 1995, Westinghouse purchased CBS, and then the following year they purchased Infinity Broadcasting, owners of rival WYSP, potentially uniting them as sister stations. However, the purchase put CBS over the limit of the number of stations they were allowed to own in Philadelphia according to the FCC rules at the time. As a result, WMMR was sold to Greater Media in 1997. On Saturday, April 5th, 1997, WMMR and WYSP switched studios. WYSP moved downtown to the KYW building, and WMMR moved out to the suburban Bala Cynwyd offices of Greater Media. In 2016, Beasley Media Group acquired Greater Media and its 21 stations (including WMMR) for $240 million.
John DeBella

John DeBella joined WMMR as morning host in late 1982, succeeding Steve Martorano and Anita. By 1985, the morning show was known as the "Morning Zoo" which dethroned John Harvey ("Harvey in the Morning") on WIOQ to reach the top spot in morning drive. Other members of the zany cast of the Morning Zoo included Mark "the shark" Drucker, Chip Horaneck and Clay Heery. Some of the more popular events of the Zoo era included the annual "DeBella DeBalls" and Hawaiian Shirt Gonzo Fridays. However, starting in 1986 when Howard Stern began simulcasting on rival WYSP, the Morning Zoo (and WMMR overall) steadily lost listeners. By 1993, Stern had crushed DeBella in the morning ratings. WMMR attempted one last effort to revive mornings in 1993 by pairing DeBella with sportscaster Howard Eskin for a hybrid show known as SportsRock. This effort failed to turn things around and DeBella moved to afternoons, with laid-back WMMR veteran Pierre Robert taking over the morning shift.
In 2005, The Preson and Steve morning show, previously heard on WDRE and WPLY, debuted on WMMR. Pierre Robert moved to middays on WMMR and DeBella now hosts mornings on WMGK.
---
Sources
Billboard Feb 18, 1967 - Page 32
Billboard Jul 16, 1966 - Page 26
Billboard Aug 25, 1985 - Page 15
Wikipedia entry for WMMR retrieved Aug 10, 2022
(1) Joe Logan, "MOTORCYCLES MOVE DEBELLA AND WMMR", Philadelphia Inquirer, 2/4/1992, C06
Discuss WMMR
Comments? Corrections? Worked there? Please let us know!
1. Posted on Friday, March 26, 2010 by Joe K.:
DO you want to know why ipods are so popular? Because ALL radio stations beat songs to death for a few months and never play variety. THe last I checked, an album has 10+ songs, but all the radio stations play 2 songs from those albums at best. I'd rather listen to KYW and get 24 hour news.....at least the news changes from time to time....
2. Posted on Tuesday, June 1, 2010 by Denise Stone:
Looking for Original Rolling Stones interviews - five nights in a row! - in ~1970
3. Posted on Friday, May 10, 2013 by TOM MCCLOUD:
BACK IN THE 70'S MY WIFE & I WERE AT A BLACK SABBETH & JEFFERSON AIRPLANE CONCERT W/ ONE OF YOUR DJs. I ALSO REMEMBER BACK WHEN WMMR WAS GIVING CLUES TO A FREE CONCERT W/ BB KING & LEON RUSSEL, TURNS OUT IT WAS IN CONSCHOHOCKEN. THANKS FOR THE GREAT MEMORIES, AND AMAZING MUSIC.
4. Posted on Saturday, September 21, 2013 by kenton shoemaker:
I went to college in Williamsport, Pa. We would listen to "rock blocks" over our lunch period. Yes we could listen in Williamsport!
5. Posted on Tuesday, October 29, 2013 by CityPickerAntiques:
Just bought a couple hundred Vinyl albums with WMMR & "Keiser" written on them. Many are labeled "Disc Jockey Demo" Who/what is Kieser?
6. Posted on Friday, July 18, 2014 by michael rice:
WMMR ROCKS
7. Posted on Sunday, January 18, 2015 by steve:
Can anyone direct me to an archive site where I can listen to the old Marconi Experiment shows with Herman? Now THAT was radio!
8. Posted on Sunday, April 19, 2015 by Steve Mullin:
Every rock artist you play wrote more than the three songs played all the time.How about a deep cuts weekend? or maybe a deep cuts week,huh?
9. Posted on Monday, March 7, 2016 by Steve Derer:
I know Carol Miller went to xm radio but what happened to Johnny Kraft. Errol Bailey used to be on MMR also went to xm radio. My question is where are the disc jockeys from 68-70. Long time MMR listener.
10. Posted on Monday, April 18, 2016 by Alana Morris:
Johnny Craft went back to the suburbs to his wife and baby daughter. Maybe you remember that he played Stevie Wonder's "Isn't She Lovely" the day she was born. Many of us scattered like seeds but are sometimes in touch.
11. Posted on Friday, March 16, 2018 by ATedK:
Back in the late 1960s and early 1970s, WMMR featured a program, 'Opus' starting at midnight lasting through till Morning. Easily my favorite all time radio program. I don't see the name of Jonathan Takeoff who was one of the DJs covering a time slot at the same time as Michael Tearson in the late 1960s. There was a lady DJ at the same time, whose name escapes me at the moment. When John Hartford released "Hey Babe you wanna boogie?" and the FM airwaves were playing it during the early 1970s; one night, she played Hartford's song three times in a row. Then she explained that she only played it to satisfy the sickos demanding she play the song; but that she would never play it again. Never heard it during her shift, again. She was just another of WMMR's great DJs. Back, during the late 1960s, WMMR played the greatest WMMR radio commercials. e.g. WMMR played on commercial advising the length to adjust radio antennas for best reception, then after stating "for antennas internal to windshields", one heard the sounds of breaking glass.
12. Posted on Tuesday, August 28, 2018 by Rick Del Rio:
Every early WMMR aircheck that are on the internet were recorded by me "RICK DEL RIO" including the original "Marconi Experiment" Dave Herman airchecks. I have & own all of the master reels.
13. Posted on Wednesday, September 26, 2018 by Patrick Curran :
rick, Any chance I'd be able to hear any of those air checks??? Let me know!
14. Posted on Saturday, October 20, 2018 by Martin Smith:
I remember Steve(Stevesky) Sutton and the lunch songs he would play at noontime. These were songs from popular artists like the Rolling Stones and the lyrics were changed to fit the lunch time theme. For example, 'Beast of Burden' was rearranged and the lyrics were, "Don't ever leave your pizza burning'. I spent my lunch time on many a day rushing out to my car to turn the radio on to hear this hour of music that Mr. Sutton would play at noon.
15. Posted on Tuesday, October 30, 2018 by Tom Yentsch :
Did WMMR EVERY HALLOWEEN rebroadcast the War of the Worlds? Starting when to when. In particular 1970-1971
16. Posted on Saturday, January 19, 2019 by Ron Messner:
I heard War of the Worlds on WMMR FM Halloween 1970. Don't know if it was played any other year. Johnny Craft was and is my all time favorite DJ. Post # 10 - Alana Morris- did the news in the times of " The Radio Station". She ended the news with " I'm Alana Morris and we're WMMR". Almost all on air people said " we're WMMR", except Johnny Craft- he would say "your tuned to FM 93.3, WMMR Phila. I'm Johnny Craft, good morning.
17. Posted on Friday, April 5, 2019 by Mark S Setar:
I remember moving to Philly after college in the mid 80s and listening to WMMR at 6am (the start of the morning show) on a Monday and they would introduce the show with a countdown (similart to that before a rocket would be flown into space). In the background you'd hear Debella saying he didn't get enough sleep, etc., etc. Really hilarious---I'm now in Pittsburgh for 25 years and was trying to search for this on youtube. Is there any way I could hear that again----really funny s--t!
18. Posted on Saturday, April 20, 2019 by mike:
I loved steve sutton (way before pierre did the noon shift) when he did the lunch songs too. Does anyone know if you can find them online anywhere?
19. Posted on Saturday, May 25, 2019 by Jerry V Di Trolio:
I enjoyed reading about various AM/FM Radio Stations and the History in the Delaware Valley,and Nationally it's facinating!
20. Posted on Friday, May 31, 2019 by Vera Nelson:
I used to listen to WMMR all the time in the 80's.. I'm trying to find the song that they used to play every Friday at sign off of the Morning show.. Can anyone tell me where I could find it please? Trying to let my son hear it, as he is a big fan of The Morning Show with Preston and Steve. Thanks..
21. Posted on Wednesday, June 26, 2019 by Ron Messner:
I think your remembering "always look on the bright side of life", by Monty Python, from the movie Life of Brian.( some things in life are bad,they can really make you mad, other things just make you swear and curse)
22. Posted on Saturday, June 29, 2019 by ron messner:
On second thought, Friday ( Hawaiian shirt gonzo Friday) ended with Nikki Hoi by Flo and Eddie.
23. Posted on Tuesday, August 27, 2019 by Diego:
I am trying to compile a list of local Philly groups from the 1980s. I remember hearing a lot back then but don't remember much now, especially because I don't live in the region anymore. Can anyone add to the list? Hooters Beru Revue A's Robert Hazard and the Heroes I also remember a WMMR music contest and one of the bands was called the Zebras, but I can't find anything on it. Does anyone recall?
24. Posted on Saturday, August 29, 2020 by L j:
Diego,My favorite Philly band back then was Dynagroove. There was also the Daves, and the Front Street Runners.
25. Posted on Wednesday, February 24, 2021 by dw:
What is the name of the weird, intriguing, other world, stoner, radio soap opera played later at night in 1970's? Not, Dr. Who.
26. Posted on Thursday, May 27, 2021 by McGee:
I was lucky enough in my teenage years to grow up and listening to WYSP WMMR WZZ0 all good classic rock radios Stations. Although WYSP was my favorite, I would flip back and forth between the 3. I thought I was pretty lucky to be able to grow up as a teenager and Listen to the 3 best classic rock stations.
27. Posted on Wednesday, July 28, 2021 by Brian:
@dw, Firesign Theatre? They had a bit titled "Doctor Whiplash" that I heard on WMMR in early 1972.
28. Posted on Monday, March 7, 2022 by Uncle Dirty :
Whatever happened to the band Stellar Belly that was on Jaxon's live and local album? I loved those guys when they played at Grape Street.
29. Posted on Tuesday, November 1, 2022 by Salty Dog:
My high school years, September 1979 through June 1983, coincided with my 'MMR listening years. Lunch blocks, Two-fer Tuesday. Left S. Jersey in mid '84 to join the Navy, and ended up outside of DC after I got out. But I always will have fond memories of listening to DeBella, Pierre, Joe Bonadonna, and Michael Tearson.
30. Posted on Sunday, November 20, 2022 by William D Freso:
Trying to get a hold of Michael teerson to find live recording of Robert hazard from academy of music concert
31. Posted on Saturday, December 17, 2022 by Gina Logan:
WMMR saved my life in the early 1970s. I was newly divorced (and not yet 21!), living alone and trying to figure out how to live and thrive, and every night in my studio apartment at 20th and Locust, I tuned in to WMMR and felt my soul being restored. The music lives on! Thank you, WMMR, 93.3. You rock!
32. Posted on Friday, December 23, 2022 by Don Kagel:
While living in Philly from 1972 thru 73, can't forget the breakthrough artists of 72, such as Bonnie Raitt , America , Jackson Browne, Billy Joel and the Eagles, all featured on 93.3 WMMR. Not sure about when Yes debuted .
33. Posted on Tuesday, January 10, 2023 by Michael Esterson:
William D. Freso, sorry but I do not have that Robert Hazard concert. Best to contact me through Facebook.
Add your comment
Please note: commenting has been temporarily disabled. Please check back again soon for our new commenting system.