Philadelphia Radio Archives
History of Philadelphia radio station 98.1 WOGL
WCAU-FM went on the air in November, 1941 as a simulcast of sister station WCAU-AM. This arrangement remained in place until the mid-60s, when the FCC decreed separate programming for a certain portion of the day. Around 1967, CBS provided the syndicated "Young Sound" format to all of its owned and operated stations including WCAU. It was an attempt to interest younger listeners in instrumental versions of then-popular music. Tapes were delivered to stations without announcers and had a twelve-week lifespan.
Oldies - the first time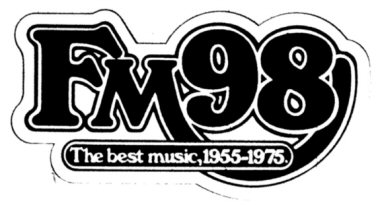 Although The Young Sound evolved into a more contemporary format, WCAU decided to drop it in the autumn of 1970 for an automated solid gold format designed in-house. Initially, a substantial number of records that were big in Philadelphia but not necessarily nationally were included. Some hits as little as six months old were included in this oldies format. In 1974, the DJ lineup of the still-automated station included Jim Nettleton, Joe Niagara, Kris Chandler, Gene Manning, Long John Wade and Kevin Fennessy.
Disco Radio

On February 2, 1975, the format was switched to the then-new disco format under the name "disco radio." Initially, the results of the new format were disappointing, so in 1976, R.J. Laurence was brought in from WBLS-FM in New York as program director and Roy Perry from WMMR-FM to become music director. The pair tweaked the format to bring more variety to the programming, including crossover jazz, pop and rock records that had a beat and qualified as disco. This revised format, dubbed "Facinating Rhythm", gained more popularity with listeners. The lineup of disco jocks in 1977 was Steve Brown, C.J Morgan, R.J Laurence, Ron Perry, and Ramona.
Around 1981, after a severe decline in the popularity of disco, the disco songs were dropped in favor of a brief laid back R&B and jazz format known as "Mellow Music."
Hot Hits Format

On September 22, 1981, WCAU switched to a top-40 format called "Hot Hits" to replace the struggling "Mellow Music". This format was developed by program consultant Mike Joseph and was used at a number of CBS-FM stations. The Hot Hits format included all current hits, high energy announcers, and lots of catchy jingles. WCAU-FM's ratings showed immediate improvement after the switch. All of the former jocks except Glenn Kalina were let go and the initial lineup included Scott Walker, Richard Hawkins, Bob Garrett, Todd Parker, Terry "The Motor-mouth" Young, and Billy Burke.
WCAU found a great deal of success with this programming for much of the mid 80s. By 1987, however, the station found itself in stiff competition with a revitalized Eagle 106 (WEGX-FM).
Oldies - again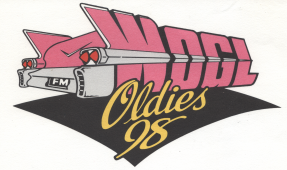 On November 9th, 1987, WCAU flipped to an oldies format, citing a desire to appeal to an older, more desirable demographic of 25-54 year olds. The call letters were soon changed to WOGL ("Old GoLd"). At about the same time, WIOQ-FM revealed that it too was planning to change to an oldies format. For the next two years, the stations engaged in an FM oldies battle, until WIOQ dropped the format in 1989. WOGL became the city's dominant oldies station, gathering a group of legendary Philly jocks including Hy Lit, Don Cannon, Harvey Holiday, Bob Pantano and many more.
Originally, WOGL was known as "Oldies 98". By 1992, WOGL incorporated more soul oldies. The station still played about 50% 1950s and 1960s songs, with a small amount of 1970s and 80s. Specialty shows included "Elvis & Friends," "The Saturday Night Dance Party," "Brunch With The Beatles," and "Street Corner Sunday" (a Doo Wop music program). In 2001, all specialty shows were dropped, but a few were eventually reinstated the following year. The playlist was moved away from soul and Philadelphia-only hits (though a few remained), and moved towards a more traditional playlist as found on other oldies stations.
By 2003, the "Oldies 98" name was downplayed as the 1950s and 1960s songs were gradually phased out in favor of more 1970s and 80s songs. By 2008, the slogan was changed to "The Greatest Hits of the 60s, 70s and 80s," which was also used by sister station WCBS-FM in New York. By 2017, the slogan was simply "Nobody Plays More 80s."
In the mid to late 2010s, a number of longtime hosts left the station including Valerie Knight, Frank Lewis, Bill Zimpfer, Cadillac Jack, Ron Cade and Harvey Holiday.
Radio Greats Reunions
WOGL has staged two extensive reunions of popular Philadelphia DJs from the 1950s - 1970s. The former jocks were flown into Philadelphia and guest-hosted and reminisced live on the air in the weekend-long events. The first reunion took place April 23 - April 25, 1993 and included George Michael, "Banana Joe" Montione, Frank X. Feller, Jim Nettleton, Dr. Don Rose, Dan Donovan, Brother Love, Joe Niagara, Dean Tyler, Jerry Blavat, Hy Lit, George Woods, Joe Grady, Ed Hurst, Don Cannon, Ken Matz, Jay Cook, Dave Parks, John Landecker, and J.J. Jeffrey. The second reunion, May 10 - 12, 1996 included many of the same personalities.
Studios
For most of its history, WCAU-FM studios were co-located with sister station WCAU-AM and later WCAU-TV, initially at the WCAU Building at 1622 Chestnut Street in center city, and then starting in 1952 on City Avenue in Bala Cynwyd. When NBC purchased WCAU-TV in 1994, CBS-owned WOGL became a tenant in the City Avenue facility until the mid-2000s when it moved to 2 Bala Plaza. In 2013, WOGL moved to Old City, joining WIP, KYW-AM, and WYSP in the 400 Market Street building. In 2017, WOGL moved back to Bala Cynwyd to join the city's remaining CBS music stations, WXTU and WRDW in the 555 City Ave building.
In 2017, CBS agreed to merge CBS Radio with Entercom, which was later rebranded as Audacy. In 2019, WOGL moved from 555 City Ave. to the new Entercom headquarters at 2400 Market street in Philadelphia.
Big 98.1
On April 28, 2022, the station rebranded as "Big 98.1" with a renewed focus on songs from the 1970s - 1990s, and suspending most of their airstaff with the exception of morning host Sean "Coop" Tabler. The change also resulted in the departure of Bob Pantano's Saturday Night Dance Party which relocated to the station's HD2 subchannel after decades on the main 98.1 frequency.
---
Sources
"WCAU-FM Shifts to Solid Gold Automated Format", Billboard, Oct 10, 1970, p.94
"Philly WCAU-FM Still Rides Crest Of Disco", Billboard, 11/25/1978, p. 41
Discuss WOGL
Comments? Corrections? Worked there? Please let us know!
1. Posted on Saturday, October 3, 2009 by Nikki Duval:
I worked at WCAU following Perri Johnson when the format was Mellow Rhythym. Roy Lawrence was the Program director. I have not heard from them for some 20 years and would like to know how and where they are now.
2. Posted on Monday, April 5, 2010 by Mark :
98 wcau hot hits was great! 1st time i heard cinderella night songs was on that channel in 86.
3. Posted on Monday, August 16, 2010 by Sheryl Appel:
I worked for Hot hits with all the peops mentioned, It was a blast!! Other memorables are Rich Hawkins, Glenn Kalena, Jefferson Ward, and there are many more!! Wonder where they all are?
4. Posted on Wednesday, September 8, 2010 by Paul O'Steen:
FaceBook. Search for them and you will find. Also check out my Hot Hits web site www.hothits98fm.com
5. Posted on Friday, October 15, 2010 by Debbie:
Why isn't RJ Lawrence mentioned anywhere? I thought he was the King of Disco. He was the morning guy and Program Director. What ever happened to him?
6. Posted on Sunday, November 21, 2010 by Rosie:
What ever happened to Mark Thomas??
7. Posted on Tuesday, January 18, 2011 by Erik:
i have a group on this radio station, it is located at http://groups.yahoo.com/group/Oldies98WOGL
8. Posted on Saturday, September 10, 2011 by Jack Mattesini:
Worked with Frank X when he was general manager at WYSP when it was in Suburban station building ( and Plymouth meeting). Great guy.
9. Posted on Sunday, February 5, 2012 by Sunny:
Does anybody remember those "One Hit Wonder" shows hosted by OLDIES 98 at the Tweeter Center at the Waterfront - around August 2001?
10. Posted on Sunday, May 26, 2013 by Joseph strano:
Should have never changed format eagle 106 was never that good you did not know what you had in Joe conklin you were the best radio station back then wish you were on air now music stations today are not very good
11. Posted on Saturday, August 24, 2013 by Mike B.:
What ever happened to Tony Mann? He did afternoon in 1980.
12. Posted on Thursday, October 3, 2013 by Steve:
what ever became of michelle durham and when did she leave ?
13. Posted on Friday, February 13, 2015 by Gary Kehn:
Did afternoons at WBSS, BOSS 97 in Vineland, NJ. Would listen to Eagle 106 wanting to work there in the worst way. Danny Bonaduche did midnight there. Couldn't believe it. Not the best in my mind. Joe Mama kicked ass. Whatever happened to him? My PD at BOSS 97, Nicky G, now works at Oldies 98 WOGL. So proud of his accomplishments. Now, I'm a loyal listener with 98.1 WOGL. How times change.
14. Posted on Sunday, February 22, 2015 by Robert Tedesco:
In the year 1966,I found a soft classical FM radio station in my car which was WCAU FM in Philadelphia.The theme song was beautiful. I thought it was called "Music". I could be wrong ,but how can I find out ,and hear the song?
15. Posted on Saturday, May 30, 2015 by Scooter Livingston:
Hot Hits was a great CHR format. The jingles and the jocks along with the music, made the station. I'm from Boston and I'd listen to WCAU-FM when driving on the New Jersey Pike going to conventions in DC and back..last time I heard it was in Fall '85 when I was moving to Florida. I'm a Boston native and CAU-FN's sister station, WHTT had a slightly looser format. If they had the jingle package (they were "HitRadio 103") as CAU-FM, THAT would've made it a heck of a better station. Can't help but wonder what WHYI/Y-100 in South Florida would've sounded like with that jingle package. Does anybody have the Solid Gold Sixties LP set? if so can you e-mail me the track listings? I've got CD copies of the Old Gold From The 50s and The Early Sixties releases (I know they were never released on CD; I found the track listings and made my own) but cannot find any info on the Sounds Of The Sixties 2 LP release. If anybody has the ifo, please e-mail me at z800525a@earthlink.net Thanks!
16. Posted on Saturday, January 16, 2016 by Kevin Jones:
the top 40 competition (fm)for wraw Reading Pa early 80's. WCAU...FM...Phil...a...delphia.
17. Posted on Friday, April 15, 2016 by Rodney Williams:
I was the cau fm engineer from 1970 to 1973. I would like to hear from some of the staff again. send me an e mail
18. Posted on Friday, May 5, 2017 by adele:
what happened to bill ziffer of the breakfast club-it's just not the same without himm!!!!
19. Posted on Friday, May 5, 2017 by adele:
does anyone remember when the summer of love concert was held???? so many groups were there-union gap-rascals-tommy james etc
20. Posted on Friday, June 23, 2017 by Barbara white:
Whatever happened to the guy. and Elvis music on Sunday mornings between 7:00 and 10:00. Listened every Sunday. Hasn't. been on for several weeks. Is it coming back ?
21. Posted on Wednesday, October 4, 2017 by Bob Billingsly:
Loved the old disco sound back in the 70's with TJ Norgan and Damon Castle. It was a vibrant sound that made you feel alive.
22. Posted on Saturday, April 28, 2018 by william tolan:
Do You Remember "Your Listening To The Greatest Hits Of All Time" On WCAU FM OLDIES 98 Phila With That Enormous Dynamite Blast! As A Lead In, Wonder Where That Came From! Miss My FRiend Diamond Jim.Also Was AT The Helm Aka Miss You All!
23. Posted on Tuesday, July 10, 2018 by Edward trumbly:
Remember Disco with Disc Jockey Damon Castle and I think DJ Gene Arnold playing some great sounds!! Wish it was back...
24. Posted on Sunday, September 30, 2018 by mateusz janecki:
i love listening to the rapidly spoken words of high-energy Eastern PA's jock and it's The Philly's Motormouth - Terrence Alexander Young AKA Terry Young. WCAU-FM 98 Now Rocked!
25. Posted on Saturday, January 5, 2019 by John Swayze:
Responding to all who had listened to Rockin' Ron Cade and "The Elvis and Friends Show" on WOGL. His show can be heard at http://networkjamz.com/elvis-and-company/ from 7:00 to 10:00 Sunday mornings. Pass the word on to others, please!
26. Posted on Friday, February 8, 2019 by Sean S. Strain:
Growing up on the mainland of LBI, there was little to do in the winter, especially at the age of ten. But there was always WCAU. They aired a New Year's Eve countdown one year that I remember as a kid where I taped the entire broadcast (almost) onto cheap blank cassette tapes with my "boom box". The only bits I missed where when I had to flip sides or switch tapes. I don't remember how many songs it was...I guess 98 would make sense...but it felt like more. I just remember waiting for "The Belle of St. Mark" to come on. Sheila E.'s voice on that song killed me, even as a kid. I don't know if I was even ten, at the time. The station went Oldies when I was 12 and I tuned out, but I had those warped, warbled tapes for a few years until they were just unlistenable or "eaten" by the deck. Luckily, I was able to find "The Glamorous Life" cassette, at The Red Rocker...a once great independently owned record store in Manahawkin...a few years later, in one of the most eclectic purchases that I can recall, where I bought it, along with "Two Things at Once" by The Descendants and "Paul's Boutique" by The Beastie Boys. Tangential, I know. Regardless...I was reminded earlier today of what such a great station 98.1 WCAU-FM was. Thanks for helping me through some rough winters as a child.
27. Posted on Sunday, June 7, 2020 by Warren:
Was anyone playing the Top 40 format in Philly in 1979?
28. Posted on Sunday, February 28, 2021 by Bob Patterson II:
I wished Harvey holiday could do a street corner Sunday show on Philly Gold radio on Sunday nights
29. Posted on Wednesday, July 14, 2021 by frank:
It seems like 98.1 WOGL is in competition with Ben FM.
30. Posted on Tuesday, July 20, 2021 by Satscout:
WCAU-FM was THE station that was always on the bus... and just about everywhere in the '80s. I find it delightful that the frequency is playing the stuff as "oldies" that I got to hear as top 40 hits when I lived in PA. WCAU and Kiss-100 were my favorite stations.
31. Posted on Wednesday, October 6, 2021 by Juliet:
R J Lawrence is my father! He was and always will be the King of Disco! For updated info feel free to contact me juliet.v.lotsey@gmail.com. I miss hearing him on the radio!
32. Posted on Tuesday, October 25, 2022 by Robert Kimmel:
WCAU was a top news station back in the 1960s when John Facenda and Taylor Grant were among the news anchors. I had the good fortune of reporting and doing on-air newscasting back then at the City Line studios. Was a great experience.
33. Posted on Sunday, February 5, 2023 by Wayne:
Living in Ontario near Detroit/Cleveland as a kid, I really missed hearing "real oldies/doowop" when I grew up, until I found "Street Corner Sunday" and Harvey Holiday on WOGL-FM streaming. R.I.P.
Add your comment
Please note: commenting has been temporarily disabled. Please check back again soon for our new commenting system.