Philadelphia Radio Archives
History of Philadelphia radio station 1340 WHAT
Founded as WNAT
On October 17, 1922, a new Philadelphia radio station was authorized by the government to the Lennig Brothers Co, a radio supply company headed up by Frederick Lennig at 827 Spring Garden Street. Lennig placed WNAT on the air at 833 kHz in November, 1922. An early slogan for WNAT was "We Never Are Tired." Over the next two decades, the station changed frequencies and ownership a number of times as summarized below:
| Year | Frequency | Ownership | Notes |
| --- | --- | --- | --- |
| 1925 | 1200 kHz | Lennig Brothers | Shared time with WIAD |
| 1927 | 1040 kHz | Lennig Brothers |   |
| 1928 | 1310 kHz | Lennig Brothers | Shared time with WFKD |
| 1929 | 1310 kHZ | Albert Walker |   |
| 1931 | 1310 kHz | Curtis Publishing | Shared time with WTEL |
| 1939 | 1310 kHz | Bonwit-Teller |   |
| 1941 | 1340 kHz | Philadelphia Record |   |
With the sale of WNAT to Albert Walker in 1929, the station's call letters were changed to WHAT. On March 29, 1930, studios were moved from Spring Garden street to room 538 of the Public Ledger Building at 6th and Chestnut Streets. Albert Walker then sold the station to a subsidiary of the Curtis Publishing Company. By the late 1930s, the station was airing time-brokered religious and ethnic programming. On May 23, 1939, the station was sold to department store company Bonwit-Teller for $10,000. In 1940, Bonwit-Teller sold the station (under the name Independence Broadcasting Company) to the Philadelphia Record Company, a newspaper publisher.
Banks Ownership
On February 12, 1944, former WIP salesman William Banks purchased WHAT for $22,500 from the Philadelphia Record and became the station's new President. His sister, Dolly Banks, became program director and expanded on the ethnic format while ending time-brokered programming. In 1946, studios were moved out of the Public Ledger Building to 1505 Walnut Street. WHAT continued to share time with WTEL until 1949, when WTEL was reassigned to its own frequency. WHAT then began a 24 hour per day operation and also was granted permission to raise power from 100 to 250 watts, and eventually to 1000 watts during the day.
According to The Philadelphia Inquirer, WHAT was known for innovation. "In 1945, WHAT became the first U.S. radio station to hire a full-time black announcer, the first to program a regular show featuring a black woman as hostess and the first station in the city to hire black newscasters. It also was the first in the nation to feature a black as host of a daily talk show."1
In 1954, the station moved its studios and transmitters to a new structure at 3930-3940 Conshohocken Ave dubbed "The WHAT Radio Center." The station programmed an R&B Soul music format with DJs that included Hy Lit, Sonny Hopson, Jerry Blavat and Georgie Woods. In 1978, a "black talk" format debuted, and ended two years later with a return to black-oriented top 40 music. In 1979, William Banks died at the age of 78 and Dolly Banks was named president and general manager and assumed full ownership of WHAT and sister station WWDB-FM. Dolly resigned as general manager in 1984 but continued as president and chairman of the board until her death on September 10, 1985 at the age of 71.
Ownership Changes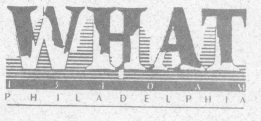 In October 1986, Reginald N. Lavong and Miller Parker, owners of Main Line Communications purchased WHAT from Independence Broadcasting for $625,000. The sale included the station's office building and 4.5 acres of land on Conshohocken Ave. Former sister station WWDB-FM was sold to lawyer Ragan A. Henry around the same time. In 1989, the station, which was then running an African American-oriented talk and Nostalgia format, was sold to Philadelphia radio veteran Cody Anderson. Anderson had been general manager of WDAS-AM/FM and his company "KBT Communications" paid $1.65 million to obtain WHAT-AM. The station's studios moved from Conshohocken Ave. to the Manayunk section of Philadelphia, however the transmitter and self-supporting tower remained behind with the abandoned studio building that still stands as of 2022. In the mid-2000s, the station aired some shows from the now defunct liberal Air America network.
Mary Mason
Mary Mason began her broadcast career as a gospel music host on WHAT in 1958. Her first talk show, "Mornings with Mary" first aired on WHAT in 1970. Mason became a prominent and politically influential fixture at the station, with a loyal audience who sought her opinions on a wide range of local, national, and international topics. Her shows on WHAT were the highest rated on the station, and she also hosted programs on sister station WWDB and the former WCAU-AM. During a visit to Phildelphia in 1993, President Bill Clinton made a guest appearance on Mason's morning show.
New Formats
In November, 2006, WHAT was sold to Marconi Broadcasting for $5 million. On January 11, 2007, the station which had been known as the "VOICE of the African-American Community" fired all employees and began playing the American Blues Network's feed which it had been playing only on overnights. The on-air hosts that were let go included Al Butler, Elmer Smith, Mary Mason and Thera Martin Connelly.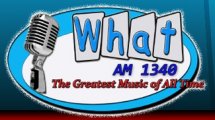 Initially, Marconi Broadcasting programmed an alternative rock format called "Skin Radio" which was a format not heard on Philadelphia radio since Y100 dropped it in 2005. The format was short-lived and by August, 2007 switched to an adult standards format reminiscent of the old WPEN (circa 1979-2004), albeit with a more diverse playlist and more 70s music. The new format began with a full month of Sinatra programming. Originally called "Martini Lounge Radio" the name eventually changed to "The Greatest Music of All Time" in 2008. The station featured legendary Philadelphia radio talents including Bill Webber, Bob Craig, Elaine Soncini and Mike Bowe. Studios were relocated to 25 Bala Ave. (Cynwyd Place) in Bala Cynwyd.
Spanish Formats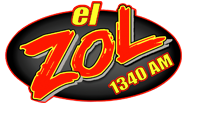 WHAT abruptly went silent on August 1, 2011 ending the adult standards format. The station was sold to Lawyer and former Philadelphia City Solicitor Ken Trujillo under his personal investment firm, Aztec Capital. WHAT returned to the air that September as Spanish-language music format "El Zol" with a "crossover" format that was not as beat-driven as rivals Mega AM 1310 or Rhumba 1480. The studios moved to Delaware Ave. in Philadelphia in 2014.

In 2018, the station rebranded itself as "Z99.9" (The 99.9 is a reference to the station's FM translator on 99.9 FM which is located in center city and provides some coverage to South Jersey.)
In 2020, Victor Martinez's VP Broadcasting acquired WHAT for $1.5 million from Aztec Capital Partners, changing the name to "La Kalle 99.9". Martinez previously served as Operations Manager of WHAT from 2013-2016. After the acquisition, WHAT promoted that it will be playing more Salsa and Reggaeton with core artists including Romeo Santos, Karol G, Victor Manuelle, Farruko, Bad Bunny, J Balvin, Nicky Jam, and Marc Anthony.
---
Sources
(1) Burr Van Atta, Obituary: DOLLY BANKS SHAPIRO, 71, Philadelphia Inquirer, 10/24/1985, U12
AIR Awards 2005 Lifetime Achievement Award
Joe Logan, WHAT-AM OPTS FOR NOSTALGIA OVER TALK, Philadelphia Inquirer, 10/16/1989, E06
Jan Lowry, "WHAT Profile", Broadcast Pro-File
Joseph N. DiStefano, "Trujillo powers up in Spanish at WHAT-AM", Philadelphia Inquirer, 9/30/2011
"WHAT Philadelphia Relaunches As La Kalle 99.9", Radio Insight, 3/19/2020
rbr.com, Adam Jacobson, "Victor Martinez Knows WHAT He Wants In Philly", 6/24/2020
Dan Gross, "Plug is pulled on WHAT", Philadelphia Inquirer, 1/12/2007
Discuss WHAT
Comments? Corrections? Worked there? Please let us know!
1. Posted on Sunday, October 25, 2009 by Diane Blackmon:
I work as an on-air radio announcer / engineer at WHAT Radio. 1974 -1975. 7p -12Mid. Before going over to WCAU FM 98 (CBS). Had the highest numbers /top ratings ever, until forced out. Station rating droped to an all time low. FM 98 never regained top Ratings. In 1980 they changed their format. WHAT on-air announcers: Mary Mason Tal Forrest Royce Howard Diane Blackmon Billy Toothpick Reggie Fatman Newscasters: Dave Clark Mumbia Jammal and Emilie Kunud-Hansen
2. Posted on Saturday, November 28, 2009 by john s:
todays format is working. I listen its nice hearing bill webber and mike bowe and the music is good keep it up there are different households i have heard your station on. keep it going thanks john s
3. Posted on Thursday, March 25, 2010 by Jason:
If you are a Facebook member, and would like to join my fanbase for WHAT, click below: http://www.facebook.com/group.php?gid=124509735323&ref=ts Now over 100 members strong and growing. It even was acknowledged on the air by JD and Missy.
4. Posted on Tuesday, April 6, 2010 by SHIRLEY CARTER:
I LISTENED TO MARY MASON FOR MANY YEARS. I LOVED HER STYLE OF GETTING THE POLITICIANS INVOLVED WITH HER TALK SHOW. WWW.MYSPACE.COM/CONVERSATIONSWITHSHIRLEY
5. Posted on Thursday, July 22, 2010 by delores brooks:
mary mason always played a man praying everyday trying to find name of artist
6. Posted on Monday, September 13, 2010 by Stephen Weatherly Sr:
I listened to Mary mason since I was old enuff to know what radio was bcuz my mom Marva Weatherly loved her show and along with my siblings Ms Mason grew in our hearts. I wanna know the info on that prayer she played every morning before her show..
7. Posted on Wednesday, November 10, 2010 by Rob From Mt. Airy:
Well, as a child I listened to "Mornings with Mary" as I got ready for school. My mother used to listen to her sometimes in the morning. i always remember her advertisement about "little Frankies corner at 5th and Girard Avenue". That was always funny. She was a great personality for her days, but Codie Anderson brought a consciousness to Philadelphia talk radio. It wasn't just making fun of your audience it was about hearing the people who could affect change in the community. DJ Lady B came out of WHAT. A lot of folks came out of WHAT 1340 AM, our youth are only told about Mary MAson. Go to 900Am in Philadelphia, you'll see some remnants of the old WHAT 1340. They had to run Codie out, because people like Brother Rob, Brother Fred, Malik, Sabor, Me, Cedarbrook, and a few others were too vocal forthat city. We have to tell our own history, because when others tell it, the story never gets passed down the right way.
8. Posted on Wednesday, December 29, 2010 by Octavia Mahoney :
I remember listen to Mary Mason every morning before school. My mom played it. I use to wonder why she played it so loud. But once I saw the neighbors outside bowing their heads from the prayer she use to play I finally understood. 10 years my mornings haven't been right because I have not heard the prayer from the man. If anyone knows the prayer please post it. I'm quite sure it will brigten my day. There brigter days ahead............
9. Posted on Friday, January 7, 2011 by R S:
Mary Mason lives in my mom's building. Her son said that prayer was read by C T Bigelow.
10. Posted on Monday, February 7, 2011 by steven brown:
if anyonoe recieved a copy of the prayer ms. mason played on her show could you please please send me a copy or post it..god bless!!!
11. Posted on Monday, March 28, 2011 by Tessie:
can any one tell me who did the open prayer on the Mary Mason show> It moved me so deaply. tmdobey@juno.com
12. Posted on Wednesday, August 3, 2011 by marie murrin:
Whats happing @1340??Cant get it on my radio...Where is Mike bowe?? In the last 6 months I ve had no less then 100 pp tune in to hear the oldies. WE play it all the time @ Friendship Circle Senior Center..Now WHAT?????
13. Posted on Wednesday, August 3, 2011 by marty :
all of a sudden we get very poor reception on car and home radio in plymouth and east norriton areas why?
14. Posted on Saturday, August 6, 2011 by Bobby:
We also suddenly cannot get 1340 in the car. This is upsetting. Why are there only comments and no answers on this site??
15. Posted on Saturday, August 6, 2011 by Alan Boris:
The oldies format at WHAT 1340 is over and the announcers have been let go. After a week or so of silence, Spanish language programming and/or brokered talk is expected on 1340.
16. Posted on Monday, August 8, 2011 by Nick Smigo:
I was very surprised to hear that WHAT went off the air with their MOR format. Anybody know why? We need an FM station to step up and give us this music. Sorry to hear all the jocks got fired. Adult format is greatly needed in Phila.
17. Posted on Tuesday, August 9, 2011 by MAXINE CALHOUN:
MISS THE WHAT FORMAT LIKE CRAZY!!!MARY WAS TRULY A CARING INDIVIDUAL.SHE HELPED SO MANY PEOPLE AND BROUGHT SO MUCH "EVERYTHING" TO THE LISTENERS. SHE HAD A "SNAPPY" DISPOSITION AT TIMES, BUT SHE WASN'T AFRAID TO SPEAK OUT.I MISS CODIE AND HIS SONS,NICK TALAFERRA(SP), FATIMA ALI, JOEY TEMPLETON,S MUSIC,AND LORD KNOWS I MISS "THE EDUCATOR" NONE OTHER THAN REGGIE. THE SPORTS WORLD WAS GREAT AS WELL, AND WHAT ABOUT THE DYNAMIC MICHAEL CHORD? LUCIEN BLACKWELL'S GRANDDAUGHTER WAS GREAT. I TOO WOULD LOVE TO GET A COPY OF MARY'S MORNING PRAYER. IT WAS THE BEST. I WOULD ALSO LIKE TO HEAR FROM JOEY TEMPLETON AND DISCUSS WITH HIM ABOUT SUPPLYING MUSIC FOR AN EVENT I'M WORKING ON FOR MARCH OF 2012 IF GOD PERMITS. JOEY, PLEASE CONTACT ME IF YOU SEE THIS EMAIL.LET'S NOT FORGET "LLOYD FATMAN" AND HIS AWESOME MUSIC AND JOLLY OLE VOICE.CAN WE ALSO GIVE A SHOUT OUT TO GEORGIE WOODS, A SUPERSTAR. WE CAN NEVER FORGET HIM AND AND ALL THE "SOUL" HE BROUGHT TO THIS CITY AND OVER THE AIR.HIS OH MARY DON'T YOU WEEP AND WAS IT DON'T EAT CHICKEN ON SUNDAY!!!(LOL) WHAT ABOUT THE NEW YEARS DAY PARTY...ALL THE OLD HEADS PRESENTED THEIR BEST OF "DOWN MEMORY LANE" AND HOW MUCH BETTER NEW YEARS DAY WAS SPENDING IT WITH OUR RADIO FAMILY. FOR ALL THE NAMES I DIDN'T MENTION,I LOVE AND APPRECIATE YOU AS WELL.WHAT THANKS FOR EVERYTHING..GONE BUT NEVER WILL YOU BE FORGOTTEN. MEMORIES OF YOU WILL LAST FOREVER......LOTS OF LOVE....
18. Posted on Wednesday, August 10, 2011 by ronald suber:
As a young child growing up in Philadelphia I used to listed to "mornings with mary" almost daily before going to school. It kept up with all the current events going on in the city. One thing I miss so very dearly and that was the morning prayer. Never heard it outside of Philly could some one please post it or e-mail me it. I miss it so much.
19. Posted on Thursday, August 11, 2011 by mitch zatto:
it is august 2011, and radio station what has turned off its carrier signal; however, looking at the bright side, WMID is beaming in loud and clear from Atlantic City into southernmost Delaware County, PA., and their oldies are every bit as good, daytime only; at night WMID disappears. Good-Bye, WHAT, the station where I first heard the Temptones (aka Daryl Hall, 1967), Ernie Fields (wonderful AM dj, 1966), Steve Byrd (great evening dj, 1969), and of course, Blavat, who set the pace for WHAT in the early-to-mid 1960's. You will be missed.
20. Posted on Thursday, August 11, 2011 by Paula M:
I am very upset that this radio station is gone.....What happened...I listened to this station every day...... Will it be back?????
21. Posted on Monday, August 15, 2011 by Betty Ann Haslam:
What happened? I listened every day at work. I am very disappointed. What are the DJs doing now? Especially enjoyed listening to Mike Bowe - he was so down to earth!
22. Posted on Monday, August 15, 2011 by lori:
yes I was wonderign too and tried to research this was helpful . Im in east norriton area. seems they turned off the signal and emplyess were fired. this happens every few yrs they were the only station around with that kind of music ..its back to my cds how dissapointig for many.
23. Posted on Wednesday, August 17, 2011 by jerry werndl :
hi i would like to know what happen to this station there is no music when i toon in also where is mike bowei enjoyed his radio show ,dose he still do happy hour at sams saloon please anser back jerry,thanks
24. Posted on Monday, August 29, 2011 by Jack:
Sorry to hear that Bob & Mike are gone. Does anyone know where we can here this kind of music. Are there any other stations that have this type of music
25. Posted on Saturday, September 3, 2011 by Marvin:
I am very disappointed that 1540 WHAT changed their format (again!) after just a few short years of being the "Martini Lounge Radio" and bringing back some of the old WPEN-style music that I grew up with. I was a fan of Mike Bowe, Elaine Soncini and the others and it's a shame that there is no other station in our area with this format - a sad day for us baby boomers!
26. Posted on Wednesday, September 14, 2011 by Ty:
Someone ask me if Mary Mason was still on the radio? It's been years & I lost touch with some things I really enjoyed. Mornings With Mary was a great show. Very informative,great subjects discussed & her call in audience. I remember her going to city council meetings on Thursday & telling everyone to keep a score card on politicians to make an intelligent voting decision. Ms Mason & Georgie Woods did great things for Philadelphia. It was hard to walk out the room to do other things when they had interviews or deep discussions. Radio will never be the same.
27. Posted on Friday, September 16, 2011 by Carmen:
Tune in WRDV from Warminster 89.3 107.3 in Philly to hear Big Band fomat during the day.
28. Posted on Monday, October 10, 2011 by CactusGirl:
Thanks, Carmen! You're a life saver!
29. Posted on Sunday, November 6, 2011 by julie Donnelly:
What happened to this wonderful station? They played so many great oldies .Even my 28 y/o dtr. loved it. It reminded all of us of our Nana,who whenever she came over to visit us ,we'd put it on for her . Please come back,or let the public know what we can do to help get you back on another station. Kind of like a PBS thing . Iknow so many people would jump at the chance to have you back on the air. please e-mail me back if there is anything I/we can do to make this happen. If anyone else is interested in this pls. e- mail me at juliad330@aol.com. WE WANT YOU BACK ---IN OUR CARS, KITCHENS< OUR LIVES!!!!!!
30. Posted on Thursday, December 29, 2011 by phillylistens1:
I have both the Morning and Evening Prayer by Rev. W.T. Bigelow,respond to wtmclive@gmail.com,for info...
31. Posted on Thursday, December 29, 2011 by phillylistens1:
I have both the Morning and Evening Prayer by Rev. W.T. Bigelow,respond to wtmclive@gmail.com,for info...
32. Posted on Monday, January 16, 2012 by tracey d.:
Oh my, I was about 7yrs.old and I can put bits and pieces together .
33. Posted on Monday, February 6, 2012 by David:
WHAT's black-oriented Nostalgia format first went on the air in late 1986, when, as mentioned above, Reggie Lavong(who also hosted a daily talk show there at the time)and Miller Parker bought the station. Listeners to the station during this era will remember the voice-overs Lavong(who did also did imaging for the station) recorded: "WHAT Philadelphia remembers you and your music--with(deejay's name)." "Your music. Your memories. Only on... WHAT Philadelphia--with (deejay's name." (The latter of the two legal ID's was later replaced with one with WHAT deejay Greg Norris saying exactly the same thing.) "WHAT...remembers." In 1990 or early 1991, Cody Anderson, who had taken over the WHAT a year or two earlier, switched the station to African American-oriented talk full-time. Late in its history in that format, 'HAT billed itself as "The Voice of the African-American community" until it became alternative-rock station Skin Radio(ID'ing as WHAT only at the top of the hour)in early 2007. After only six months, as mentioned above. it switched back to Nostalgia--by now renamed Adult Standards--this time, a general-market version of the format. Initially billed by then as "Martini Lounge Radio" and concentrating exclusively on traditional pop music dating back to the 50s, it, like most adult standards stations in recent years, added soft rock oldies from the 50s to the 70s if not 80s beginning in 2009. (This was due to both the aging of the format's original demographics and most of the Baby Boomers nearing advanced age and the oldest of such people plus the World War II babies already there(both groups being the first two generations to have grown up with rock'n'roll). At that time, the "Martini Lounge Radio" billing-slash-nickname was replaced with the billing "The Greatest Music of All Time."
34. Posted on Monday, February 6, 2012 by David:
WHAT *did* switch to a Spanish format. Last August or September, to be exact.
35. Posted on Sunday, March 18, 2012 by D. Taylor:
Rev. Harold O Davis broadcasted on WHAT, How can I get copies of his sermons.
36. Posted on Wednesday, May 2, 2012 by Lee:
What is the name of the morning prayer that Mary Mason played in the mornings.
37. Posted on Saturday, May 5, 2012 by Cherylr Childs :
PLEASE SEND ME A COPY OF THAT PRAYER BOTH EVEVNING AND MORING IT HAS BEEN MY LIFE SAVING WORDS i ORSERDED BUT GOT NOTHING THE BROADCAST OF MARY MASON CHANGE MT LIFE AND I WAND MY GRAND CHILDREN TO KNOW
38. Posted on Tuesday, September 4, 2012 by Roland Petit:
There was program in 1956 called "The Rock and Roll Kingdom Show" that was probably hosted by a young Hy Lit. The stated name of the host as featured at the time was the alias "Jessie King."
39. Posted on Monday, November 5, 2012 by James:
Does anyone remember the prayer that the gentlemen would say before Mary would come on? It started " Our father and our God "
40. Posted on Friday, January 3, 2014 by Sherrie Drain :
Can anybody tell me about my sisters Diane and Carol they were adopted by a radio personality around 1958-1965 just would like to find them.
41. Posted on Monday, February 24, 2014 by william c parmley sr:
our father and our god by the rev wt bigelow please someone send me this prayer ineed it for my mens day welcome day opener. thank you so much william parmley sr
42. Posted on Friday, July 4, 2014 by gloria:
is mary mason alive?
43. Posted on Tuesday, January 27, 2015 by jim kuney:
what happened to Royce Howard ?...Is he alive ?
44. Posted on Monday, November 2, 2015 by Rob From Mt. Airy:
"The voice of the African American community". Thank's, Cody Anderson!!!!
45. Posted on Wednesday, March 30, 2016 by Alfred c Watkins:
When I was in Philly I listened to Mary Mason every morning. I really enjoyed her show. Are there any recording from WHAT?
46. Posted on Sunday, March 11, 2018 by Anonymous:
A former native of Philadelphia, prior today, I had never heard of WHAT 1340 AM or the program by Ms. Mason. Thankfully, technology and the internet have given me the ability to find the "Morning Prayer" that seems to have been well-liked by most of the commenters on this thread. I found a YouTube video that shares the "Morning/Evening" prayer by Rev. W.T. Bigelow (1966). Link: https://www.youtube.com/watch?v=fFTe2zwqEtE
47. Posted on Thursday, March 29, 2018 by Lester Outterbridge:
Billy Lofton,the Tooth-pick I was a friend of his backin the middle 70's.his cousin lived down 22nd & Daupin.I got him to come down my way and he might my mom & late baby sister Trudy,then we went around to meet some of my other friends.Will never forget him or Charlie Brown ad D.J's.
48. Posted on Thursday, May 17, 2018 by frightwold:
I saw the name Reggie Lavong above and recall that he was brought in by Dolly Banks as P.D. in 1972 to clean up the mess Gus Lewis made as P.D with the "Bad Black Lion" identifier (1970), and dressing the jocks in western attire (WHAT country, home of the Magnificent Seven, 1971). Champe Haggins refused to wear those clothes for that group photo, and opted for hippie attire instead. Anyway, Reggie launched the "station that believes Blacks deserve something better" concept in Sept. 1971, three-in a-row no talk. The format was tweeked in Feb.1972 with the addition of Al Waples in afternoon drive and a greater emphasis on currents instead of oldies. George Burnette was evenings, Dave O'Neal was late nights, and Lavong did mornings. In Aug.1972 Lavong left for WNBC and Chris Turner (WTMP) disassembled the format. It became "The Music Muthar" with Frankie Stewart and Sunny Joe White (yes, THAT Sunny Joe White, R.I.P.)
49. Posted on Thursday, June 27, 2019 by Zatmanu (Soul Historian):
In response to "Can anybody tell me about my sisters Diane and Carol they were adopted by a radio personality around 1958-1965 just would like to find them" note: there was a personality at 1340 WHAT around 1963 named Chuck James who was involved in adoptions. He eventually moved to 1230 KGFJ Los Angeles in 1965, and then to 1580 KDAY. Search "AMERICAN RADIO HISTORY.COM and you may find his photo in one of the trade magazines alongside Hot Rod, Fatman, and other WHAT jocks of that era.
50. Posted on Thursday, June 27, 2019 by Landers:
Here is an item from Billboard, May 1963: Chuck James of WDAS has virtually adopted 64 boys. He is taking them on trips to such places as Coney Island. He is also throwing them a rock and roll show.
51. Posted on Sunday, September 8, 2019 by Patricia Elizabeth Nosie:
My Dad is dj Chuck James! May he rest in peace, Daddy went to Heaven on Father's Day 2018 at the age of 87...I'm his 3rd of 4 daughters and I was his constant companion and caregiver for the last five years of his precious life... he battled memory loss, but those many times he was in the here-and-now he loved talking about his deejay days. He knows how much I research to find any of his airchecks or shows -- he interviewed almost everybody (I describe him as one of the original R&B deejays "who rode the airways when the oldies were new!"), and was good friends with Mr. Jackie Wilson... I was a teenager by the time his radio career ended (such a sad story that even he isn't so sure about what happened) and I just didn't know I should have paid so much more attention to his shows (my parents divorced around then, too, so all our worlds were floundering back then)... So, one story I'd like to know (and btw, I'm thrilled to learn he was known as helping with adoptions, but we never got to talk about that), ok, back to that story: Daddy said Jackie Wilson agreed to surprise a radio fan (I believe he was with WDAS then, but he might have still been with WHAT) with Chuck James -- at her home! I'd love to find out who her name! Oh yes -- Daddy spoke often of being introduced by Georgie Woods at those Philly Uptown Theater R&B shows and that soon he was also hosting shows there.... Dad had years ago spoken of being blacklisted from radio and acting, and I know something awful happened because I can't find his name in the histories of any of the stations where his voice reached out to thrill fans: (in order) WTEL, WHAT, WDAS, then he was woo'd to Los Angeles to take the great Larry McCormick's KGFJ radio slot because their voices were very similar (Larry went on to become a famous newscaster /anchor on KTLA TV), and when that door was closed to Dad, KDAY called him to join their station... Chuck James, as has been gloriously mentioned in the two previous posts from June 27, 2019 -- his 2nd daughter Jeanne's birthday!, has been memorialized in many Billboard magazines' R&B deejay ratings; in news articles; and I found him in a book about Mr. Sam Cooke's life as one of his pallbearers -- what a reunion to behold in Heaven! I'm so grateful to hear my Daddy dj Chuck James is remembered... You both have blessed my Soul so much. Please send any more info about him to my email address: all.aboutsolutions@rocketmail.com
52. Posted on Sunday, September 8, 2019 by Patricia Elizabeth Nosie:
I hope this link to a WDAS photo of Chuck James works: https://photos.app.goo.gl/LgjMrr2JdE8jBJiBA
53. Posted on Sunday, January 12, 2020 by Jean Joka:
I am trying to locate Lita Indzel Cohen. I use to work at WHAT from 1960 to 1977, and I need some information that Lita could assist me with. Thanks. Jean Joka
54. Posted on Friday, June 26, 2020 by donald mcbride:
I grew listening to WHAT and the great dj's like Sonny Hopson, Ernie Fields, Billy Fox they were so great and played my favorite music.
55. Posted on Sunday, June 28, 2020 by Renaperez:
Did they sell the radio station in Pennsylvania and was very Forsythe and Alex Forsythe did they own that radio station long time ago did they sell boy and was there a will or living trust I like to know that comment on that cuz I'm one of the grandchild can I have some information on that please when they sold the radio
56. Posted on Tuesday, November 10, 2020 by Gary Blauvelt:
Let's not forget that Lloyd Fatman often referred to himself as "The Sheriff of WHAT County" - long before Bo Diddley was a gunslinger.
57. Posted on Tuesday, March 23, 2021 by Richard Salvucci:
Who did Jazz in the Night in the mid-1950s?
58. Posted on Friday, April 30, 2021 by MISS HONEY:
POST#47,YEEESSSS I REMEMBER THE TOOTHPICK?BILLY LOFTON!!!HE REALLY PLAYED THE BEST MUSIC AND HE SHOWED UP TO MY BROTHERS BIRTHDAY CELEBRATION. MY FRIENDS AND I COULDN'T STOP TALKING ABOUT IT. GREAT MEMORIES
59. Posted on Saturday, August 14, 2021 by Bhoke Lumumba:
I've been in love with WHAT since I was 4 years old. I used to ask my mother all kinds of questions about that station. I was so obsessed with it. I'd dream of buying it one day but that dreamed deferred.
60. Posted on Monday, May 9, 2022 by David A Parks :
What was the song that lead to the midnite show during the early 2000. Trying to find this 4 a long time
Add your comment
Please note: commenting has been temporarily disabled. Please check back again soon for our new commenting system.