An Arcadia history book written by the author of this site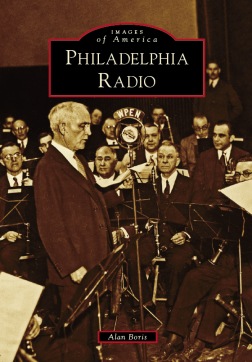 About the Book
Philadelphia Radio is the first book devoted exclusively to the history of radio broadcasting in Philadelphia. Written by a life-long Philadelphian, the book features over 200 photos (many rarely seen) designed to entertain as well as educate.

Chapter list:

Early Radio Broadcasting
The Golden Age
The Rock Music Era
The Rise of FM


Philadelphia Radio Personalities
Photos include: Hy Lit, Ed Sciaky, Georgie Woods, Bill Wright, Jerry Blavat, Joe Niagara, Jerry Stevens, Jim O'Brien, Sid Mark, Perry Johnson, Louise Williams, Pierre Robert, Michael Tearson and many more!
It's All About Philadelphia
The history of Philadelphia Radio is also the history of Philadelphia: its people, locations, businesses, and interests. In addition to well-known radio personalities, here are some of the Philadelphia icons you'll see in this book:

Walter Annenberg
Frank Palumbo
Richardson Dilworth
A. Leon Higginbotham, Jr.
Cecil Moore
Frank Rizzo





The following national figures and groups are also pictured in Philadelphia-related photos:

Jackie Robinson
Dr. Martin Luther King Jr.
John Lennon
Edwin Armstrong
Stan Kenton
Robert Palmer
Al Stewart
Supertramp
Carly Simon
Billy Joel
Asia
Rodney Dangerfield
Thompson Twins
Howard Stern
Joey Ramone
David McCallum


How to Order
The book was released on July 11, 2011. You can order online at Amazon.com using the link above. In addition, the book is available at most Delaware Valley bookstores.
Events
The book signings below took place in 2011. Check back for more events and promotions to come in 2012!

AIA Bookstore and Design Center
1218 Arch Street, Philadelphia, PA 19107
Saturday, August 13, 2011 at 1PM

Barnes & Noble - Jenkintown
835 Old York Road, Jenkintown, PA 19046
Saturday, August 20, 2011, 1 - 3 PM

Books-A-Million
901 E. Market Street, Philadelphia, PA 19107 (The Gallery)
Saturday, September 10, 2011, 2PM - 4PM - Cancelled! to be rescheduled.

Canterbury Tales Forever
49 Peddlers Village Road, Lahaska, PA 18931
Sunday, September 18, 2011, time TBA

Moonstone Arts Center
110A South 13th Street, Philadelphia, PA 19107
Friday, September 30, 2011, time TBA
Book signing and philadelphia radio audio/visual presentation